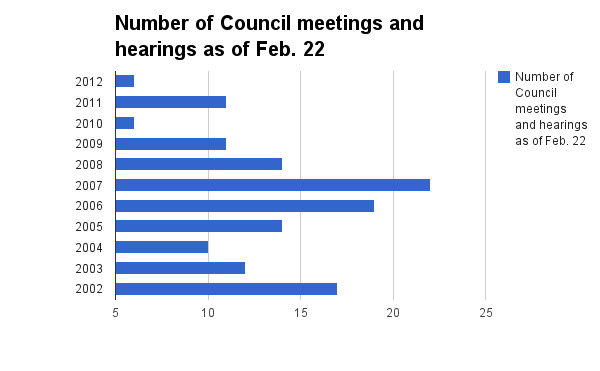 By yesterday, City Council had held a total of just six official meetings and hearings in 2012 — tied for the fewest of any year in the past decade.
Compare that to 2007, when Council had 22 meetings and hearings by that date. (Check out the graph* above to see how 2012 stacks up to other years.)
So why have there been fewer official meetings and hearings so far? Partly because it's the start of a new term, so bills couldn't be carried over from last year. Today's It's Our Money editorial also suggests that it's thanks to a "less-than-ambitious Council."
Council President Darrell Clarke said there have been fewer meetings and hearings partly because "aggressive" new Council members have been busy staffing their offices. He also said that Council has been working hard outside of City Hall, doing things like partnering with the food bank Philabundance.
He added that he expects Council members to introduce several more bills in the near future.
*Note: This graph does not count inauguration in 2012, 2008 or 2004.
Source for graph: City Council
Follow us on Twitter and review city services on our sister site, City Howl.