Archive: September, 2008
HOW CRAZY is it?
It's a testament to the uncertainty of the world these days that we don't know whether to scold or praise House Republicans who balked at the $700 billion bailout package and sent Wall Street into another tailspin yesterday.
Lawmakers worked all weekend to craft a bailout package, and announced yesterday morning that an agreement had been reached. Except too many Republicans balked at the terms, and voted it down.
I know the entire financial system is on the verge of collapse, but we need to take a second to thank the kind folks at the Philadelphia Citypaper. They picked "It's Our Money" as the best blog in their 2008 Choice Awards issue. Here is what they had to say about our little project:
Best Blog that Somehow Makes Its Impossibly Wonkish Material Somewhat Interesting (No-Snark Division)

It's Our Money
(
philly.com/philly/blogs/our-money
), one of those good-government budget-watchdog collaborative-effort-type-things that seem to be all the rage these days, brought to you by the
Daily News
and WHYY. These people preach it in plainspeak, and are able to explain why your taxes might go up without using anti-literacy phrases like "flex cash payments" and "sinking fund payments."
—Tom Namako
Thanks! Now we'll be adding "award-winning" to everything we write.

"It's Our Money" began a few months ago as a way to get people even a little bit interested in the city budget. We chose our name as a reminder of why it's important…as in "Yo! It's our !@#($#%&* money!"
Fast forward a few months, and we're all talking about 'mortgage backed derivatives and parsing every sentence from the Treasury secretary.
Thanks to the national economic crisis, the "it's our money" pronouncement has never been more relevant, as we all prepare to kiss $700 billion goodbye without being able to read the fine print.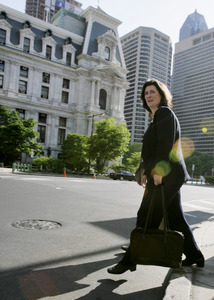 Managing Director Camille Barnett
Link: Managing Director unveils new rules for car use by city employees
Daily News readers respond to City Council op-ed:

RE YOUR op-ed on rethinking City Council:

The ideas are intriguing. Non-partisan elections and term limits would be a good start. Consolidating districts and elimination of the at-large seats would also be good. This way, there's no party dominance and many dollars would be saved via reduced staffing. Term limits would bring in fresh ideas.
Over the weekend, the Federal government annouced plans for a mind-boggling $700 billion bailout for Wall Street.
Read the details in today's Daily News
."It's Our Money" asked some of the sharpest financial and budget minds in Philadelphia about the crisis. We wanted to know if things were really as bad as they seem and what was worst that could happen. Their responses are below.
Most importantly, we want to hear from you. How bad do you think the economic crisis can get? Are you already feeling the pinch in your pocketbook? Use the comment section to sound off!
Michael Masch
Chief Business Officer, School District of Philadelphia


"It's clear that something needs to happen because you can't have markets where people who have money won't lend it to people who need to borrow it. If that happens, then our entire system stops. Everybody needs credit. Companies need to be able to borrow to invest in new productive capacity. Government needs to borrow to create assets, like public works. If no one is willing is lend us money than lots of things will stop happening. Businesses that are otherwise healthy will not be able to function. For example, we need to borrow money to fix our schools. Government will not be able to function without borrowing money to do what we need to do. If people are afraid of what might happen next, that they have the money to lend but are unwilling to lend, then we will have a serious problem."
Rob Dubow
Finance Director, City of Philadelphia

"The worst case scenario is that people are going to get scared and not repay loans. That will cause the credit markets to freeze up. You might have an extended period where loans are hard to get. That makes it difficult to get money for capital projects and other areas....A lot of people have retirement investments and if there is a contraction in the market the value of their investments will go down. That means something to everyone. Also, if the real estate market continues to move slowly, it becomes hard for people to sell their homes."
Professor Oliva Mitchell
Pension Research Council, University of Pennsylvania