Archive: February, 2011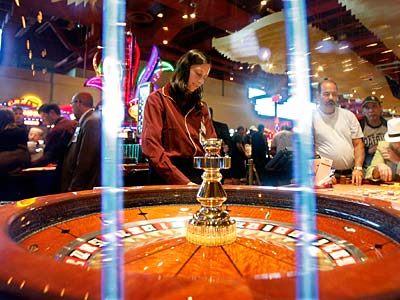 The Super Bowl. The NCAA Tournament. The Kentucky Derby.
And now, the Mayoral Budget Address.
The It's Our Money team has big plans to make Mayor Nutter's address to Council, coming this Thursday, one of the biggest gambling days of the year.
Last year, the Department of Corrections consumed about $2 billion, 7 percent of the total state budget. For the past ten years, the prison population and budget have been growing at a steady pace. Now, days before Gov. Tom Corbett's budget address, the Associated Press is reporting that trend might finally be showing signs of slowing.
There is definitely something unusual going on in Pennsylvania's inmate population, which stood at 51,273 at the end of last month.
The numbers even fell by nearly 200 inmates from a year ago, although the population remains more than 5,000 higher than in January 2008.

Budget cutting governors like Tom Corbett and Chris Christie frequently promote the idea that slashing government spending will create economic growth. But according to figures released by the U.S. Commerce Department, the opposite may be true. The economy is recovering slower than expected, partially because state and local governments made steep cuts across the country.
The Commerce Department reported Friday that economic growth increased at an annual rate of 2.8 percent in the final quarter of last year. That was down from the initial estimate of 3.2 percent.

State and local governments, wrestling with budget shortfalls, cut spending at a 2.4 percent pace. That was much deeper than the 0.9 percent annualized cut first estimated and was the most since the start of 2010.
...
The government revised fourth-quarter growth to reflect a steeper contraction in government spending than previously estimated. Government spending declined at a 1.5 percent rate rather than 0.6 percent, due to weak state and local government outlays.
Why does this matter? For starters, the unemployment rate is still stuck at around 9 percent. Every time a state government lays off employees, it increases the overall number of people out of work. Second, government contracts are an important revenue generator for many companies. If a city is spending less on light bulbs, people who make light bulbs will make less money. Essentially, every action by government has an impact on the overall economy, some of which are very positive. When we make steep cuts to government spending, we are also diminishing activity that could help our economy recover.
Over on the blog Young Philly Politics, Brady Russell posted a video of something troubling he saw during his commute. Water is pouring through the roof of the Fairmount Station on the Broad Street Line. Check it out below. SEPTA did not respond immedately to a request for comment. We'll let you know if we hear anything. If you're seeing similiar problems, let us know.
UPDATE: SEPTA says they sent out a crew to the station. The water flow was due to a clogged drain at street level. The drain has now been cleared.
Follow us on Twitter and review city services on our sister site, City Howl.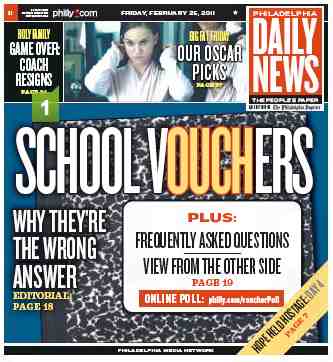 THE HOTTEST TOPIC in education right now is vouchers, thanks to state Senate Bill 1, now being debated around the state.
The bill is being touted as a single solution to many problems: the problem of failing schools; the problem of struggling parochial schools; the problem of poor parents who need a chance to level the educational playing field for their children, and for some proponents, even the problem of a racially imbalanced education system that harms poor black children.
SB 1 might address some of these things, but it is also would cause more problems than it would solve.
It ends up becoming an expensive entitlement.

When you need to fill a multi-billion dollar budget shortfall without raising taxes, as Gov. Tom Corbett has promised to do, a multi-billion dollar payday sounds pretty good. That's probably part of why Corbett has promised to take a whack at privatizing Pennsylvania's state liquor store system, which House Majority Leader Mike Turzai has estimated could yield up to $2 billion.
But State Rep. Mike Sturla, a Democrat who represents Lancaster County, told the Philadelphia Daily News editorial board yesterday that Corbett might want to check that number. Sturla said the sale of the state stores would probably generate much less, about $500 million, because the $2 billion estimate is partially based on a Price Waterhouse study commissioned during the Ridge Administration that valued the stores at $1 billion.
"Well, if you actually go back and look, the Price Waterhouse study that was done was based on assumptions that the Ridge Administration had given them, which they later then, after hearings, were told, 'No, those are the wrong assumptions,'" Sturla said.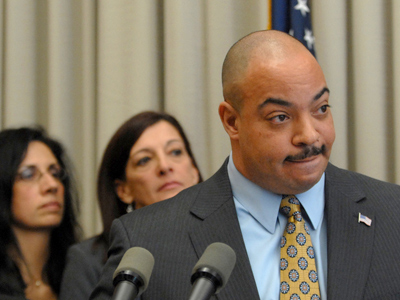 "Welcome to Philadelphia - light up a joint."
That was ex-D.A. Lynne Abraham's suggestion for a new city slogan after her successor, Seth Williams, announced plans to be more lenient when prosecuting people caught with small amounts of marijuana.
The new policy has been in effect for more than half a year. Have you seen more stoners stumbling around Philly, joints in hand? Have you even noticed . . . or seen especially long lines at Taco Bell?