Archive: December, 2008
City Controller Alan Butkovitz attracted a lot of attention in today's news with the release of a report yesterday in which he claimed that a combination of revenue collection and other efficiencies could shave up to $400 million from the city's projected billion dollar deficit.
From the Daily News:
Butkovitz's suggestions included:
A few weeks back, Council President Verna called City Council powerless when it came to Mayor Nutter's decision to close library branches. To refresh your memory:
"We in Council are completely powerless at this time," said Verna. "It's strictly up the Mayor. If we were to have public hearings from now until the first of January, it wouldn't do anything. Let me reiterate: We on Council are powerless at this point in time. The Mayor will do what he has to do."

Verna went on to say that City Council and the public will have their say during the budget hearings that will begin in February. She believes that additional hearings will only give the public "false hope" that library closures can be reversed and the town hall meetings provide ample opportunity for public input.
The big story as one local television station would say is that Judge Idee C. Fox today ordered that library branches slated for closure could not be shut down without City Council approval, leaving Mayor Nutter and his administration contemplating their next move. From Philly Clout:
City Solicitor Shelley Smith just told PhillyClout that her department will file an appeal of the order just issued by Common Pleas Court Judge Idee Fox that put an immediate stop to Mayor Nutter's plan to close 11 library branches as of 5 p.m. tomorrow. The closures were part of Nutter's plan to close a $1 billion-plus gap in the city's five-year financial plan.

"The city needs to appeal this ASAP because of the finances," Smith said. "The city needs to appeal this because of the principle."
With all that's going on today with the libraries it was easy to overlook this piece by the Inquirer Cultural Writer Stephan Salisbury that appeared in print in the Daily Magazine section. In it, Salisbury reports on a $250,000 grant that Mayor Nutter promised to the Philadelphia Orchestra Association back in the spring. Apparently, such a grant goes outside of the "approved" method for distributing city funds to cultural organizations:
The Philadelphia Cultural Fund was established in 1991 as a vehicle for the city to provide equitable arts funding. It is not a city agency, and its funds - all provided by the city - are disbursed after rigorous peer review and on the basis of a complex mathematical formula. The largest grants are in the $15,000 range and provide general operating support. Mayoral or political agendas are not a part of the grant-making process.
Some members of the Cultural Fund, all of whom spoke anonymously, were concerned over this break with the rules.
Editorial from the Philadelphia Daily News:
IT HAS BEEN three months since Mayor Nutter announced a stunning $1 billion hole in the city budget over the next five years that would require some painful choices.
As in turns out, "painful" was an understatement. Besides the closing of 68 pools, five fire engine and two ladder companies, the mayor's plan to shutter 11 branch libraries has caused an uproar throughout the city. And judging from the temperature of the eight town-hall meetings that the mayor had starting in November, that uproar hasn't abated.
Over the last couple of days, a flurry of lawsuits intended to stop Mayor Nutter's proposed budget cuts have been announced. IAFF Local 22, the union that represents fire fighters, has already filed in court against closing engine and ladder companies. Attorney/activist Irv Ackelsberg has also threatened to file a suit against the library closures on Tuesday if Nutter does not change his plan.

I'm not a lawyer, so I won't speculate on the likely-hood that either of these suits will succeed or fail. That said, I'd love to hear from more informed opinions on the viability of these lawsuits.

What do you think? Do the lawsuits have a chance? Is this the best strategy for stopping the cuts? You can leave a comment on this post or e-mail me at waxmanb@phillynews.com.
Over at It's Our City, Stephanie Marudas reports on one Philadelphia neighborhood where the battle against blight and vacancy could be severely hindered by proposed budget cutbacks:
Money in Philadelphia for vacant land stabilization programs, and other projects like the CLC, comes from the city's Office for Housing and Community Development (OHCD) through a $4 million contract with the Pennsylvania Horticultural Society (PHS). Known as the Green City Strategy, PHS administers and manages the money. Though, the contract is now being reduced by 50% under Mayor Nutter's budget cuts. With $2 million less, PHS officials are taking steps to redesign programming and say they're heeding Nutter's directive to help shoulder the burden during these tough economic times.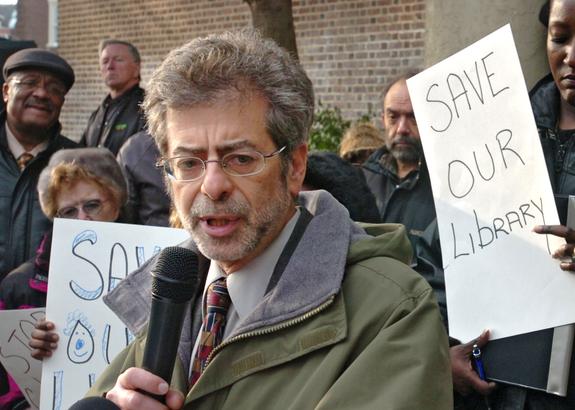 Attorney Irv Ackelsberg
Link
:
Lawyer threatens suit over library shutdowns
[Inky]
The suit is based on a city ordinance that states in part: "No city-owned facility shall be closed . . . without specific approval . . . from City Council."
"We're taking the mayor to court to compel him to follow the law," Ackelsberg said.