Archive: November, 2009
Here's the DN's take on the whole Dad Vail leaving/Nutter dropping the ball thing:
Could the city have coughed up that money? Probably. But whether it should have is another question altogether. Dad Vail is one event among many; each one costs the city for trash pickup, security, and logisitics. There's also a cost of wear and tear by a few on public lands reserved for all. The city doesn't absorb these costs, and while there might be a persuasive argument for it, how could the city do that for one group and not others, like the Mummers? Or ethnic groups who want a parade? Besides, the actual cost that the Dad Vail event was charged was $50,000, so even if the city had picked up that tab, it'd still be $200,000 short of what Rumson was offering.
Didn't Dad Vail organizers owe a little more loyalty - if not courtesy to the city that hosted their event for over 50 years? Especially since, as their letter pointed out, spectator attendance has increased year after year. Before being enticed with the first big check, the organizers owed the city an earlier alert that it was having problems. The Dad Vail organizers also don't acknowledge that one reason their city costs rose is that they extended the event by a day.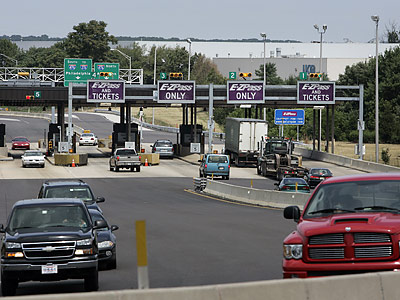 Gov. Ed Rendell's proposal to put tolls on I-80 to generate funding for mass transit has met with stiff resistance, especially from Republicans in the middle of the state. Now Barry Seymour, the head of Delaware Valley Regional Planning Commission, has another idea: put the tolls on the Schuylkill Expressway, Blue Route, and I-95.
"Seymour said I-95 is already tolled in New York as the New York Turnpike. To the south, I-95 is tolled through Delaware and Virginia.
Seymour calls that the "next generation" of tolls.
We're not saying we won't come back around if, say, city workers form a picket line around Mayor Nutter's Thanksgiving dinner table. But since much of the IOM team is occupied with family stuff today, it seems best to declare this site off for the holiday. Have a happy Thanksgiving, everyone.
Review city services on our sister site, City Howl.
Mayor Nutter just kind of threw this out there without explicitly endorsing the idea in an interview with the Wall Street Journal, so we thought we'd just throw it out here:
WSJ: Is there any way to make services more visible to people? Charge a little bit for some services, for instance, so that people know what they're getting and where it comes from. Any other ways can you make services more visible so people know that their taxes are actually paying for?
Nutter: When I announced we were only going to open 10 of our 70 plus swimming pools a number of citizens suggested well why don't you have a small fee, a membership or something like that? That helps crystallize the fact that we're not taking in as much revenue as we need to pay for all the services that you want. When this kind of economic tornado hits us, it exposes the fact that you don't have all the money you need to provide all the services you've been providing.

User "an00" has a few complaints for the Streets Department, specifically the folks who pick up his recycling. The question: why are the recycling guys taking my trash?
For the last several weeks the recycling folks have been taking a bag or two of my trash in addition to my recycling. The trash is all in white, 13-gallon, kitchen garbage bags and the recycling is all in a blue recycling tub. I understand that recycling isn't as profitable as it used to be, but they aren't trying to pad the volume with trash, are they? Either way, I would think that separating trash from recycling later would only cost us more. I also wish the recycling folks wouldn't throw the bins in merely the general direction of where they found them. They are often between parked cars or in front of steps blocking the sidewalk.
Recycling bin in your way? Or is your trash disappearing too? Let us know.
People spend a lot of time arguing about whether the private or public sector is the appropriate venue for various responsibilities. And rightly so! It's often an important question. But there's more to talk about.
A couple of researchers from Harvard and Deloitte took an interest in why public sector projects sometimes fail. William Eggers and John O'Leary studied 75 major initiatives since World War II, and found that "a predictable set of traps ensnare well-meaning initiatives time and time again." In a column for Governing, they identify three:
"Design-free design": This refers to initiatives that are designed to pass as legislation, but not to work in the real world. The authors cite California's restructuring of its electricity system, and the subsequent blackouts, as an example.
"The Overconfidence Trap": This comes into play when planners don't take the possibility of failure seriously -- they give unrealistic budgets or timelines, or have no Plan B. Think Iraqi reconstruction.
"The Complacency Trap": This is when a department or agency does something poorly simply because it always has.The authors point to the modern school calendar, which was designed for an agrarian society.
We thought it might be interesting to see if we could brainstorm some contemporary local examples of each of these errors.
Here is the feel good story of the year: Pennsylvania is about to officially run out of prison space. To deal with the incarceration crisis, state officials are taking the drastic step of re-locating about 2,000 offenders to out-of-state facilities. The move will happen early next year.
According to a story from NBC 10, the state is already building a bunch of new prisons. However, that can't be the long-term solution to the problem for financial reasons.
Prison construction is the most expensive option for taxpayers. The four prisons now on the drawing board -- two on the grounds of Graterford prison in Montgomery County, one at Rockview prison in Centre County and one in Fayette County -- are expected to make available 8,000 beds by 2013 at a cost of about $800 million.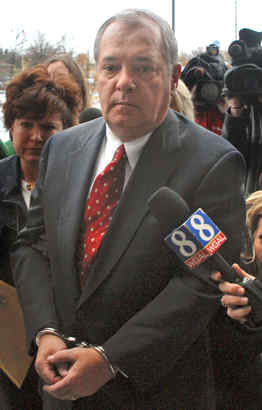 Momentum for reform in Harrisburg is building, at least in the newspapers. We mentioned on Friday that one could respond cynically to Governor Rendell's end-of-term declaration that he wants to try to clean up the capital through redistricting, merit selection of judges and campaign finance reform. Today, John Baer shows exactly how cynical one could get:
"So [Rendell] enters his last year in an office he can't seek again and wants campaign-finance limits with no lobbyists? This after building a career soliciting and collecting roughly a bazillion dollars from any lobbyist with breath and from any sensate being with a checkbook?"
Like the DN editorial board, though, Baer tries to find the good in this situation. He says that any talk of reform is welcome, and finishes his column by challenging Rendell to take himself seriously: