Archive: November, 2008
South Philly High will host the first town hall on Nutter budget cuts
Link
:
It's your chance to sound off about city budget cuts

Nutter will speak and respond to questions at all the town-hall meetings, along with Managing Director Camille Barnett, Finance Director Rob Dubow, Police Commissioner Charles Ramsey and other top city officials.
Nutter has said that he doesn't expect to change his plans but that he does want to talk with the public about the reasons for the cuts.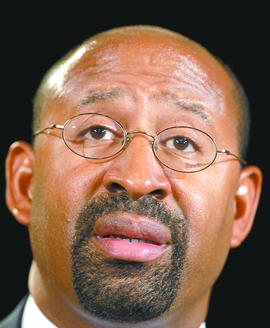 Mayor Nutter was surprised by harsh reaction to budget cuts
Link
:
Budget isn't the only gap vexing Nutter
The honeymoon, it seems, is over, the victim of a $1 billion budget hole that has led Nutter to shut libraries and swimming pools and remove fire companies.
There is a great blog post over at Philadelphia Citypaper looking at Mayor Nutter's proposed budget cuts. Nutter recently released information designed to provide a rationale for the cuts to City Council and the media. Staff writer Issiah Thompson poured over the data and below are the first of his findings:

The cuts tend to apply to libraries with smaller circulations. The 11 proposed closings, however, do not represent the 11 smallest libraries (just four of the smallest 11 are on the chopping block). Some of the libraries in jeopardy have relatively high circulation rates.

The cuts are pretty well-spread along income levels, but sorting by family poverty levels shows that the areas with highest and lowest poverty rates have been spared library cuts, while areas in between seem to bear the burden.
The Holmesburg Library (7810 Frankford Ave.), a branch library scheduled for closing, circulates more books than Lucien Blackwell, a regional library.
Looking at a map of the proposed closings, they appear to be fairly evenly distributed around the city. But sort by Council district, and the spread could be seen as political as much as geographic. The 11 libraries are represented by eight Council districts; no Council district would take more than two cuts.
That's it for now, but more is coming — promise. Meanwhile, happy hunting!
Click on this link to read the entire post.

Yesterday, the Philadelphia Daily News published a story that sought to answer why so many police officers are dying in the line of duty. There was one particular passage that caught my eye and I'm curious to know what readers think.

Ramsey and District Attorney Lynne Abraham blame lenient judges and bail commissioners. Some rank-and-file cops point to increased pressure to boost their arrest numbers. Armchair court observers give three reasons: Parolees released early from overcrowded prisons; the tens of thousands of criminals on the loose with active bench warrants, and a system that fails to rehabilitate offenders.

........
Residents and businesses expected a trolley on Germantown Ave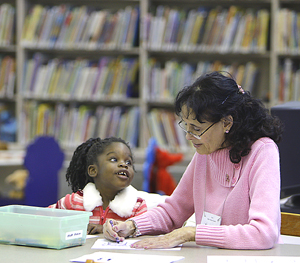 Daily News visits libraries slated for the chopping block
Link
:
More than shelves and books
A CHILL RIPPED through Philadelphia two weeks ago when Mayor Nutter announced budget cuts that included the closing of 11 of the city's 54 libraries to help fill a $1 billion budget hole over the next five years.
Many of the targeted branches are in poor, high-crime neighborhoods where they serve as after-school havens, community centers and computer labs.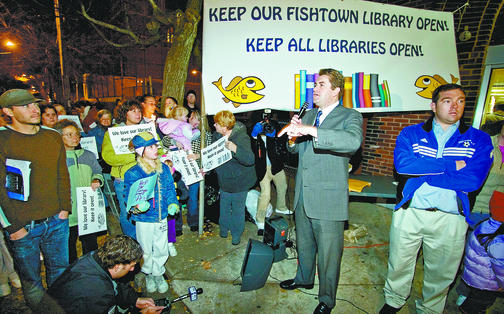 Councilman Bill Green at a Fishtown protest against library cuts
Ben stopped by the WHYY studios for a chat with Dave Heller and went into some detail about the 6 Bold Ideas To Fix The Budget on today's Daily News editorial page.