Sometimes, when our phone line was particularly quiet, we'd get worried that you had run out of neighborhood problems, and we couldn't be useful anymore. On the other hand, that's what we wanted, right? If you stopped calling, it could mean only good things. But then, someone would call to say that dozens of stray cats were camping out in an abandoned RV on a vacant lot. And we'd feel silly. Run out of neighborhood problems? In Philly?
The City Howl Help Desk is closing its doors for now, but we're going to leave you with some lessons we've learned from looking into your quality-of-life complaints these last couple of years. We've broken these down into tips for you, and for the city. Thanks for trusting us with your gripes.
For the city
Communicate! We hear it from neighbors all the time: The city's ignoring me. But when we dug into the complaint, it often turned out that the city actuallyhad listened — the resident just had no idea. The city has to do a better job of explaining to citizens exactly what it can or can't do, and how long it will take. Sometimes the city is hesitant to tell residents what it can't do, 3-1-1 director Rosetta Lue once told us. Well, the city has to get over that.
Tell the man on the phone that the city might not demolish that rotting, abandoned house next door, even if it is attracting raccoons, because the city takes down only "imminently dangerous" houses. Tell him how to find out whether an inspector visited the house, and what was decided. Otherwise, he'll wait and wait for that bulldozer, and he'll lose a little more faith in his government.
Or tell the woman complaining about the dark, bottomless sinkhole that the city fills those holes only during warm months. Let her know that, even if it's cold out, someone at the city should still make the hole safe — and if no one does, then she should call back. Otherwise, she'll be livid next month when she sees nothing's changed.
Take one for the team. We understand that doing extra work, outside your job description, stinks. But one of the most frustrating things a city employee can do is tell a resident, "It's not my problem." Philadelphians are tired of being passed from one agency to another, and city employees, when contacted about a problem, need to be more willing to take initiative to get that problem solved — not just look for reasons to say it's someone else's responsibility (even if it is).
Last year, a manhole sat open in Queen Village for six months because every city agency said it wasn't responsible for it. The agencies weren't lying — it was an abandoned manhole. It didn't change the fact that it was dangerous and needed to be fixed. Finally, Peco stepped up and covered the hole.
The last two years, when the city debated property tax hikes, state lawmakers from the Philadelphia area were not major players. But this year, as the mayor and Council consider a property tax reassessment — and the possibility of collecting $94 million from taxpayers for the School District — state lawmakers are all up in the city's business. Four different lawmakers have sought to stop the city from collecting more in property taxes after the reassessment.
One of those lawmakers, state Sen. Larry Farnese, withdrew his proposal to require the city to vote on the reassessment and sending more money to the School District separately, because City Council agreed to do so regardless.
Still, Harrisburg lawmakers have very much crashed the city's property tax party this year. What gives? Listen to this week's It's Our Money podcast to find out.
It's Our Money
Screaming and yelling is not unknown at School Reform Commission meetings, but last week's meeting was loud by any standard. The SRC met and approved a bare-bones budget that few are happy with, and parents and activists weren't shy about saying how little they thought of a budget that leaves many schools without nurses, police officers and office supplies; could lead to mass layoffs; and counts on more than $200 million in borrowing, even though officials say the school district has already borrowed more than it should.

It's a budget so unpleasant that even school leaders say it's inadequate, and more than 50 parent organizations signed on to a "vote of no-confidence" against it.
But there is one big difference in how the SRC is conducting its business that represents a departure from past commissions: The SRC seems to be listening.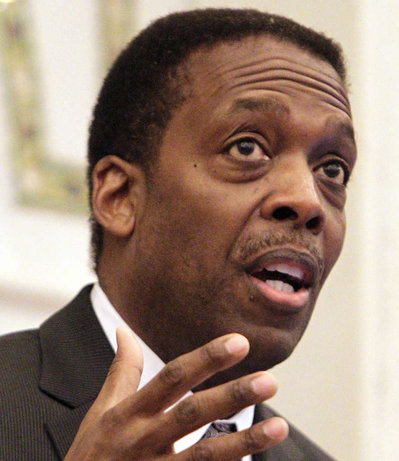 Today, Council blew its May 31 deadline to pass a budget.
"We're not ready," said Council President Darrell Clarke. "It's more important to get a budget that reflects the needs of the citizens of the city of Philadelphia, of the School District of Philadelphia, as opposed to a deadline that was established in probably 1954."
Council must pass a budget by May 31, according to the City Charter. Council also missed this deadline last year. But the drop-dead deadline is June 30. If a budget isn't passed by then, parts of city government would need to be shut down.
As if Mayor Nutter's plan to fix Philadelphia's property-tax system weren't complicated enough, state Rep. Michael O'Brien now says it would violate a Pennsylvania law. He dropped this bomb at a state hearing today on Nutter's Actual Value Initiative, or AVI.
City finance director Rob Dubow says the provision in question doesn't apply to Philadelphia.
At the hearing, state Rep. Rosita Youngblood also complained that Nutter doesn't talk to state lawmakers enough about AVI and other issues.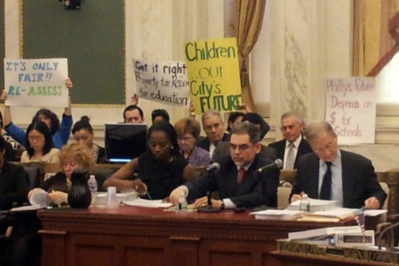 Do you have strong feelings about public school funding and Mayor Nutter's property-tax overhaul? Do you yearn to express your views?
Of course you do. Who doesn't?
This week, there are several budget hearings and events where community members can have their say about these issues. Or, if they prefer, where they can sit back and listen to citizens and elected officials debate them. Here's this week in AVI and schools:
AS IF THE CITY'S attempt to update its property-tax system wasn't enough of a mess — the Actual Value Initiative to have property-tax bills bear some relation to the actual value of property has been marred by confusion and delayed by uncertainty — we now have the specter of Harrisburg trying to "help."
We say "help" because recent proposals by state Sen. Larry Farnese and state Rep. Brendan Boyle, while well-intentioned, are the kind of help you might get from a squeegee man: You didn't ask for it, and it usually leaves the windshield muddier than ever.
Farnese and Boyle are upset about Mayor Nutter's proposal to collect $94 million more in property taxes through AVI for the cash-strapped school district. The administration refuses to call this a "tax increase" because, it says, the city will just capture an increase in property value that it hasn't collected for years.
JONATHAN Katzenbach has a love-hate relationship with his neighborhood basketball court. Katzenbach, who lives across from the court at Marian Anderson Recreation Center in the Graduate Hospital area, says he loves having the court so close. He's shot some hoops there in the past.
But when the sun goes down, it's a different story. The gate to the court has been broken for months — half of the gate's door is missing — and there are large gaps in the surrounding fence. So people enter and play at all hours.
Katzenbach says he's been awakened numerous times at 3 or 4 a.m. from the sounds of people on the courts. Kids and adults both use the courts past midnight, he says, and it's much more frequent in warm weather. When it happens, he calls the cops.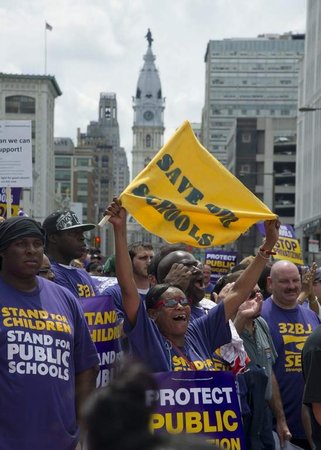 Yesterday, Councilwoman Maria Quiñones-Sanchez introduced a resolution calling on the School Reform Commission to reach a settlement with the blue-collar union SEIU Local 32BJ District — or else Council will delay its decision on school funding.
The resolution, which 10 other Council members have signalled they support, also demands more funding from Harrisburg.
Council is currently mulling Mayor Nutter's plan to give an additional $94 million to the school district while overhauling the city's property-tax system.
For years, critics have said that Philadelphia's court system does a lousy job of getting convicts to pay restitution for victims of crimes. In the story below, read about how five victims have discovered just how true that can be — even when city workers were the perpetrators.
And listen to the story on WHYY here.
Nine city workers who were supposed to be cleaning up neighborhoods instead ransacked homes in Northeast Philadelphia between 2006 and 2008, stealing cash, guns, family heirlooms, furniture and TVs while on the job. Last year they pleaded guilty to the crime.