This is the sixth of the "Philadelphian Horror Story" series, in which we tell you about the monsters lurking in the city's budget.
City Council's budget is as mysterious as Bigfoot.
During several weeks of hearings each year, Council asks questions about every part of the city's budget, from the prison system to the School District. But it never holds a hearing about its own budget, and Council President Darrell Clarke doesn't plan on changing this tradition anytime soon.
Council's budget doesn't threaten to blow a hole through the city's finances like the other fiscal monsters we've told you about, such as the pension Blob or the School District vampire. But Council's lack of transparency is still scary. Without a hearing, residents aren't able to have a conversation about how local lawmakers should spend their money. They can't debate whether, say, Council members should get perks like city cars.
What, exactly, is Council hiding? What does Bigfoot — er, its budget — look like?
Through documents obtained from Council, the City Controller's office and the city's finance department, we got the details on Council's budget.
Annually, its budget is about $15 million — and if you count benefits, maintenance and other costs not in Council's official budget, it's more like $22 million. The majority of Council's budget pays for its 168 employees.
Under Mayor Nutter's proposed budget for next fiscal year, nearly 82 percent of Council's official budget will cover the salaries and benefits of staffers:
Source: City's five-year plan for 2013-17
The size of Council members' staffs varies.
For instance, Council President Darrell Clarke controls 50 employees, with 43 in the president's office and seven in his district office. It's worth noting that many employees in the president's office are shared with all of Council. The annual payroll for Clarke's staffers in both offices is about $3.1 million, including Clarke's own salary of $150,904.
"Funds for operations, supplies, vendor contracts, and shared personnel (like Human Resources, procurement, janitorial and technical staff) — basically everything else not having to do with other members' aides — come out of the Council President's office," wrote Clarke's spokeswoman Jane Roh in an email. "That is why the Council President's budget is so much larger than other members."
Councilwoman Marian Tasco has the second-highest payroll for staff, which totals $714,757, including her $120,233 salary. Tasco has 10 employees.
On the other hand, Council freshman Dennis O'Brien has three employees, with a total annual payroll of $238,233. That includes O'Brien's $120,233 salary.
Who else has fat staffs? Compare the costs of different Council members' offices in the chart below.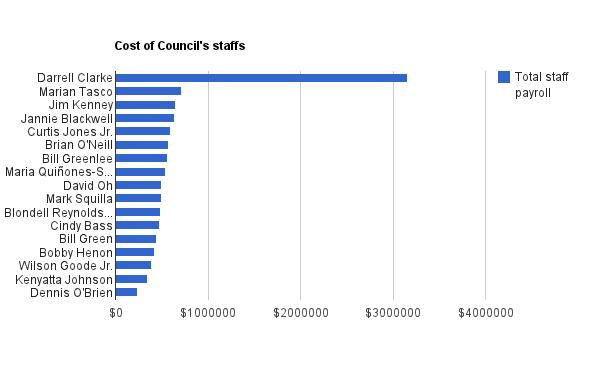 Source: City Council and City Controller's office
To see how this compares to the costs of past Council staffs, read this Daily News article from last year.
Council members' salaries also account for a chunk of its budget, about $2 million annually. Check out the salaries of each Council member: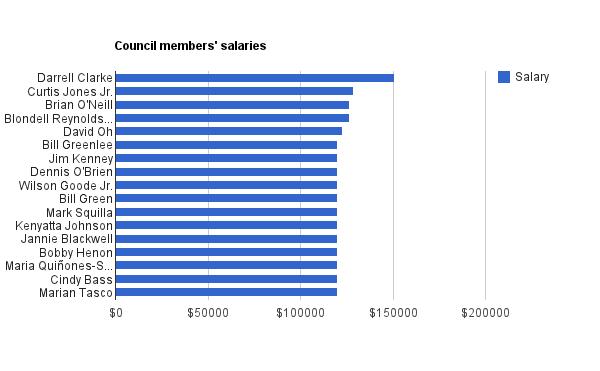 Source: City Council and City Controller's office
Also, Council's contracts and leases cost about $2 million in taxpayer funds annually.
Those are the facts. But if you want to ask Council questions about whether that money is being spent well, too bad. That's when Bigfoot retreats into the forest.