Archive: September, 2009
Steven Rea

, Inquirer Movie Columnist and Critic
Made for a reported $11,000 on hi-def, Paranormal Activity now has millions of dollars of Paramount activity behind it: the corporate version of a grass roots, street marketing campaign. Opening Friday, Oct. 2, in select cities, the film – by Oren Pelei – is being sold in part on a Paramount-engineered "Demand It" campaign where folks can go to a website and lobby to bring the spook-o-rama "reality" flick to their town.
Paranormal Activity is about a young couple (Katie Featherston and Micah Sloat) that move to a new house only to discover that it's already inhabited by some sort of demonic entity. Last week, the pic was sneaked in thirteen markets, including State College, PA, to stir up buzz and get folks who live in real cities clamoring to see it. At last check, Philadelphia is 9th on the "Demand It" list (4,248 people are demanding it!), right behind San Francisco and in front of Atlanta.
There's also a Facebook fan page, and a Twitter
site
that's a'twitter with audience reactions. And there's the Bloody-Disgusting.com blurb that's guaranteed to bring in some business. The gore-fan site's summation: "ONE OF THE SCARIEST MOVIES OF ALL TIME."
Blair Witch, anyone?
Steven Rea

, Inquirer Movie Columnist and Critic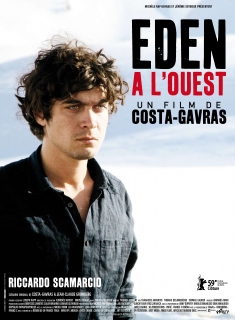 Francophiles, francophones, French cinema aficionados, take heart: Beginning Wednesday, Sept. 30, and running once a month year-round, "La Cinematheque" – a new series of new films en francais – kicks off at the Prince Music Theater.
Presented by the Philadelphia Cinema Alliance – the non-profit overseer of the annual Philadelphia CineFest – La Cinematheque debuts with French Kissers (Les Beaux Gosses), a reportedly raunchy teen farce that won fans at Cannes, and includes supporting turns from Emmanuelle Devos, Valeria Golino and Irene Jacob.
The big news for the series is that October's premiere,

Eden Is West (Eden a l'Ouest),

is the latest from famed filmmaker

Constantin Costa-Gavras

, and that Costa-Gavras himself will be on hand to introduce and discuss the film. Starring Italian actor

Riccardo Scamarcio

, Eden is a comedic road movie about immigrant life in the new Europe. The Paris-based filmmaker is famous for his intense political dramas Z and State of Siege.
Other titles slated for La Cinematheque so far: OSS 117: Lost in Rio (OSS 117: Rio ne repond plus), a spy spoof, and The First Day of the Rest of Your Life (La premier jour du reste de ta vie).
Screenings will start at 6:45 pm, admission is $9.50 for one screening, $25 for four. Sudents with valid Ids get in for $5, and members of the Philadelphia Cinema Alliance and the Prince Music Theater also get discounts. A special "Food, Wine and Film" food event will precede next Wednesday's La Cinematheque launch (at additional cost).
Steven Rea

, Inquirer Movie Columnist and Critic
Had to duck out of Werner Herzog's Bad Lieutenant: Port of Call New Orleans to make it to my interview with Vera Farmiga (great in Up in the Air), but 40 minutes in, the Bad Lieutenant had all the makings of a camp classic. Both an homage and a parody of cheeseball B-pictures like Abel Ferrara's own Bad Lieutenant (with Harvey Keitel, of course), BL:POCNO stars Nicolas Cage as a N'awlins police detective who descends into a painkillers-and-coke haze of corruption and parking lot couplings with trashy babes. Set post-Katrina, Herzog's film pins most of Cage's problems on a bad back. If he had just found a good chiropractor. Oh, and by the way, Herzog, Cage and company want you to know THIS IS NOT A REMAKE!
The Toronto hotels that play host to the visiting filmmakers and stars – the Four Seasons, the Hazelton, the Park Hyatt and the Intercontinental among the tonier of 'em – are pretty accommodating when it comes to letting fans stake out their respective entryways, at the ready with cameras, iPhones and autograph pads. (The Hazelton is probably the least welcoming – with a barricade rimming its perimeter – but even then all you have to do is take a sidewalk table at the Starbucks across the street.) Among the celebs spotted over the past few days: Megan Fox, Amanda Seyfried, George Clooney, Woody Harrelson, Mischa Barton, Matt Damon, Drew Barrymore, Clive Owen and Bright Star's bright star, Abbie Cornish. And if cranky documentarian Michael Moore is a star, we eyed him, too, shuffling down the Hazelton hallways -- rich digs for the maker of Capitalism: A Love Story, a powerful piece of corporate-America-is-ruining-us muckrakery. I was all set to interview Mr. Moore back in Philly, but that visit has since been cancelled. Will try to get him on the phone.
Steven Rea

, Inquirer Movie Columnist and Critic
Let's see -- 271 movies in ten days, that's 27.1 movies a day. Which means that most Toronto Film Festival-goers are going to have wildly divergent takes (and tickets) as they queue up with their circled and underlined schedules, waiting for whatever the next show is at the Varsity or the AMC plexes, the Elgin or the Cumberland, or the other venues spread around town. (A town celebrating its 175th year.)
And so far, my festival has been a grim one – thematically, that is. With the exception of the happily loopy, sort-of-true The Men Who Stare at Goats and its tale of secret paranormal military ops and New Age army dudes (including a Dude-like Jeff Bridges), I've seen nothing but doom, death and depression.
Sure, the Coen Brothers' A Serious Man – drawn from Joel and Ethan's experiences growing up in 1960s suburban Minnesota -- is laced with typical Coensian irony and close-up absurdity. But the film's protagonist, a physics professor played by Michael Stuhlbarg, has the luck of Job: his wife wants a divorce, his brother, a jobless social misfit, has moved into the family house, the tenure committee has been receiving unfavorable, anonymous letters, and a foreign student is threatening to sue. On top of that, the X-rays from this ill-fated father and husband's most recent doctor's visit seem ominous. Laff riot.
Consider Up in the Air, Jason Reitman's adaptation of the Walter Kirn novel about a guy who fires people for a living (George Clooney). This dark, quiet comedy achieves levels of documentary-like pathos with a series of talking head "interviews" with everyday Joes (and Jills) who have just been laid off, let go, made redundant. Tears, rage, despair and suicide permeate the pic, which also stars Vera Farmiga, Jason Bateman and Anna Kendrick and which addresses the current economic climate (and near-10% unemployment rate) with chilling relevancy.
Or The Road, the post-apocalyptic tale of a father and son (Viggo Mortensen and the Australian Kodi Smit-McPhee) slogging across gray, dangerous landscapes looking for food and safe haven. John Hillcoat's adaptation of the Cormac McCarthy novel is bleak, powerful stuff.
And then there's Triage, Danis Tanovic's drama about an Irish photojournalist (Colin Farrell) covering the strife in '80s Kurdistan: a bloody report about battle, bombings, amputation, mercy killings and debilitating post-traumatic stress. At the world premiere at the Winter Garden, Tanovic (No Man's Land, Hell) introduced the film with grace and humor, and then introduced Farrell, who shuffled out onto the stage, nodding nervously. He could be up for an Oscar.
Friday and Saturday, interviewed Penelope Cruz and Lluis Homar for Almodovar's Broken Embraces (more loss, more melancholy); The Art of the Steal's Philly-based doc director, Don Argott; Viggo Mortensen (talking like a proud dad about the talents of his pipsqueak co-star), and Jeff Bridges, reflecting on his career, his dad, and the upcoming remake of True Grit he's going to do with his Big Lebowski auteurs, the Coens. (He hasn't run into them here.) Upcoming interviews: Abbie Cornish (Bright Star), Vera Farmiga (Up in the Air and Niki Caro's The Vintner's Luck.)
Sick parenting moment on Yorkville Avenue, as a father and his toddler daughter negotiate the sidewalk near the Four Seasons and the crowd of celebrity gawkers stationed there: "Want to try your sunglasses on so you can look like a movie star?"
Sick marketing moment in same Yorkville nabe: a stand emblazoned with Matt Damon's image and a The Informant! sign, distributing corn, still green in the husk, to passers-by, promoting Steven Soderbergh's tonally wacked agri-business whistle-blower comedy thriller.
Steven Rea

, Inquirer Movie Columnist and Critic
TIFF 2009 – Day One

Never mind health care, here's the real difference between the U.S. and Canada: Driving into the country from the States side of Niagara Falls, you pull up to the Customs officer's booth, he asks you the purpose of your visit and when you say you're covering the Toronto Film Festival his next question is "What's your favorite movie?" And then he tells you his (Raiders of the Lost Ark) and then he wants to know what's up with James Cameron's Avatar because he heard that it's going to revolutionize the movie-going experience.

And then: What are you looking forward to seeing in Toronto? Are there going to be a lot of stars?

Somehow I can't picture the Homeland Security dude on my return through New York asking me if the new Pedro Almodovar is as good as All About My Mother.

Speaking of which, Broken Embraces, with Almodovar muse Penelope Cruz as a woman leading (at least) a double life, and her relationship with a blind screenwriter (Lluis Homar) who has his own secret past, isn't perfection after all. But this moody, labyrinthine soap opera is never less than compelling.

Forget Jennifer's Body, though. A self-consciously hip horror thing with Megan Fox striking various teen-seductress poses as she gnashes and gnaws her way through Devil's Kettle High, this might have felt fresh 15 years ago, but then again, maybe not. Amanda Seyfried, as the kinda nerdy good-girl and Jennifer's improbable best-friend, voice-overs the tale, directed by Girlfight's Karyn Kusama, from an arch script full of pseudo-cool teen patter from Diablo Cody of Juno fame.

Way more engaging, and truly nutty: The Men Who Stare at Goats, with George Clooney (looking like a fried Clark Gable) and Jeff Bridges as U.S. army intelligence agents trained in paranormal, psychic powers. Ewan McGregor is the reporter along for the ride, covering this seriously strange gang (also Kevin Spacey) as they bring their unique abilities to Operation Iraqi Freedom. The line for the press and industry screening was literally out the door. And there are some Jedi jokes that take on special meaning given that McGregor is, of course, Obi-Wan Kenobi in another life. Not quite the awed audience response that greeted Slumdog Millionaire in the same theater last year, but hearty applause nonetheless.

Brian De Palma spotted walking from one screening to another, and then later out in Yorkville, sitting on a rock in a pocket park in his trademark safari jacket, adjusting his iPod. DePalma is one of the fest's annual fixtures.