Archive: May, 2012
While Men In Black 3 was busy underwhelming U.S. moviegoers with an opening Memorial Day weekend tally of $69.2 million (way below industry expectations), Wes Anderson's Moonrise Kingdom made independent-film history at the box office.
Debuting in only four theaters nationwide, the quirky coming of age yarn about runaway 12-year-old lovers and the parents, police and camp leaders who go looking for them, grossed $686,179 over the four-day holiday weekend, for a $171,545 per-screen average. (MIB3's per-screen numbers, by contrast, were less than one-tenth of that: $16,303.) Moonrise Kingdom's per-screen average was the highest ever for a non-animated feature.
And speaking of non-animated features, Moonrise Kingdom – starring Bill Murray, Frances McDormand, Bruce Willis, Edward Norton, Jason Schwartzman, Tilda Swinton and Jared Gilman and Kara Hayward as the amorous pre-teens on the lam -- represents a return to live-action for Anderson. The Paris-based auteur's previous release was the 2010 Oscar nominated stop-motion animated gem Fantastic Mr. Fox. While Moonrise Kingdom was shot with real actors on real locations, it nonetheless owes an aesthetic and stylistic debt to Fantastic Mr. Fox, and Anderson has acknowledged that fact in interviews, noting that the experience of making a movie with tiny puppets and tiny props reshaped his approach to shooting live-action. He has also credited Francois Truffaut's Stolen Kisses as an inspiration, while others have noted a similarity, plot-and-spirit-wise, to A Little Romance, the 1979 set-in-Paris story of two schoolkids who fall in love. Diane Lane made her screen debut as the lovestruck 13-year-old in that one.
It's to be called Happy Valley, and it promises to be an in-depth and wrenching documentary about Jerry Sandusky, the Nittany Lions assistant football coach charged in a wide-reaching sexual abuse case that rocked the Penn State community when it was uncovered last year. Amir Bar-Lev, director of the riveting doc about former NFL star and Afghan war casualty Pat Tillman, and also director of the award-winning My Kid Could Paint That, is working on the project with his longtime producer partner, John Battsek. Sandusky faces 52 criminal counts for alleged sexual misconduct involving boys. He has denied the allegations. The trial is set to start next month.
Happy Valley is being produced by A&E IndieFilms in partnership with Asylum Entertainment. Jonathan Koch, president of Asylum, is a native of State College, and, in his youth, was a camp counselor for The Second Mile, the nonprofit organization for underprivileged kids founded by the Sanduskys.
"When you are raised in Happy Valley, you feel as though nothing like this could ever happen there," Koch is quoted in an A&E press release announcing the project.
The sketch comedy/improv troupe Upright Citizens Brigade have a brand new dance movie, Freak Dance, playing in just a few cities around the country right now, and Philly's one of them. Tuesday through Saturday, May 22 through May 26, head for the Philly Improv Theater 's home at The Shubin Theater, 407 Bainbridge St., in Queen Village.
Directed by Matt Besser and Neil Mahoney, and featuring UCB founders Amy Poehler , Matt Walsh, Ian Roberts and Horatio Sanz, Freak Dance is about a spoiled rich girl with dreams of dancing her way to stardom, and the rival dance gangs she finds herself caught between. The movie's tag line: "Sometimes you got to take a chance and dance."
Here's the trailer: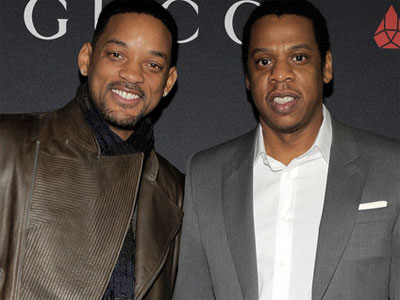 Jay-Z thinks he's gonna like it here. And he thinks the sun will come out tomorrow. Even if he thinks it's a hard knock life.
At the Jay-Z/Michael Nutter press conference Monday announcing plans for a two-day Labor Day weekend mega concert, "Made in America," somebody asked the New York-based Jay-Z Why Philly? And Jay-Z replied (to paraphrase), because he's good pals with Philadelphia's own Will Smith, and that the two of them – along with James Lassiter, Smith's producing partner at Overbrook Entertainment -- have been working on a bunch of projects together.
One of those projects is Annie, a planned remake of the Broadway smash (and 1982, John Huston-directed screen version), with Willow Smith to star as the upstart orphan. Jay-Z has already shown his affinity for the Martin Charnin/Charles Strouse musical, having sampled "It's a Hard Knock Life" in his hit "Hard Knock Live (Ghetto Anthem)."
Smells like team spirit.... It doesn't take a brain surgeon to figure this out: If your movie has made $702 million in worldwide ticket sales in its first couple of weeks' release, as the Disney/Marvel Studios' superhero smash-up The Avengers has done, then a sequel is in order. And maybe another one after that.
Indeed, Disney CEO Bob Iger confirmed this week that Avengers 2 is in development, with all of its caped and masked and spandexed castmates signed on. But first, the individual members of the "Avengers Initiative" will get their solo sequels in gear: Iron Man 3, with Robert Downey Jr. back as kabillionaire industrialist inventor playboy wisecracker crime-fighter Tony Stark, is being readied for a 2013 release, while Captain America 2 and Thor 2, starring Chris Evans and Chris Hemsworth, respectively, are on board for 2014. (What if the two Chrises switch? Would anyone notice? Would anyone care?)
And Marvel Studios' president Kevin Feige has gone on record saying that Scarlett Johannson's Black Widow – the elite Russian intelligent agent Natasha Romanoff who joins forces with SHIELD (and seems to have a thing for Jeremy Renner's Hawkeye) – will likely get her own stand-alone movie, too. Johannson has signed on to do so, and has been telling the press "I love the Widow."
Maurice Sendak -- who died Tuesday, age 83, leaving behind a wealth of words and drawings that will live on and on -- had invited the visionary music video maker turned filmmaker Spike Jonze to try his hand at adapting what is perhaps Sendak's best known book, Where the Wild Things Are.
In an interview with Jonze when his fittingly wild, live-action interpretation of Sendak's bedtime tale came out in 2009, the director talked about the impact Sendak's work had had on his own childhood, and on shaping his imaginative world. In the book, and the movie, a misbehaving kid, Max, is sent to bed without his supper, and somehow journies to a land inhabited by horned, clawed, feathered and unruly giant monsters.
"I would look at those pictures -- where Max's bedroom turns into a forest -- and there was something that felt like magic there," Jonze said in the interview. "Just the power of that creation, when somebody invents something that seems so familiar to you -- that's a strong feeling.... And for me, even at 5, I probably had dreams that were similar to that story in some way."
In Sound of My Voice, an eerie indie thriller starring (and co-written by) Brit Marling, a woman who claims to be from the future sets down in Southern California, and starts preaching to a small core of devotees. She has seen the apocalypse, and she is here to teach believers how to survive. Being led blindfolded and shackled to her house, scrubbing down, donning hospital gowns and learning a secret handshake are all part of the process.
There have been a number of cult movies over the years – that is, movies about cults. In last year's Martha Marcy May Marlene, Elizabeth Olsen delivered what many felt (me included) was an Oscar-worthy performance as an escapee from a hippie-like commune, traumatized by events she was party to there. And just this February, Jennifer Aniston and Paul Rudd were party to Wanderlust, a comedy about a couple who stumble on a seemingly idyllic community led by a singing, free-lovin', bearded dude played by Justin Theroux. Of course, he's up to no good.
Here's a chronological list of a half dozen other notable cult pics: