Archive: May, 2010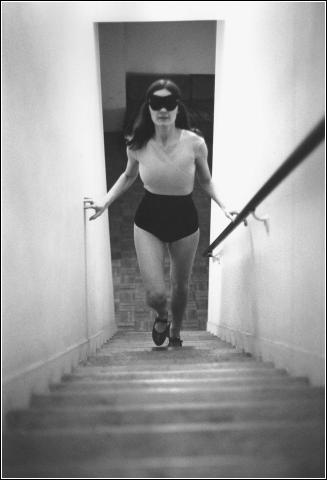 Albert Maysles, the veteran documentarian whose titles (with his brother, David) include the hugely influential Grey Gardens (about eccentric mother and daughter shut-ins, Edith and "Little Edie" Bouvier Beale) and Gimme Shelter (the Rolling Stones' Altamont concert film), has a new one premiering right now on SnagFilms.com.
Sally Gross: The Pleasure of Stillness
is a beautifully observed portrait of the New York modern dance figure, a choreographer, now in her 70s, whose minimalist pieces have a simplicity and quietude that belies their emotional power.
In this hour-long film, Maysles and collaborator
Kristen Nutile
follow
Gross as she teaches classes, works out the concept and cofigurations for a new dance, shares recollections about growing up on the Lower East Side (her first language was Yiddish) and walks and talks with friends and colleagues. There's a visit to the Noguchi Museum, with sculptures, strong and serene, that share the same sense of shape, place and time that are key components of Gross' own work.
"I feel like I never grew up," Gross says early in the film, reflecting on her long and storied artistic career. "I feel like this is who I am. I feel like that person."
The Human Centipede bills itself as "100 percent medically accurate." Okay, if you can find a retired German surgeon bent (truly bent) on fusing live human hostages together to form his vision of Siamese Triplets, well, then, accurate this is.
A gleefully twisted biological horror flick that's been drawing midnight crowds in New York, Los Angeles and other burgs across the land, Dutch director Tom Six's sick joke of a movie is an extremely accomplished and uncomfortable affair. Much of the uncomfortableness comes by way of Dieter Laser, the German actor who portrays the demented medico. (Yes, the actor's name is Laser – insert your Laser surgery joke here). And when two American girls (Ashley C. Williams and Ashlynn Yennie) stumble on the good doctor's out-of-the-way villa on a dark and stormy night, well, let the madness, and the grossness, begin! (Another abductee is already down there in the basement.)
The Human Centipede
plays this Friday, May 21, at midnight at the Ritz Five. Here's the
trailer
. And here's Six --who's reportedly already at work on
Human Centipede II --
from his director's statement: "A lot of horror films are about the fear of death, but in my film, it is much more the intense and long human suffering, both mental and physical, that fuels the drama."
Squirm, baby, squirm.
Is this how the Dow dove 1,000 points in 20 minutes last week? In Floored, James Allen Smith's eye-popping documentary about the Chicago Trading Floor -- a mosh pit of screaming and yelling, selling and buying, with millions at stake -- the mad quest for money meets electronic trading, with scary, crazy results.
Available online on Babelgum.com in weekly installments (episodes 1, 2 and 3 are up and running now), Floored offers a fascinating glimpse into the teeming, screaming world of speculators and local traders, moving like lightning, and behaving like, well, nutballs.
"It's not a normal job," says one former trader, and boy is he right. Check it out.
Introducing a new weekly feature on my On Movies Online blog: a pick of one of the best new films to be found on the Web. Herewith:
Guy Maddin
, the retro surrealist filmmaker from the far side of the 49
th
parallel (he's Canadian), has a beautiful new black-and-white fantasy piece of Winnipeg whimsy up and running on the National Film Board of Canada's
website
. The short is called "Night Mayor," and it purports to be about – and to be narrated by – one
Nahid Ademi
, a Bosnian who emigrated to Canada in the 1930s and who somehow harnessed the power of the Aurora Borealis, converting its energy into television signals and broadcasting images across the land. (In fact, the fictitious Ademi is played by the real Ademi, a Winnipeg photographer and Maddin pal.)
Gorgeous, goofy, funny, harmonic, "Night Mayor" is another oddball gem from Maddin, the director of such radiant fare as Tales from the Gimli Hospital (1988), Careful (1992)and The Saddest Music In the World (2003, with Isabella Rossellini).
This is Maddin's quip about the new online venue for his film, from an NFB press release: "I thought `Night Mayor' could unspool luminously and infinitely in its own enchanted, and frequently visited, corner of cyberspace. Now, if only I could get my films on radio and Telex I'd really be set!"