Archive: April, 2011
Steven Rea, Inquirer Movie Columnist and Critic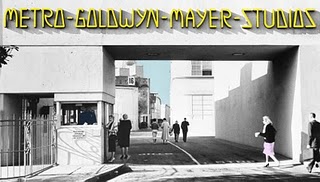 The chariots of Ben-Hur rumbled here, the munchkins of The Wizard of Oz squeaked here, Gene Kelly and Debbie Reynolds went Singin' in the Rain here, too. In M-G-M: Hollywood's Greatest Backlot, the history of one of moviedom's most storied studios – a city-within-a-city of soundstages, construction sites, recording facilities, rehearsal halls, writers offices, costume shops, dressing rooms, faux waterfronts and exotic Old World facades – is explored in loving detail. Rife with amazing archival photos (the Marx Brothers with their literal bags of tricks, Katharine Hepburn diving into the studio's Esther Williams Pool for a scene in The Philadelphia Story) and meticulously researched chapters on the Culver City complex, the 304-page hardbound book (from Santa Monica Press) is a must-have for film buffs, fans of Hollywood's Golden Age and anyone who keeps Turner Classic Movies as the default channel on their TV.
"It has been estimated that historically a fifth of all movies made in the United States were partially shot somewhere at MGM studios," note co-authors Steven Bingen, Stephen X. Sylvester and Michael Troyan in their prologue. Spend some time with this amazing book and the images come flooding back. As Frank Morgan said in one of the most famous of all the MGM classics, "pay no attention to that man behind the curtain." M-G-M: Hollywood's Greatest Backlot pulls back the giant curtain, and it's impossible not to pay attention as the machinery behind the magic is revealed.
Steven Rea, Inquirer Movie Columnist and Critic
A hit at last month's South By Southwest Film Festival, Last Days Here, a stormy portrait of doom metal legend Bobby Liebling and his band Pentagram, was acquired by Sundance Selects (a corporate sister of IFC Films) and will get a national theatrical and video-on-demand release later in the year. Co-directors Don Argott and Damian Fenton worked on the project for nearly four years, tracking Liebling's struggles with addiction and his friendships and fallouts with former bandmates and fans.
Argott, who directed The Art of the Steal, the well-received documentary about the controversial relo of the Barnes Institute from Merion to Philadelphia's Museum Row, is no stranger to music-themed films. He's shot music videos - most recently the extended-form "making of" film for the Tedeschi Trucks Band, the new ensemble from husband-and-wife musicians Susan Tedeschi and Derek Trucks. And Argott's first feature was Rock School, the 2005 doc about Philadelphia's School of Rock founder Paul Green.
Steven Rea, Inquirer Movie Columnist and Critic
Steven Rea, Inquirer Movie Columnist and Critic
Robert Redford is on the phone, and wants to know what's up with the Barnes.
"Hey, are they moving the Barnes out of that mansion?" he wonders. "Has that gone down smoothly, or has it been a rocky controversy?"
Redford, calling from his office in New York, is making himself available to talk about The Conspirator, his Lincoln assassination drama, starring Robin Wright and James McAvoy and opening Friday, April 15. (Read my interview with Redford on Sunday, April 17.) But the actor/filmmaker/environmentalist/mail order catalogue magnate had dropped into Philadelphia a few months back and taken a tour through the Barnes Foundation collection in Lower Merion. He'd also seen Don Argott's The Art of the Steal, the documentary about the fate of the Barnes and "the uproar" over efforts to relocate the storied trove to a new site on Philadelphia's museum row.