Archive: March, 2013
Steven Rea, Inquirer Movie Columnist and Critic
"People always think something's all true. " – Holden Caulfied, The Catcher in the Rye
Filmmaker Shane Salerno has been working on a documentary about the famously reclusive, infinitely influential J.D. Salinger since at least 2008. He has interviewed more than 150 people who worked with, or knew, or felt a spiritual kinship with the author – from his days contributing short stories to the New Yorker way back when, from the days of The Catcher in the Rye (1951) and Franny and Zooey (1961) and his last published novella, Hapworth 16, 1924 (1965). Long ago, Salinger retreated to Cornish, New Hampshire, where he guarded his privacy with diligence, and where he died, of natural causes, in January, 2010. He was 91. The Catcher in the Rye has sold more than 65 million copies since it was first published.
This week The Weinstein Company announced that they had acquired Salerno's doc, Salinger, and will release it in September. The press release promises interviews with "Salinger's friends, colleagues and members of his inner circle who have never spoken on the record before, as well as film footage, photographs and other material that has never been seen. Additionally, Philip Seymour Hoffman, Edward Norton, John Cusack, Danny DeVito, John Guare, Martin Sheen, David Milch, Robert Towne, Tom Wolfe, E.L. Doctorow, Gore Vidal and Pulitzer Prize winners A. Scott Berg and Elizabeth Frank talk about Salinger's influence on their lives, their work and the broader culture. The film is the first work to get beyond the Catcher in the Rye author's meticulously built up wall: his childhood, painstaking work methods, marriages, private world and the secrets he left behind after his death…."
Steven Rea, Inquirer Movie Columnist and Critic
Kirby Dick's Oscar-nominated documentary feature, The Invisible War, offers a startling investigation of rampant and underreported incidents of rape in the United States military. It's being screened Friday, March 22, as part of the ambitious Human Rights Watch Film Festival, under way this week and weekend at International House.
Prize-winning documentarian Dick's film examines the systemic failure to address the crisis of women in the armed forces who have been victims of sexual violence. Women who entered the ranks of the Army, Navy and Air Force with high ideals and ambitious goals found themselves ignored and humiliated when they brought charges against the men who had sexually assaulted them. The film is a scathing indictment of a culture of cover-ups and denial within the military and the government. The film screens Friday at 7 p.m. at International House.
Also on the Human Rights Watch Film Festival program:
Steven Rea, Inquirer Movie Columnist and Critic
The Cinedelphia Film Festival, up and running April 4-27 in venues all over town, promises a remarkable celebration of the city's film traditions, its stars and cult gods, its B-movie roots, its movers and shakers – and its music makers, too. Take a look at a rare 35mm print of the French adaptation of Philly noir author David Goodis' The Burglar (called The Burglars, and starring ultimate cool dude Jean-Paul Belmondo). Check out John Waters 1974 classic, Female Trouble, featuring Divine, and listen to local luminary Ray Murray recount the history of the film and video company he co-founded, TLA Entertainment. Hear indigenous indie band Farquar Muckenfuss tear through the songbook of that seminal '60s media phenom, The Monkees, and then watch the totally trippy, Bab Rafelson-directed (and Jack Nicholson-scripted) Monkees movie, Head.
An engagingly eclectic and eccentric lineup of vintage horror, of new fare from Asia, of docs and retrospectives, the month-long Cinedelphia Film Fest, programmed by movie maven Eric Bresler, scans back to key work by local African-American filmmakers courtesy of the folks at Reelblack. The nascent days of the Neighborhood Film Project are celebrated with a program of shorts at International House. Girls School Screamers and Blades, two last-millennium Philly horror B's, will be screened, with filmmakers in attendance, and there will be a rare presentation of Frederick Wiseman's 1968 documentary, High School, shot at Philly's Northeast High. Kathryn Bigelow's rockin' Keanu Reeves/Patrick Swayze undercover cop surfing classic, Point Break, gets some live (surf) music accompaniment from Bethlehem's The Great White Caps. Vanishing Waves, a new sci-fi pic from Lithuanian director Kristina Buozyte, picked up for U.S. distribution by Philly's Artsploitation Films, has its area premiere. And Filmadelphia author Irv Slifkin hosts a program celebrating the city's movie history, from the Silent Era's Philly-based pioneer, Siegmund Lubin, to that John Garfield in Pride of the Marines to that movie set at the Philadelphia Museum of Art -- no, not the one with the South Philly pugilist in his baggy sweats, but Frank Perry's '60s indie, David and Lisa.
Also: rare Nikkatsu action film! Also: indie rock drama from Philadelphia Asian American Film Festival! Also: home grown Three Stooges star Larry Fine gets recognized for his genius! Also: a Wes Anderson-inspired burlesque act! Also: M. Night Shyamalan gets some comedy comeuppance for making Lady in the Water! The list goes on and on. It's ridiculous. For complete schedule and ticket information, go to: http://cinedelphia.com/cinedelphiafilmfestival
Steven Rea, Inquirer Movie Columnist and Critic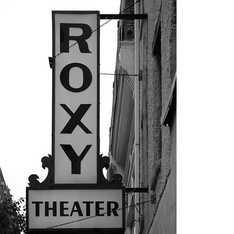 Imagine this: crystal clear digital projection, wraparound sound, plush seating, and a program of new and repertory film fare to die for. That's what Andrew Greenblatt and his cohorts at the Philadelphia Film Society have been imagining since they signed a deal to take over the two-screen Roxy Theater last fall.
And while the planned opening of the Sansom Street/Rittenhouse Square area venue is still months away, with lots of restoration and new equipment to be installed, things are looking good: Since March 1, when the PFS launched its "Restore the Roxy" Kickstarter drive), more than $15,000 has been pledged. The goal is to reach $40,000 by month's end. That should be enough for new seats for both houses. And only another $600,000 is needed for other major Roxy projects, so get cracking!
Steven Rea, Inquirer Movie Columnist and Critic
A thrilling romantic melodrama in which star-crossed lovers played by the alluring Annabella and the emotive Jean-Pierre Aumont plan a double suicide at a Paris hotel, Marcel Carne's Hotel du Nord is rich and operatic and not to be missed – especially when it's being shown for free!
Presented by the Chestnut Hill Film Group at the Woodmere Art Museum, 9201 Germantown Ave. , tonight at 7 PM (doors open at 6:30 PM). Info: 215-247-0476
"Atmosphère, atmosphère -- do I look like atmosphère to you?"
Steven Rea, Inquirer Movie Columnist and Critic
Girl Rising, from Academy Award winning director Richard Robbins, is a story of empowerment through education. It is also nine different stories, of nine girls from far-flung corners of the world who face daunting social and cultural obstacles – extreme poverty, arranged marriages, child slavery -- but find a way out through education and their own resilience and smarts.
The film, which features narration by Cate Blanchett, Anne Hathaway, Meryl Streep, Kerry Washington and others, screens Saturday, March 9, 10 A.M., at the County Theater in Doylestown. Shabana Basij-Rasikh, who grew up in Afghanistan -- where women are forbidden to go to school but who gained an education by disguising herself as a boy -- will present the film and field questions after the screening. A graduate of Middlebury College, she is now Managing Director and co-founder of the of SOLA (School of Leadership -- Afghanistan). Tickets are $10, available at www.gathr.us. The County Theater, 20 E. State St., Doylestown. Info: 215-345-6789, or www.countytheater.org