Archive: October, 2009
Steven Rea

, Inquirer Movie Columnist and Critic
Surprising just about everyone with its strong opening weekend (#1 spot, $32.7 million), Spike Jonze's Where the Wild Things Are is determinedly not your typical kid flick – a fact that director Jonze, his co-writer Dave Eggers and the book's author/illustrator (and film's producer) Maurice Sendak are rightfully pleased with themselves about.
And one of the quirkier elements in the live-action endeavor -- which takes place mostly on a fantasy isle where behemoth horned-and-clawed neurotics build huts and bicker with their boy intruder, Max (Max Records) – is the music. Folks who saw the Where the Wild Things Are trailers over the summer recognized Arcade Fire's "Wake Up," with its alt-anthemic rhythms, meshing perfectly with Jonze's imaginary world visuals. But that's not how the director wanted to go with the final sound track. Instead, he recruited Yeah Yeah Yeah's lead singer Karen O to come up with a set of dreamy pop ditties. This she did, working with a choir of kids to give the songs a kind of artful artlessness.
"The first Arcade Fire record is called Funeral, which that song, `Wake Up,' is on," explains Jonze, in an interview just before his film opened. "I was listening to that record a lot when we were writing Where the Wild Things Are and it's a record that thematically is very similar to our movie. It's about childhood. And so that song was always a part of the movie in some way.
"But we never wanted to use any known songs in the movie, we wanted all the songs to be original. And so very early on I asked Karen to do the music.... Even though Karen had never done music for a movie before, I just knew she had the heart and sensibility for it: that sort of depth and innocence, at the same time."
Jonze, director of Being John Malkovich and Adaptation, says that the whole movie was done in that same spirit.
"We were trying to make something that felt like what it feels like to be nine-years-old, and nine-year-olds create really intuitively. They're not analytical and cerebral. And I can tend to be cerebral — my first two films, I think, worked in a much more cerebral way.This time, I wanted to work more intuitively."
And bringing in Karen O was a product of that intuitiveness.
"Karen and I talked about how we wanted the score to be more like pop songs — not like bubblegum pop songs, but pop songs like when you're a kid and you hear a Beatles song, or you hear `God Only Knows' by the Beach Boys. Those are songs that as a kid you might not know exactly what they're writing about, but you know the feeling that they're getting at. So that was the idea: pop songs with depth and feeling that were thematically related to the movie, if not literally, lyrically related."
Steven Rea

, Inquirer Movie Columnist and Critic
Variety reports that Chris Pine, who starred as James T. Kirk in J.J. Abrams' smasheroo reboot of Star Trek this summer, might be rebooting another Paramount franchise too, the Jack Ryan CIA series that produced the '90s titles The Hunt for Red October, Patriot Games, Clear and Present Danger and 2002's The Sum of All Fears. If the project happens, Pine would be the fourth actor to star as the Tom Clancy spy guy (first one: Alec Baldwin, middle two: Harrison Ford, last one: Ben Affleck).
So, are there other dormant series out there that need resurrection? You betcha. What about bringing back Harry Palmer, the tousled '60s secret agent played by Michael Caine in The Ipcress File, Funeral in Berlin and Billion Dollar Brain. Jude Law – Caine's sparring partner in the not-so-great 2007 remake of Sleuth – could fit right in if the Len Deighton tomes were to be retackled.
And I for one would love to see a new Thin Man series, although it'd be hard to find anyone as tipsily droll (or drollily tipsy?) as William Powell, and as cool and classy as Myrna Loy, the Nick and Nora Charles of the six Thin Man movies. Suggestions, anyone?
Steven Rea

, Inquirer Movie Columnist and Critic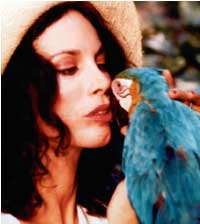 Carol Altschuler, of Elkins Park, left a voicemail earlier this week: Based on a two sentence description she'd read in the Inquirer, she ventured into town over the weekend to catch Bird's Eye View at the Roxy Theater.
This is part of her review, the message she left on the phone: "Unbelievable … The movie was a riot… The whole animal thing, the alien thing… I've never seen anything like it. It's a real find!"
Ah yes, the animal thing, the alien thing. Cybela Clare, the Rittenhouse Square writer/director/producer and star of Bird's Eye View, communes with cockatoos. She has an ardent animal rights agenda that makes Brigitte Bardot look like Mademoiselle Milquetoast. And then there's the alien stuff: a flashback to Clare's character's childhood, a little girl gone missing in a blast of light. There's are testimonials from women who were abducted and impregnated by aliens. There's even stuff about missing bovine body parts – cow organs taken into space on flying saucers.