Archive: January, 2013
Steven Rea

, Inquirer Movie Columnist and Critic
Michael Haneke is sitting in a windowless room, in the lower floor of a Toronto hotel. It's small, it's confining, and it seems an altogether appropriate setting. In Amour, the Austrian filmmaker's emotionally jolting portrait of an elderly Parisian couple – played by Jean-Louis Trintignant and Emmanuelle Riva – almost all the action takes place within the walls of the retired musicians' apartment.
Like all of Haneke's films – Funny Games, Cache, White Ribbon, among them – Amour has moments that leave themselves open to interpretation. What's with that pigeon that flies in through an open window? The police that knock down the apartment door? There are doubts, ambiguity. As a meditation on ageing and loss, it resonates deeply.
"I try to make films that I would like to see," explains the director. Amour won the grand prize at the Cannes Film Festival in May, was a big hit at the Toronto International Film Festival and is nominated for five Academy Awards (best picture, best foreign language film, best actress, best director and original screenplay). "When a film is too obvious and too simple, I am bored…. And especially with a film like this, I think it's not possible for me to make it in a cheap way, in a sentimental way. That was the big challenge for this film -- to avoid all this kind of sentimentality and misery. This is a subject that is so important, and it touches all of us, so you have to operate on a certain level."
Steven Rea

, Inquirer Movie Columnist and Critic
It's not every actor who gets to slap Jennifer Lopez. But Micah Hauptman, who plays one of a gang of double-crossing thieves in the new Jason Statham vehicle, Parker, has to do just that. And he also gets scolded mightily by the steely British action star, for not following orders during a $1 million heist from a county fair.
"I'm the eternal screw-up," Hauptman says, laughing. As for his big scene with J.Lo -- which comes after he and his partners (Michael Chiklis, Clifton Collins Jr. and Wendell Pierce) bring pepperoni pizza back to their hideout and find a revenge-bent Parker there to greet them – Hauptman says he approached the moment with dread.
"Of all the things I was most concerned about, that was the one that really had me worried," the actor explains, on the phone from New York where Parker screened this week. "For a month and a half leading up to the shoot that day, nothing but anxiety …, And then when I actually had the day with Jennifer…. I talked to her beforehand. She's lovely and so gracious and really committed to the work. I couldn't believe how cool and how easygoing she was about it."
Steven Rea

, Inquirer Movie Columnist and Critic
It could be a silver linings paycheck.
Matthew Quick, author of the novel-turned-Oscar-nominated Silver Linings Playbook, has sold screen rights to his upcoming book, The Good Luck of Right Now, to DreamWorks. Michael Fleming broke the news on Deadline.com yesterday. Quick, who quit his job as a teacher at Haddonfield High to try his hand at a writing career, typed Silver Linings Playbook on his MacBook, camped out and jobless in his in-laws' basement in central Massachusetts. It took him several years -- and several failed novels – but he found a publisher. The rest is history: filmmaker David O. Russell got his hands on the book and turned it into the Bradley Cooper-Jennifer Lawrence mood-swinging, Philly-centric gem currently playing in theaters and nominated for eight Academy Awards.
The Good Luck of Right Now traces the lives of four characters whose paths cross and who all have issues to deal with, emotionally, psychologically and relationshipally speaking. And one of the protagonists, caring for his dementia-stricken mom, writes letters to Richard Gere. Yes, Richard Gere. The Good Luck of Right Now is, like Silver Linings Playbook, set in and around Philadelphia. Publication is tentative for Spring, 2014. Quick also has a young adult novel, Forgive Me, Leonard Peacock, coming in August.
Steven Rea

, Inquirer Movie Columnist and Critic
Christina Weiss Lurie has some big news, and it's not about Chip Kelly moving here from Eugene. The co-owner of the Philadelphia Eagles has long been involved in movie-making – she executive produced Inside Job, the 2011 Academy Award documentary nominee. And this year, the documentary short Oscar contender, "Inocente," a 40-minute film about a homeless high school girl in San Diego, also bears Lurie's name. She executive produced the acclaimed film through Screen Pass Pictures, the non-profit she established with her ex, Jeffrey Lurie.
But now, having also worked in low-budget independents through her Vox3 Films, Lurie is setting her sites on bigger, more commercial ventures.
"I am trying to go Hollywood," Lurie says with a laugh, reached on the phone the day the Oscar nominations were announced. "It's always interesting to try to do new things, and... not that I've cornered the indie, small-budget film market, but I did that, and now I want to try something else."
Steven Rea

, Inquirer Movie Columnist and Critic
It took eleven years and several dog-eared editions of the Thomas Guide map books of Los Angeles, but Jim Pauley, a self-described lifelong Three Stooges fan, has pulled off a remarkable feat: In The Three Stooges: Hollywood Filming Locations (Santa Monica Press, $39.95), the Philadelphia-based author relentlessly traces the footsteps – and car chases and bike rides – that Larry, Moe and Curly took in close to 200 comedy shorts made in the 1930s, '40s and '50s. On Friday, Jan. 11, Pauley will screen and discuss five classic Stooges shorts, and sign copies of his book, as Secret Cinema presents a Stooges night at International House.
Pauley became addicted to the eye-poking, head-slapping, pratfalling and forever punning Stooges as a kid, rushing home from school to catch Sally Starr's Popeye Theater on (then) WFIL-TV. The Popeye 'toons were okay, but it was the Stooges who really got Pauley going. There's a rare, heretofore unpublished photo of Starr with Larry (and her stunt double) in the book, a behind-the-scenes shot from 1965's The Outlaws Is Coming! Fine, of course, was also a Philadelphian, born at 3rd and South Streets, ne Louis Feinberg.
Pauley, who has addressed legions of Stooges fans at the Hollywood Heritage Museum and at the Stoogeum, the Ambler, PA., Stooges shrine, says that the exhilaration he experienced as a boy watching the Three Stooges has been shared by kids ever since.
Steven Rea

, Inquirer Movie Columnist and Critic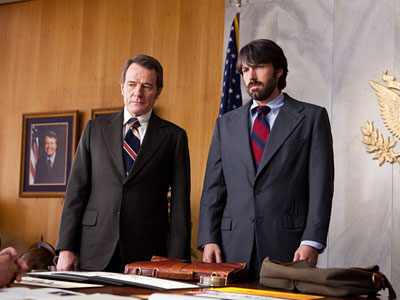 The Academy Award nominations are announced on Thursday, and it's a good bet that when the best director nominees are read, the five names on the Directors Guild of America 's list – a list issued today, Tuesday – will match. In the past five years, 21 of the 25 DGA nominees have gone on to receive Oscar nods, thanks to the significant overlap between DGA and Academy membership.
Here's the DGA best director nominee lineup:
Ben Affleck, Argo
Steven Rea

, Inquirer Movie Columnist and Critic
Michael Haneke's heartbreaking drama about an aging Paris couple, starring French New Wave icons Jean-Louis Trintignant and Emmanuelle Riva, won the best film of 2012 prize – and Riva won best actress, and Haneke director – as the National Society of Film Critics convened Saturday at Lincoln Center in New York to consider the exceptionally strong year just past. Lincoln and The Master won two awards each. Here's the complete list, with second and third choices listed in parentheses.
BEST PICTURE
Amour (The Master; Zero Dark Thirty)
BEST DIRECTOR
Michael Haneke –Amour (Kathryn Bigelow, Zero Dark Thirty; Paul Thomas Anderson, The Master)
Steven Rea

, Inquirer Movie Columnist and Critic
Tom Cruise, Morgan Freeman, Will Smith, Matt Damon, Jodie Foster, George Clooney, Sandra Bullock, Harrison Ford and Viola Davis are zipping up their spacesuits and getting ready to face alien armies, asteroids, elitist Earthlings and weird outer space stuff, as a squad of A-listers are set to top a wave of high-profile Hollywood science fiction flicks coming to screens in 2013. In addition to a couple of sci-fi franchise titles (notably Star Trek Into Darkness, the J.J. Abrams' reboot sequel, coming May 17), the projects are:
Oblivion (April 19) Tom Cruise and Morgan Freeman star in Tron: Legacy director Joseph Kosinski's post-apocalyptic alien space war thriller.
After Earth (June 7) Will Smith and son Jaden land on a planet that has been devoid of humans for more than 1,000 years. Malvern moviemaker M. Night Shyamalan is at the controls of this big-budget space adventure.