Steven Rea, Inquirer Movie Columnist and Critic
If you can't wait until Sunday night and all the red carpet preening and posing, and those agonizing stretches of kudo-slinging and self-congratulation that take up at least half the Academy Awards ceremony's running time, then tune in to the 2014 Independent Spirit Awards Saturday, March 1 (IFC, 10pm), for a less-pretentious, more diverse celebration of the year in movies just-passed.
The Indie Spirit Awards limits eligibility to American films produced for less than $21 million, which is why you won't see Gravity or The Wolf of Wall Street or Philomena jostling for recognition, and why Sarah Polley's north-of-the-border documentary, Stories We Tell, is not among the contenders.But indie gems like Enough Said, and Short Term 12, and Fruitvale Station are, along with Oscar frontrunners 12 Years a Slave and acting candidates Cate Blanchett (for Blue Jasmine) and Matthew McConaughey (for Dallas Buyers Club). And maybe, finally, the Coen Brothers' brilliant early-60s folk music odyssey, Inside Llewyn Davis, will get some due. The film is nominated for best picture and lead actor, for Oscar Isaac. If he wins, maybe he'll change his name to Indie Spirit Isaac?
Here's the list of nominees in the top categories:
Steven Rea, Inquirer Movie Columnist and Critic
"They Die By Dawn," a just-under-an-hour western inspired by the real-life exploits of African-American cowboys, has its area debut on Tuesday, Feb. 25, at International House.The Jeymes Samuel written-and-directed oater is set in 1890s Oklahoma, where four gunslingers wanted by the law meet up for an epic shootout. The cast includes Michael K. Williams (Omar from The Wire, currently in RoboCop) , Giancarlo Esposito, Rosario Dawson, Isaiah Washington and Erykah Badu. The Reelblack-presented program also includes the shorts "Nostalgia" by Johnnie Hobbs III, about an aging tap dancer, and "Underground," the inaugural episode of a new Philly-set cop series, from Skye Dennis.

International House's film bookings continue to be among the eclectic and adventurous in town. On Saturday, Feb. 22, Jay Schwartz's Secret Cinema unspools a super-rare 35mm print of the forgotten 1944 thriller, Dark Waters, starring Merle Oberon and Franchot Tone. Oberon, says the Secret Cinema, blurb, plays "a woman who escaped a sinking ship on which her parents drowned, only to remain haunted by the memory – and by the weird behavior of the family members who take the orphaned woman into their Southern plantation." Andre De Toth (House of Wax, the noir classic Crime Wave) directs. For tickets for these and other I-House film events, click here.

And Wes Anderson's Oscar-nominated stop-motion animated gem, Fantastic Mr. Fox, has a family matinee showing Saturday at 2pm. This'll be great to see on the big screen in advance of Anderson's The Grand Budapest Hotel, which has some very Fantastic Mr. Fox-y moments in it.
Steven Rea, Inquirer Movie Columnist and Critic
As the Palaces Burn, about the band Lamb of God, isn't just a documentary for heavy metal diehards. Like Don Argott's previous films -- The Art of the Steal, which chronicled the epic battle to relocate the Barnes Museum from its old Main Line digs to a new complex on the Benjamin Franklin Parkway, and Last Days Here, about the comeback try of another metal musician, Pentagram frontman Bobby Liebling -- the Philly-based director has landed a story that resonates way beyond the niche interests of music or art lovers.
As the Palaces Burn begins with Lamb of God lead vocalist Randy Blythe walking along a concrete foot bridge on an isolated stretch of river in his hometown, Richmond, Virginia, considering the weird twists of fate that have made him a rock star, and not another "dirtbag down by the river."
"Music," he adds, "is the only reason why I'm not in prison, or dead."
Steven Rea, Inquirer Movie Columnist and Critic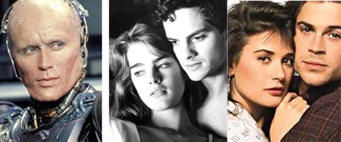 Moviegoers of a certain age may be experiencing a weird deja vu moment right about now, as the lineup of studio releases opening next week looks eerily familiar.
On Wednesday, Feb. 12, RoboCop, starring Joel Kinnaman as the Detroit police officer with the cyborgian makeover, hits screens. The original RoboCop, with Peter Weller in the title role, opened in 1987.
And on Friday, Feb. 14, there's About Last Night, which finds its all-black cast — Kevin Hart, Regina Hall, Michael Ealy, Joy Bryant — treading where Rob Lowe, Demi Moore, James Belushi and Elizabeth Perkins went before. In 1986.
Friday is alo the day that a retooled Endless Love rolls out. Gabriella Wilde is the daughter who falls for the handsome lad played by Alex Pettyfer — much to the consternation of her stern dad (Bruce Greenwood). Back in 1981, it was Brooke Shields who was head-over-heels for Martin Hewitt, much to the disapproval of her doting pop (Don Murray). Franco Zeffirelli directed that one. Shana Feste (the guilty pleasure Country Strong) is responsible for the redo.
Llike Dan O'Herlihy's Old Man said in that first RoboCop, "Maybe what we need here is a fresh perspective."
Steven Rea, Inquirer Movie Columnist and Critic
The Best Offer, a mystery romance from Giuseppe Tornatore, of Cinerma Paradiso fame, begins its Philadelphia run Sunday, Feb. 9 at PhilaMOCA, 531 North 12th Street, with repeat screenings the following Sunday, Feb. 16. The art space/performance/film venue is housed in what was once a showroom for tombstones and funeral monuments, thus inspiring PhilaMOCA's name -- the Philadelphia Mausoleum of Contemporary Art.
The Best Offer is set in the glammy world of high-end art and auction houses, hopping from Milan to Trieste to Rome to Vienna to Prague and places inbetween. Rush is the managing director of one such auction establishment. A mysterious, reclusive young heiress (Sylvia Hoeks) contacts him to sell off some pieces, and all sorts of strangeness and subterfuge ensues. Tornatore and Rush are both Academy Award winners. The film's composer, Ennio Morricone, has five Oscar nominations and an honorary Academy Award to his credit. Donald Sutherland has no Academy Award noms, surprisingly, while Jim Sturgess received a "Choice Movie Breakout Male" Teen Choice Award nomination for his work in the Beatles-musical/romance/'60s time-trip, Across the Universe.
For The Best Offer ticket and time info, click here. To see what else PhilaMOCA has going on, click here.
Steven Rea, Inquirer Movie Columnist and Critic
'Not Philip Seymour Hoffman!" read the post from a friend that popped up on Facebook.
Found dead on Sunday from an apparent drug overdose in a Greenwich Village apartment, Hoffman was 46. Last month he was front and center at the Sundance Film Festival, premiering a pair of pictures - God's Pocket, based on the Pete Dexter novel, and A Most Wanted Man, an adaptation of the John le Carré spy thriller. Both will be released this year - with the word posthumous certain to show up in the reviews.
There's always been something a little dangerous about Hoffman, whether in small roles or large. He's played his share of weirdos and outcasts, bad guys and tyrants, gay men and straight, loners, lovers, losers, clowns. He could do self-loathing, he could inhabit rage, he could be cool. But invariably, whoever and whatever he was, Hoffman brought intensity, intelligence, a lack of vanity, and a deep sense of craft to his work.
Steven Rea, Inquirer Movie Columnist and Critic
There are only 28 days in February, but that isn't stopping Turner Classic Movies from launching its annual "31 Days of Oscar" festival. Starting Saturday and running through March 3 (the day after the Academy Awards, Sunday, March 2) , TCM will be reeling through best picture nominees, best actor nominees, actresses, screenplay, cinematography, art direction , special effects – focusing on especially bountiful years for the movies and their makers.
Try Saturday's inaugural lineup: all ten best picture nominees from arguably the greatest year in Hollywood history, 1939. Beginning at 6am and running to almost 6am Sunday, the films are: Goodbye, Mr. Chips, Of Mice and Men, Ninotchka, Wuthering Heights, Stagecoach, Mr. Smith Goes to Washington, The Wizard of Oz, Gone With the Wind, Dark Victory and Love Affair. (Gone With the Wind took home the statuette-- but how ridiculous is that year?)
Or consider Feb. 4th's Foreign Language Film Nominee and Winner Marathon: Fellini's La Strada (1954), Kon Ichikawa's The Burmese Harp ('56) , Bergman's The Virgin Spring ('60), Jiri Menzel's Closely Watched Trains ('67), Gillo Pontecorvo's The Battle of Algiers ('66), Costa-Gavras' Z ('69) and Gabriel Axel's Babette's Feast ('87).
Steven Rea, Inquirer Movie Columnist and Critic
Christian Bale, nominated for a best actor Oscar for his role as the toupee-topped con-artist Irving Rosenfeld in the rollicking, Polyester Era American Hustle, is good friends with his director, David O. Russell. They collaborated on The Fighter. They live down the road from each other in L.A. And when Russell began putting the pieces together for his Abscam scandal movie, he would text Russell with ideas.
Amy Adams, also a Fighter alum, was suggested as Russell's first choice for Sydney, Bale's character's soulmate in scammery, both director and star agreed. But then, what about the role of Rosalyn, Irving's unhappy and nutty wife?
"David texts a lot," Bale, in an interview in December, recalls. "So he texts me, and he's been saying, `You know, I've got somebody in mind for Rosalyn.' I said, `Who is it?' He said, `I don't want to tell you.' I said, `Get the eff out of here.' He said, `OK, but you have to promise not to tell anybody.' And so he sends me — and I think the auto-correct has changed things, because it comes out `J-LA ,' right? And I look at that and I think it must have changed the O to an A. He means J-Lo! Jennifer Lopez! And I think, J-Lo? I just can't picture that. That's a real surprise. I never would have imagined J-Lo. So, I text him back, `J-Lo?'