"Wuthering Heights" -- the Bronte Lehane Scorsese Arnold connection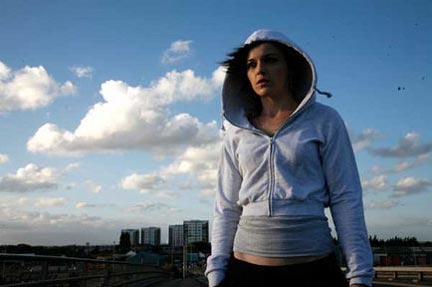 Classic 19th century gloom and doom tome inspired "Shutter Island," and now inspires "Fish Tank's" Cannes-winning director, too.
"Wuthering Heights" -- the Bronte Lehane Scorsese Arnold connection
Steven Rea, Inquirer Movie Columnist and Critic
Interviewed recently about the books that influenced him when he was writing his gothic pulp novel, Shutter Island, Dennis Lehane cited, among other sources, Emily Bronte's Wuthering Heights. With its mix of the insane and the ghostly, that seems just about right, and if Martin Scorsese didn't look at the eerie 1939 William Wyler adaptation when he was prepping the Shutter Island shoot, he… well, he probably did. (He looked at Vertigo, Out of the Past, Laura and lots of other titles.)
And now
Andrea Arnold
, the Scottish writer and director behind the beautifully disturbing kitchen sink coming-of-age drama
Fish Tank --
currently at the Ritz At the Bourse -- is gearing up for a new version of
Wuthering Heights
. (No, it's not the sink that's coming of age, it's a troubled, angry, 15-year-old girl.) Arnold, who comes from a realist tradition that's more
Ken Loach/
1960s British New Wave than it is the roiling late-Thirties Hollywood melodrama, has long expressed an affinity for the Bronte sister's sole novel.
Robert Bernstein
, producer of the new adaptation, told the Guardian last month that "Andrea has previously said that the only book she would ever direct would be Wuthering Heights, because of the passionate, impossible love story at its center and its elements of class divide…. It's a very lucky coincidence for us that we've found each other."
And lucky for audiences, I'll wager. Arnold expects to cast and shoot in the coming months.