Will Smith's Overbrook Entertainment options 'Harlem Hellfighters'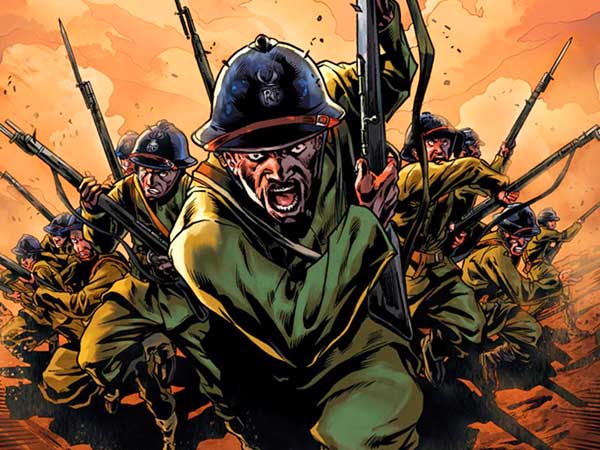 Max Brooks' graphic novel, about the first African American regiment to see combat in World War I, is picked up by Will Smith's production company.
Will Smith's Overbrook Entertainment options 'Harlem Hellfighters'

From World War Z to World War I: Max Brooks' new graphic novel, The Harlem Hellfighters, a fictionalized account of the African American 369th Regiment's tour of the trenches of France, is on its way to the big screen – acquired by Will Smith's Overbrook Entertainment, which has a development deal with Sony Pictures.
To be published by Broadway Books on April 1st, the Caanan White-illustrated trade paperback tracks the highly decorated unit from enlistment lines in Harlem to training camp in South Carolina to the bloody fields of France. Brooks, of course, is the author of the zombie bestseller World War Z, turned into a big Brad Pitt hit. No word on whether Smith plans to appear in The Harlem Hellfighters, which will deal with both the regiment's European triumphs and the discrimination and disdain the soldiers faced upon their return home. Smith has a lot on his plate: he stars in the heist pic Focus, coming next year; Hancock 2 and Bad Boys 3 are both on the drawing boards, and Brilliance, an adaptation of the Marcus Sakey Edgar Award-nominated thriller, about a Federal agent with with some exceptional terrorist-tracking talents, is getting set to shoot with Smith in the lead.