The clothes off of J-Law's and B-Coop's backs. Silver Linings clothes on sale now!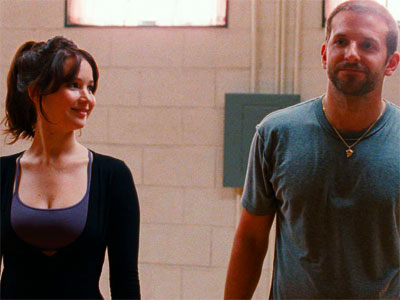 Bradley Cooper's T-shirts and sweats, Jennifer Lawrence's jacket and top, Jacki Weaver's raincoat, Chris Tucker's sweater - "Silver Linings Playbook" wardrobe on sale on Amazon.com
The clothes off of J-Law's and B-Coop's backs. Silver Linings clothes on sale now!

Hey, do you want to look like Bradley Cooper? Or dress like Jennifer Lawrence? Or own your very own copy of A Farewell to Arms to fling out of a window in a fit of anti-Hemingway pique –the very same copy that Cooper's Pat Solitano Jr. hurls from his parents' attic into the Upper Darby street in the Oscar-nominated Silver Linings Playbook? Well, go on Amazon.com today and the clothes off of Silver Linings Playbook's cast – Jennifer Lawrence, Bradley Cooper, Chris Tucker and Jacqui Weaver – are yours for the grabbing, first come, first serve. And that copy of Heminmgway's classic, too -- who knows, maybe it still has Cooper's fingerprints on it. (The book will be up on Amazon later today.)
The priciest Silver Linings ensemble is without doubt the red Asics jacket and black Banana Republic cami worn by Lawrence's Tiffany in the movie. Retailing at around $100, the two items can be had for a mere $2,499.99 right here. Which makes Cooper's white American Apparel T and grey pajama pants a bargain at a paltry $699.99. (How come they aren't selling Pat's trademark sweat-enhancing garbage bag tops?)
Premiere Props, the Hollywood prop purveyor, is behind the Silver Linings Playbook wardrobe sell-a-thon. So own your piece of Silver Linings Playbook history, and rush-order them so you can be wearing them on Oscar night. Excelsior!
Just added: Inquirer cover price is going up to.... $159.99. See here.
And cost of a box of cereal is going up, too. .... See here.