Sundance 2011 lineup announced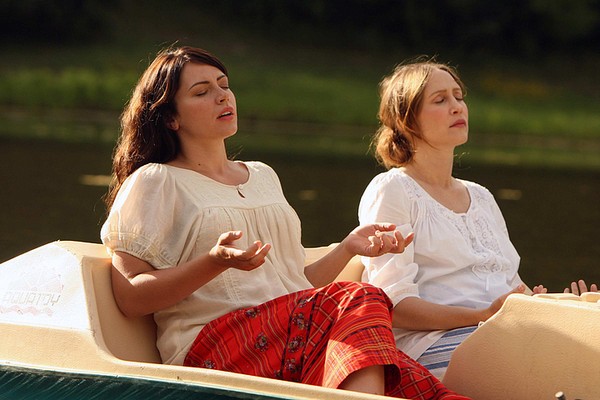 Vera Farmiga gets to sit in the director's chair... Chastity Bono gets a sex change... Sesame Street's Elmo gets a doc about himself... Paul Rudd gets Elizabeth Banks, Zooey Deschanel and Emily Mortimer to play his sisters...and Kevin Smith gets to explore "Red State" fundamentalism as the Sundance Film Festival gets set for its January, 2011 run.
Sundance 2011 lineup announced

The folks at the Sundance Film Festival, the annual Park City, Utah, event, announced in-competition and out-of-competition titles this week, and while it's pretty much a guessing game until they're actually screened, there's plenty here that sounds promising, provocative, possibly great. Stars with work onscreen (the fest runs Jan. 20- 30) include
Al Pacino
,
Ewan McGregor,

John C. Reilly, Sigourney Weaver, Greg Kinnear, Laura Linney, Kevin Spacey, Pierce Brosnan, Jennifer Connelly, Ed Harris, Paul Rudd
and
Elizabeth
Banks.
Typically, at least one or two films emerge from Sundance with a burning winter glow -- and a distribution deal. Here are just a few (potential) highlights:
Higher Ground
Oscar-nominated actress Vera Farmiga's directing debut, about an unhappy woman who turns to fundamentalists for help. (See photo of Farmiga and
Dagmara Dominczyk
with their hands out to God – or maybe they just had manicures.)
Red State
Directed by New Jersey's own Kevin Smith, about a band of misfits who encounter fundamentalists (a trend!) in the Midwest. Michael Parks, John Goodman and Melissa Leo are among the stars.
My Idiot Brother
The ever affable Paul Rudd is a dealer who moves in with each of his sisters (Elizabeth Banks, Zooey Deschanel, Emily Mortimer) after doing time for a pot bust.
Perfect Sense
A love story with Ewan McGregor and Eva Green, from David Mackenzie (Young Adam, Mister Foe).
The Details
Dark comedy with Tobey Maguire and Elizabeth Banks.
Meek's Cutoff
Director Kelly Reichardt reteams with her Wendy and Lucy star Michelle Williams in this indie western that also boasts Paul Dano, Zoe Kazan, Bruce Greenwood and Shirley Henderson.
Becoming Chaz
Doc about
Sonny and Cher
progeny
Chastity Bono's
transition from female to male.
Being Elmo: A Puppeteer's Journey
The man behind
Sesame Street's
fire engine red fur ball.
T
he Greatest Movie Ever Sold
Morgan
(Super Size Me)
Spurlock's
doc about Hollywood marketing, advertising and product placement.
Reagan
Documentarian
Eugene Jarecki
profiles the iconic 40th U.S. president.
Page One: A Year Inside the New York Times
How the media landscape is changing, as seen from the newsroom of the vaunted daily.