Was Steven Soderbergh's latest release really a box office flop? Well, yes, if you're talking about Haywire, the globe-hopping hitwoman thriller starring mixed martial arts goddess Gina Carano that came and went early this year. But not if you're talking the record-breaking mega-hit The Hunger Games.
True, director Gary Ross was the man in charge of the first installment of the adaptation of Suzanne Collins dystopian Young Adult book trilogy, but Soderbergh's name is there on the credits (way down, as Second Unit Director). And, indeed, he was way down there -- in North Carolina, last year -- shooting a key sequence of the Jennifer Lawrence-starring tale of a deadly competition between a gaggle of post-apocalytic teens.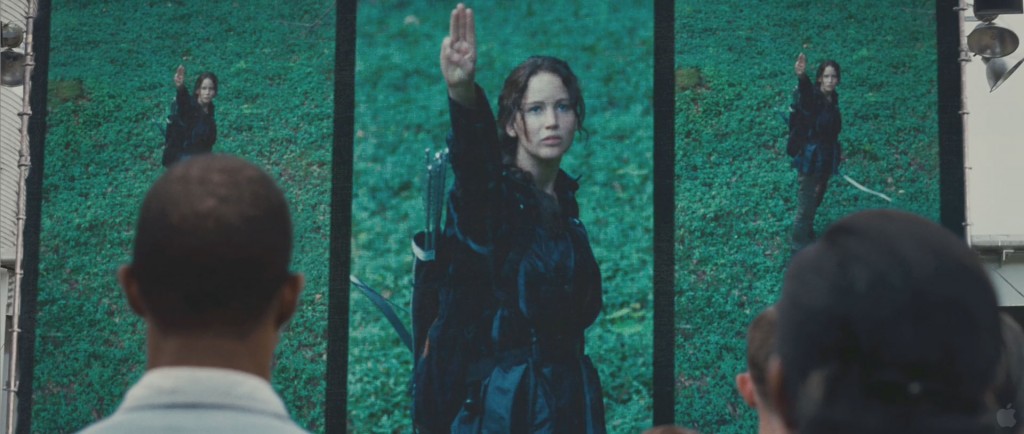 "It 's the riot scene, where this little town goes beserk," Soderbergh says, referring to the pivotal point in The Hunger Games where the Appalachian have-nots of District 12 go wild in the streets, protesting the edicts of the power elite in The Capitol. "It's supposed to be Battle of Algiers time, and so that was a style that I hadn't employed on one of my own films in a long time."
Soderbergh, busy on his own slate of films, took the two-day job as a favor to Ross, an old friend.
"He's one of the people I show everything to, in various stages, to get feedback and ideas, and he's always been willing to roll up the sleeves and help me fix things," he explains. "And so back in March of last year when he called me and he said `I've got two days of second unit in August, is there any way you can come down and do this?' … I said, `Yeah, it sounds like fun.'"
Soderbergh, who does double-duty as cinematographer on all of his films (pseudonymously, as Peter Andrews), said that the experience was both "a blast" and the cause of considerable anxiety.
"If I'm shooting something for myself, I know when I've got it by my definition, but here I'm trying to help my friend out and I was really worried — like, I hope this is what he wants! He showed me enough footage for me to understand what the aesthetic was, but I was worried — in the car going back to the airport I thought of two shots I could have gotten but didn't."
Next up for Soderbergh, who still says he's retiring from the business in 2013, is Magic Mike, his Channing Tatum male stripper movie, then Behind the Candelabra, his Liberace movie, and then Side Effects, a psychopharmacological thriller with Tatum again, and Rooney Mara, Jude Law and Catherine Zeta-Jones.