Machete Kills director talks Mel, Gaga, Amber Heard and Charlie Sheen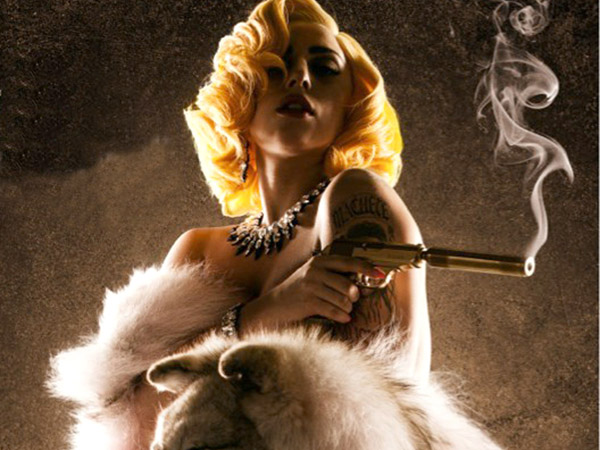 Robert Rodriguez, the multi-tasking maniac behind "Machete Kills," discusses his over-the-top "Mexploitation" spectacle, and how he landed Mel Gibson, Charlie Sheen, Amber Heard and Lady Gaga for key roles.
Machete Kills director talks Mel, Gaga, Amber Heard and Charlie Sheen

For a cheap-o "Mexploitation" pic starring grizzled tough guy Danny Trejo as a South of the Border cop turned superspy, Machete Kills certainly boasts an upmarket cast. Robert Rodriguez, the hyperactive Austin, Texas-based writer/director/cinematographer/editor/producer behind the sequel to 2010's Machete (itself spawned from a faux-trailer attached to Rodriguez's and buddy Quentin Tarantino's Grindhouse double-bill), dropped into town the other day, and explained how he landed Lady Gaga, Mel Gibson, Charlie Sheen and Amber Heard for his over-the-top spectacle.
About meta pop diva Gaga, who plays a gun-slinging super-moll called La Chameleon, Rodriguez says: "After the first Machete she had said something in the press about how she loved it, and how her music should have been in it. Her song `Americano' had just come out… So I thought I'm going to call her up and see if she wants to be in the sequel!.... So I wrote her a part and she came down and I could tell she was going to be good…. And the camera loves her like nobody's business. You may even look at her and think, OK, she may not be the prettiest girl. But you put the camera on her and she's the prettiest girl. It was a lot of fun. I can't wait to work with her again. I may have already worked with her again," he adds, making a not-so-subtle allusion to his Sin City sequel, A Dame to Kill For.
About Mel, who plays a meglomaniacal evil mastermind: "He was in Austin for the premiere of Get the Gringo, so of course I know everybody in Austin, I get on the red carpet with him -- `Hey , a photo opp with Mel!' -- and I followed him backstage … and talked his ear off . And by the end of the night, he was like, `I'd love to do it….' And Mel had always just stood out as my favorite — better than any James Bond villain, for sure."
About Charlie Sheen, who is billed by his birthname, Carlos Estevez, and who plays the President of the United States: " I have known Charlie since [1996's] From Dusk Till Dawn. We almost worked together then.… And some years later I was doing one of the Spy Kids and I went to Charlie because I thought Charlie would be good, but he was doing his TV show [Two and a Half Men] and was trying to get away from doing family stuff…. But this time when I came back to him he was ready. I told him I thought he would be amazing as the President. His dad had played the president on West Wing, after all. And Charlie thought that was a gas. He was amazing on the set. It kind of felt like you were directing Martin Sheen."
About Amber Heard, who plays pageant queen Miss San Antonio – a cover for her real job, running the secret superagent Machete Cortez: "I've always loved Amber Heard. I finally met with her. It was early on in the process, I haven't usually even finished the script yet when I meet with people, … And I think I actually went to her as a possibility for the part Gaga ended up playing…. But I met with her and she was just so cool, she's just so badass. And she spoke some Spanish. I promised I would shoot her gorgeous. Plus, she gets to go hand-to-hand in a cat fight with Michelle Rodriguez!"