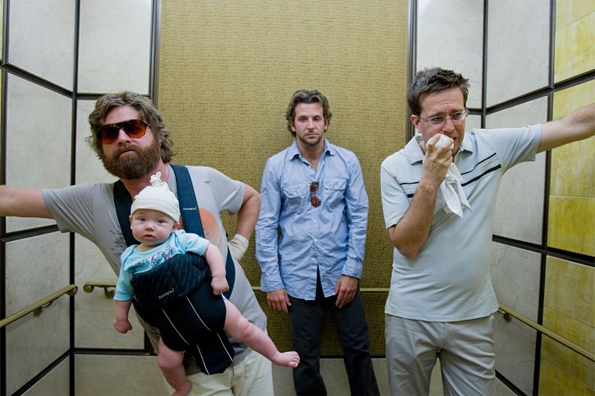 By the end of its seventh weekend of release -- that'll be Monday, July 20 – Todd Phillips' The Hangover will have passed Beverly Hills Cop's $234.8 million box office take to become the top-earning R-rated comedy of all time.
Who'd have thunk?
Not Phillips, who steered Bradley Cooper, Zach Galifianakis and Ed Helms through the blotto bachelor-party-gone-amok comedy.
"We had a feeling, once we started screening to test audiences, that it was going to do all right, but who knew?" says the director, on the phone just before Hangover topped $200 million.
Nonetheless, the director -- a specialist in male-bonding comedies (see Old School, see Road Trip, see Starsky & Hutch) – had a feeling he was onto something. There they were in Las Vegas last year, he and his cast (and the tiger and the baby and the chicken), and already Phillips and company were volleying possible scenarios for a sequel.
"We'd been talking about doing Hangover 2 while we were shooting Hangover," he confirms. "And that's not because we knew the movie was going to be a big, breakout success. It was more because, well, when you're on the set of a movie it's fun to talk about that kind of stuff. You know: `Man, if we did another one we could do this, that, the other thing.'
"So we do have ideas, and it's something that we're going to work on and hopefully shoot not this fall -- but probably shoot next fall."
Not coming in the near future, however, is Old School 2 (or Old School Dos, as IMDB has it listed). The original Will Ferrell, Vince Vaughn, Luke Wilson comedy was a big hit back in 2003, but the logistics of regrouping has proved daunting.
"We're not actually doing Old School 2," Phillips says. "That's been a hard project to put together…. These guys are so big, it's tough to get all the planets to align on that one."