Glenn Close's Albert Nobbs role 30-years-in-the-making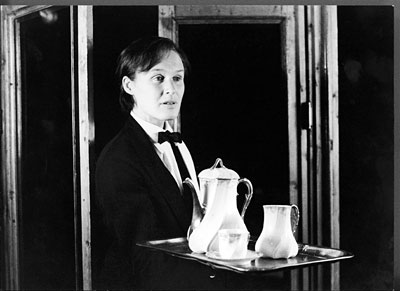 Golden Globe-nominated for her gender-bending performance in the Irish drama "Albert Nobbs," Glenn Close has wanted to bring this story to the screen since she first played the character onstage - in 1982.
Glenn Close's Albert Nobbs role 30-years-in-the-making

In interviews – including one forthcoming with yours truly – Glenn Close has been telling people how she's struggled to bring the character of Albert Nobbs to the big screen for, well, forever. Playing a woman forced to disguise herself as a man in order to survive in 19th century Ireland, Close has rightly received accolades for her performance, not to mention a Golden Globe best actress nomination. And don't be surprised if an Oscar nod follows when the Academy announces its nominees on Jan. 24.
Well, here's a photo of Close in the original Manhattan Theatre Club Downstage production of The Singular Life of Albert Nobbs, written and directed by Simone Benmussa, adapting a short story by George Moore. Albert Nobbs the film, directed by Rodrigo Garcia from a screenplay by Close and John Banville, opens in the Philly area on Jan. 27.