Elizabeth Taylor finds her "Place in the Sun."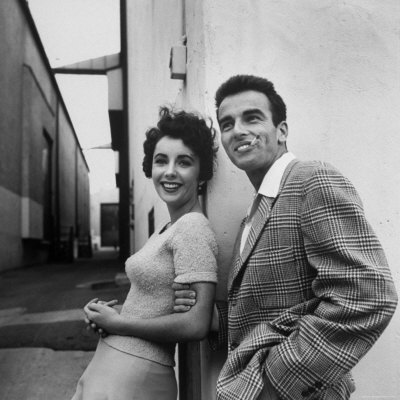 Liz is radiant and seductive - and rich - in the George Stevens classic, one of her finest performances.
Elizabeth Taylor finds her "Place in the Sun."
One of my favorite Elizabeth Taylor roles is Angela Vickers, the seductive society girl in George Stevens' dark and tragic 1951 melodrama, A Place in the Sun. Angela is everything that the social-climbing George Eastman – Montgomery Clift – hungers for: beauty, wit, wealth. Alas, his factory worker girlfriend, Alice (Shelley Winters) gets pregnant, and George finds himself tethered to the uncouth, clingy "Al." And so, a plot to take her out on Loon Lake in a rowboat, and to return to shore without her, starts percolating. And all the while Taylor's Angela stands around being radiant, and wonderful. Here's a great photo – by Peter Stackpole, for Life magazine – of Taylor and Clift, all smiles, leaning against a soundstage wall on the Paramount lot during a break in production.