Archive: September, 2012
Steven Rea

, Inquirer Movie Columnist and Critic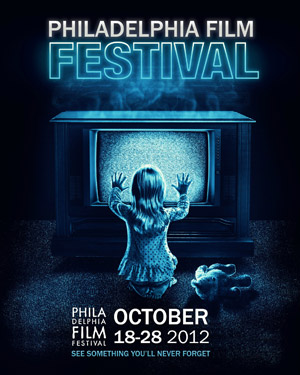 The 21st Philadelphia Film Festival, running Oct. 18 to 28 in seven theaters around town, with opening and closing galas at the Annenberg on the Penn campus, is locked in, and the complete list of films and schedule of events is there for the having, at: http://filmadelphia.org/festival
The fest opens Thursday night, the 18th, with Silver Linings Playbook, the Philly-centric Bradley Cooper/Jennifer Lawrence mood-swinger, and closes on Saturday the 27th with Flight, the Denzel Washington thriller that marks director Robert Zemeckis' return to old fashioned live-action moviemaking (no more of this motion capture business, please!).
In between are close to 100 features and a dozen or so shorts, including five centerpiece screenings. They are: Cloud Atlas, the across-the-universe Tom Hanks/Halle Berry metaphysical sci-fier; Hyde Park on Hudson, with Bill Murray as FDR; Not Fade Away, David (The Sopranos) Chase's 1960s three-kids-start-a-rock-band thing; Stand Up Guys, a crime comedy starring Alan Arkin, Al Pacino and Christopher Walken, and Quartet, Dustin Hoffman's directorial debut.
Steven Rea

, Inquirer Movie Columnist and Critic
Lee Daniels, the industriously edgy Philadelphia filmmaker who won a best director Oscar nomination for his 2009 drama, Precious, and whose sex-and-violence laden The Paperboy, with Matthew McConaughey, Nicole Kidman and Zac Efron, comes out in a few weeks, is in New Orleans right now making The Butler.
Inspired by the true story of Cecil Gaines, an African-American who tended to eight Presidents in the White House over a span of more than 30 years, The Butler stars Forest Whitaker in the title role. He is joined by big and busy cast: Oprah Winfrey, Mariah Carey, John Cusack and David Oyelowo (both in The Paperboy), Jane Fonda, Cuba Gooding Jr., Terrence Howard, Minka Kelly (as Jackie Kennedy), Lenny Kravitz, Melissa Leo, Vanessa Redgrave, Alan Rickman, Liev Schreiber (as LBJ) and Robin Williams among 'em. Told from Gaines' unique personal perspective, Daniels' film tracks the sweeping changes of decades of American history, including the birth of the civil rights movement and the social upheavals of the Vietnam era.
"What moves me most about this man is his quiet nature, grace and unmatched perspective that comes from being in one place -- a very powerful one -- during what was arguably the period in American history that saw the most change," Daniels told Variety. The Weinstein Company will release The Butler next year.
Steven Rea

, Inquirer Movie Columnist and Critic
Maybe John Hughes should have called it The Breakfast Book Club.
Molly Ringwald, who starred in Hughes' seminal 1985 teen hit, The Breakfast Club, has "a novel in stories," When It Happens to You (Harper Collins), on book shelves right now. And Andrew McCarthy, linked with Ringwald in the Hughes-scripted 1986 teen romance, Pretty in Pink, has just come out with The Longest Way Home: One Man's Quest for the Courage to Settle Down (Free Press). Emilio Estevez, who shows up in The Breakfast Club, co-authored Along the Way: The Journey of a Father and Son (Free Press) with his dad, Martin Sheen, published this spring. And Ally Sheedy, likewise one of the detentionees in The Breakfast Club, has been publishing children's books (She Was Nice to Mice) and poetry (Yesterday I Saw the Sun) for years.
So, where's the Judd Nelson bildungsroman?
Steven Rea

, Inquirer Movie Columnist and Critic
Great poster for the monthly latte art competition known as Philly TNT: A play on the iconic Saul Bass-designed key art for Alfred Hitchcock's 1958 psychothriller, Vertigo, the poster depicts the silhouette of the figure of a barista, aswirl in a latte rosetta. The original one-sheet Vertigo art, of course, had a similarly-attired dude spinning in a spirally vortex.
The TNT (Thursday night throwdown), throwing down the evening of Sept. 27, at the just relocated Elixir Coffee (207 S. Sydenham Street), is open to professional and home baristas alike. Here (below) is a publicity photo from Vertigo of Jimmy Stewart and Kim Novak angsting suspensefully over a cup of coffee. Or maybe it's a latte?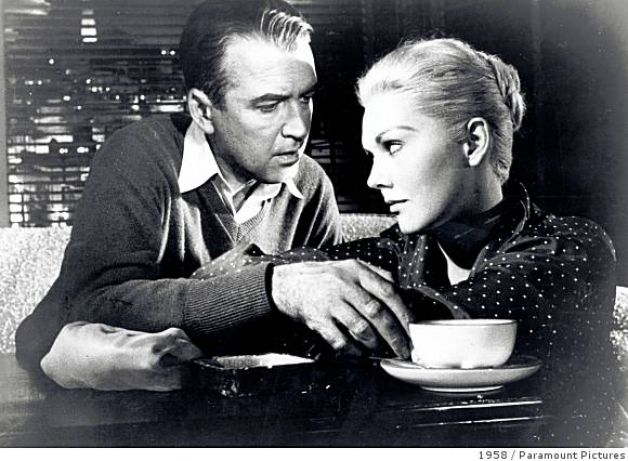 Steven Rea

, Inquirer Movie Columnist and Critic

What does Silver Linings Playbook, the David O. Russell-directed Philly-shot dramedy starring Bradley Cooper, Jennifer Lawrence and Robert De Niro, have in common with American Beauty, The King's Speech and Slumdog Millionaire?

The film came out of the Toronto International Flm Festival with the People's Choice Award tucked under its proverbial arm. Note that the aforementioned trio of TIFF People's Choice picks went on to win the best picture Academy Award a few months later…. So, look out Oscars -- Silver Linings is in the hunt.

The 37th Toronto movie marathon ended Sunday, 289 features and 83 shorts over and done with. In addition to Silver Linings Playbook, set to open here Nov. 21, winners include Seven Psychopaths, Martin McDonagh's bloody L.A. ensemble piece, with Colin Farrell as a Hollywood screenwriter caught up in a dog-napping scam gone bad. Christopher Walken co-stars (one of three features at TIFF with the cool and crafty Mr. Walken in their cast). Seven Psychopaths won the People's Choice Midnight Madness award. It opens here Oct. 12.
Steven Rea

, Inquirer Movie Columnist and Critic

Yes, it's impossible. And yes, I saw The Impossible, the horrifying but inspiring Indian Ocean tsunami movie. Tuesday midday, after a screening of Noah Baumbach's Frances Ha (with the goofily charming Greta Gerwig) and after interviewing Kristin Scott Thomas and Francois Ozon (for their funny, creepy In the House), it was time to pack up and head home to Philly.

With 20 movies out of the Toronto festival's 400-plus, I barely scratched the surface, and of course I probably missed a masterpiece or two. (And, by all accounts, a disaster or two, too.) But here's my personal TIFF top 5, in descending order of greatness:

Stories We Tell – Sarah Polley's memory doc is a daughter's investigation into the life of her mother (who died, of cancer, when Polley was 11). It is also an investigation into family secrets, hidden connections, legacies and loss. All sorts of universal truths (and untruths) resonate from this deeply personal work, which is also a tricky masterpiece of filmmaking. Roadside Attractions acquired U.S. distribution rights for the Canadian film, and will release it stateside in early 2013.
Steven Rea

, Inquirer Movie Columnist and Critic
Viggo Mortensen learned Spanish when he was a kid, growing up in Venezuela and Argentina, and in Everybody Has a Plan – an atmospheric thriller set in the Delta, in the Tigre, of Argentina – Aragorn of Lord of the Rings speaks the language effortlessly, sin efuerzo.
Mortensen, who showed up at the Monday afternoon public screening to introduce the film with his director, Ana Piterbarg, stood before the 500-seat-plus crowd and said "the story takes place here," and then unfurled a blue and white Argentine flag. "And it's about this," and he holds up identical rag dolls. That's because Mortensen plays twin brothers in the pic, one of whom still lives in the delta, raising bees for honey and consorting with criminals. The other is in Buenos Aires, a doctor, whose wife is leaving him, and whose world is falling apart. When the country twin is killed, the city twin assumes his identity and his island home, not knowing the mess he's getting himself into. Suspenseful, mysterious, the audience was into it. And into Viggo, of course.
Look for U.S. release, from Fox International, early in 2013. Here's the trailer:
Steven Rea

, Inquirer Movie Columnist and Critic
Here's an update on interviews logged since getting to Toronto for the film fest Thursday afternoon:
Paul Thomas Anderson for The Master, discussing (among other things) getting Philip Seymour Hoffman to break into an old sea shanty for one of the film's stranger scenes. And there are many.
Michael Haneke for Amour (with a translator, but his English was fine and he started talking over his German interpreter, albeit in a gentlemanly way), on how he doesn't allow his actors to improvise. Nein, never.