Archive: September, 2011
Steven Rea

, Inquirer Movie Columnist and Critic
For a writer who died 21 years ago, Roald Dahl manages to maintain exceptionally close Hollywood ties. In 2010, Wes Anderson's adaptation of Dahl's Fantastic Mr. Fox -- the downright brilliant stop-motion animated feature -- nabbed several Oscar nominations. Dahl's kid lit-to-Tinseltown titles also include Matilda and James and the Giant Peach (both 1996), The Witches (1990), Charlie and the Chocolate Factory (2005) and its 1971 precursor, Willie Wonka and the Chocolate Factory. Not to mention innumerable TV and film screenwriting jobs (OK, we'll mention two: the 1967 James Bonder, You Only Live Twice (1967) and Chitty Chitty Bang Bang (1968).)
And now, DreamWorks has recruited ET writer Melissa Mathison to bring Dahl's The BFG – as in Big Friendly Giant – to the big screen. It's the story of a little girl who gets scooped up by a benevolent behemoth – a giant who collects dreams, and bestows the best of them on children. There was an animated version of BFG back in 1989, but this one, if it gets made, will be live-action. And it'll probably be full of contrasting, conflating wee-and-gigantic visual effects. As long as Jack Black's not the title character, everything should be fine.
Steven Rea

, Inquirer Movie Columnist and Critic
Harry Eastlack, whose tissue turned to bone, lives again. So, too, do Chang and Eng Bunker, the Siamese twins who fathered 21 children between them. And Chenalier, a 19th century French basket-maker whose tumor was so large it resembled a giant pillow -- all have been returned to life, in a manner of speaking, in "Through the Weeping Glass: On the Consolations of Life Everlasting (Limbos & Afterbreezes in the Mütter Museum)." This cinematic celebration of the "cruel beauty" of the vast collection of objects housed at the Mütter had its world premiere Thursday evening, as several hundred guests were treated to Stephen and Timothy Quay's unique take on the museum's trove of medical oddities and marvelous, albeit morbid, artifacts.
"Those of you who are familiar with the Quays' film work know that you're not going to be seeing a traditional narrative thread in this film," David Spolum, a lecturer at the University of the Arts, noted in his introductory remarks, setting the evening's tone of hushed reverence. "It's rather a very sophisticated montage. I'd like to invite you to look for rather an invisible current of gazes."
The English actor Derek Jacobi (who the Quays happily noted had portrayed painter Francis Bacon in a biopic) provides the narration for "Through the Weeping Glass," opening with the line: "No child ever imagines the unimaginable: that he will end up as a skeleton." And so, off we go, with the Quay Brothers' keen-eyed "prowl" through the library shelves and exhibition vitrines of the proudly eccentric institution, housed in the 22nd Street home of the College of Physicians of Philadelphia.
Steven Rea

, Inquirer Movie Columnist and Critic
Bradley Cooper. Robert De Niro. Philadelphia. It's a love triangle that just won't quit. Next month, the two stars -- teamed in Limitless, which was mostly shot here -- are heading back to Phillywood to make The Silver Linings Playbook. Adapted from the sharp, funny Matthew Quick novel about a high school teacher who suffers a breakdown, goes off to a mental clinic, returns home to live with Mom, has trouble patching things up with his wife and tumbles for the sister-in-law of a good friend, The Silver Linings Playbook is being helmed by David O. Russell, Oscar nominated earlier this year for The Fighter. Cooper and De Niro head the roster, along with X-Men: First Class and Winter's Bone star Jennifer Lawrence. (Cooper is the perplexed protagonist, Pat Peoples; De Niro his dad, and Lawrence the girl Pat pursues, who has her own problems.) Chris Tucker has also been cast, according to Variety, playing an ward-mate buddy of Cooper's.
Cooper, of course, hails from Rydal, just outside the city, and attended Germantown Academy.
Steven Rea

, Inquirer Movie Columnist and Critic
TORONTO – Albert Brooks isn't the first guy you'd think of to play a knife-wielding sicko, and that's part of the reason Danish director Nicolas Winding Refn offered the comedy star the role of Bernie Rose, a wealthy Los Angeles mobster, in Drive. The sleek and moody neo-noir, with Ryan Gosling as a freelance getaway driver, was at the Toronto Film Fest last week, and opens Friday in theaters nationwide.
"I wanted to play a part like this," says Brooks, sitting in the Ritz Carlton on the afternoon of the film's festival premiere. "If you cast one of the seven people who always play these parts, then everybody knows who they are the second they come onscreen. But this way, with me in the part, people might not know everything."
Brooks got so into the role of this vicious, violent moneyman, that, at one point he got carried away -- and a fellow actor almost had to be carried away on a gurney because of it. In a scene that was cut from the final version, Brooks' Bernie returns to his apartment after a particularly nasty encounter to hear his upstairs neighbors, a man and woman, quarreling loudly.
Steven Rea

, Inquirer Movie Columnist and Critic
Brad Pitt is in Toronto with Moneyball, his inside-baseball bio of the Oakland A's Billy Beane, the maverick general manager who took a motley crew of rejects, has-beens and problem cases and led them on a historic run to the playoffs – thanks in large part to the counsel of a nerd boy statistician. Pitt is Beane, chawing tobacco, scarfing Twinkies, hurling furniture—and deftly projecting a troubled quietude as well. Here's his third acting Oscar nomination, no doubt. Jonah Hill plays Peter Brand, the Yale business school dweeb with a novel approach to scouting players.
In an interview Friday, Pitt talked about working with the Superbad/Funny People actor (in a way, Moneyball is an oddball buddy pic), about the long and winding road the project was on (Steven Soderbergh was originally set to direct – Bennett Miller, of Capote, finally got it made), about Angelina Jolie's feature directing debut (In the Land of Blood and Honey), and about getting his first taste of real "autonomy" in years, riding a BMW motorcycle through the Scottish highlands for a few days unaccompanied by managers, bodyguards, publicists or anyone. Just Pitt and his bike.
Some pics screened on Saturday and Sunday: Albert Nobbs, with Glenn Close's poignant, pitch-perfect performance in the title role, as a late 19th century Dubliner who goes through life disguised as a man. Janet McTeer, Brendan Gleeson and Mia Wasikowska also star…. Keyhole, cinema eccentric Guy Maddin's nutty, surrealist, black and white ghost story/retro gangster caper, with Jason Patric running around carrying a stuffed wolverine (with a pocket knife in its mouth) and Maddin muse Isabella Rossellini as a spectral presence …. Take This Waltz, Sarah Polley's sun-burnished Toronto love story, about a late twentysomething writer (Michelle Williams) married to a cookbook writer/chef (Seth Rogen). And then she meets a handsome artist dude (Luke Kirby) who lives across the street, and embarks on a turbulent emotional affair. The film's title comes from a Leonard Cohen song, and while the version shown at TIFF needs some serious editing, Williams and Kirby are shooting sparks. With a few smart trims, this could be another (500) Days of Summer…. The Oranges, a comedy about marriages and families falling apart, set in the suburban splendor of North Jersey and starring Hugh Laurie, Leighton Meester, Oliver Platt, Allison Janney, Catherine Keener and Alia Shawkat.
Steven Rea

, Inquirer Movie Columnist and Critic
"Welcome to the George Clooney Film Festival," cracked Alexander Payne, on stage at the Elgin Theater before the official world premiere of The Descendants Saturday night. The crowd of several thousand in the historic theater laughed at the filmmaker's joke – many of them had just shaken hands with the Hollywood star as George Clooney, in natty suit and tie, worked the line along Yonge Street before the screening. The actor, whose other Toronto Film Festival entry is The Ides of March, in which he's a Pennsylvania governor running for the presidency, seemed to be in that role still: as he walked along Yonge, he was flanked by uniformed and plainclothes police, glad handing and gabbing with the eager Torontonians lined along the barricade as if he really was on the campaign trail.
And anyway, in a sense he is – the Oscar campaign trail. It will be a shock if Clooney doesn't win a best actor nomination for his performance in Payne's beautiful, funny, tough-minded portrait of a Hawaii lawyer whose workaholic life is upended when his wife, in a boating accident, slips into a coma. Clooney's character is thrown into the unfamiliar role of hands-on Dad to two troubled kids, a potty-mouthed pre-teen and her troubled high-school age sister. He cries. He cusses. He runs goofily. The hurt and shock, heartbreak and bafflement, are palpable.
Payne, Clooney, Shailene Woodley (the older daughter), Amara Miller (the younger) and Nick Krause (the teenager's stoner boyfriend) took to the stage and faced a standing ovation after the film. A quick Q & A had Clooney in goofy, self-deprecating mode, handing money to Miller when she said how great it was working with him, joking that his Descendants wardrobe of Hawaiian shirts, shorts and sandals made it unlikely that he'll ever again appear as People magazine's Sexiest Man Alive. (Maybe he could get on the cover of the AARP mag, he suggested.) And when someone in the audience asked how it was to finally play a family man after all these years of suave criminals and debonair action heroes, the famously single star got jokingly defensive, insisting he had been a "family man" before. "I was the father in Fantastic Mr. Fox," he noted, referring, of course, to his voice role in Wes Anderson's Oscar-nominated animated feature.
Steven Rea

, Inquirer Movie Columnist and Critic
Answer to yesterday's question: Is Anonymous this year's The King Speech?
No.
A convoluted costume drama with a jaw-droppingly mystifying play-within-a-play/flashbacks-within- flashbacks format, Roland Emmerich's Anonymous doesn't stand a chance at Oscar glory – unless the Academy adds a best epic misconception category. Rhys Ifans, virtually unrecognizable under frilly collar, fake beard and gobs of makeup, is Edward de Vere, Earl of Oxford. He's a closet playwright and confidant of Queen Elizabeth I (Vanessa Redgrave), and the story (or the part of it that isn't set five years earlier, or 40 years earlier, or in the present day on Broadway --yes, really!) is full of royal intrigue, political skullduggery and the malevolent machinations of the Essex Rebellion. Oh, yes, Anonymous suggests that it was, in fact, the Earl of Oxford who penned (or quilled?) the works of William Shakespeare. Emmerich, a perpetrator of grand scale popcorn movies (Independence Day, The Day After Tomorrow, Godzilla), can add another disaster movie to his filmography.
Steven Rea

, Inquirer Movie Columnist and Critic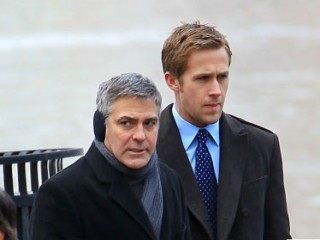 Is Anonymous this year's The King Speech? Is George Clooney a show-off? Are documentaries back?
These questions and many more are likely to be answered over the next ten days, as the 36th Toronto International Film Festival, which kicked off Thursday night with a gala screening of Davis Guggenheim's Bono-worshiping U2 doc, From the Sky Down, shifts into hyperdrive.
North America's biggest film fest, a launching pad for Oscar contenders and awards season wannabes, boasts 268 features, 68 shorts and Clooney times-two. The impressive and impeccably cool resident of Lake Como, Italy, comes to this bustling Ontario town (no recession here, it seems) with a pair of serious contenders: He stars in The Descendants, Alexander (Sideways) Payne's Hawaii-set portrait of an absentee dad reconnecting with his daughters, and co-stars in The Ides of March, as a liberal-leaning Pennsylvania governor (ha!) running for the presidency. Clooney directed this one, and gives Ryan Gosling, playing a key campaign strategist, a shot at the best actor sweepstakes. (In fact, if The Descendants is as strong as its early buzz – I see it tomorrow – Clooney and Gosling could be competing for the same Oscar.)