Archive: September, 2010
Steven Rea

, Inquirer Movie Columnist and Critic
Washington Square's post-production and visual effects factory DIVE has had a busy year, and its deft digital work can be seen in Let Me In, the thrilling, chilling and -- yes, tender – tween-age vampire tale opening Friday. If the snow-covered New Mexico desert-scapes in Matt Reeves' movie look particularly eerie, thank DIVE for that, and also for the look on actress Chloe Moretz's face as she transforms from palid 12-year-old into bloodsucking, wall-climbing fiend. Altogether, DIVE produced 87 visual effect shots for the film.
In addition, five films coming to the Philadelphia Film Festival (Oct. 14-24), and then slated for release in the weeks and months ahead, have DIVE work in them, or work done at Shooters Post and Transfer, the post-production facility DIVE shares its Curtis Center home with. The titles are Fair Game, with Naomi Watts as exposed CIA agent Valerie Plame; The Best and the Brightest, a comedy about a couple's quest to get their kid into the right kindergarten, with Neil Patrick Harris; Café, set in a West Philly espresso joint and starring Jennifer Love Hewitt; Lebanon, PA, Ben Hickernell's indie about a man's transformation in the wake of his father's death, and OC87: The Obsessive, Compulsive, Major Depression, Bipolar, Asperger's Movie, an intensely personal doc about, and co-directed by, Philly filmmaker Bud Clayman.
Steven Rea

, Inquirer Movie Columnist and Critic
It's Ben Affleck's second film as a director, and the first where he's put himself in front of the camera as well. And over the weekend The Town, a smart cops-and-robbers pic set in Boston and costarring Rebecca Hall, Jon Hamm and Jeremy Renner, opened a strong number 1 at the box office.
A few weeks before its $23.8 million weekend bow, Affleck talked about the film, and about meeting one of his idols -- another actor-turned-filmmaker by the name of Clint Eastwood. Affleck said that he was working on the Warner Bros. lot in Burbank, Calif., earlier this year doing post-production work on The Town, and…
"At Warners, if you do a movie for them, you score your movie and you mix your movie on their stages on the lot — for piracy reasons, and also just for cost. And it's called the Eastwood Scoring Stage. So, I was in there on the stage and we were mixing and you get very tired after a while -- you're going through it over and over again, and, then, suddenly the movie stopped, and I looked at the mixers and they were all just standing there. I was like `why is nobody doing anything?' And I looked over and there was Clint Eastwood standing in the doorway of the Eastwood Scoring Stage."
Affleck laughs. He says he and Eastwood talked about Matt Damon, who played a South African soccer star in Eastwood's Invictus, and who, of course, shared an Oscar with Affleck for their script of Good Will Hunting. And then he talks about Eastwood, who made his directing debut when he was 41, with The Beguiled.
"Clint is the gold standard, for sure. I think he may have directed 30 films now, and he didn't start directing until he was older than 40," says Affleck, 38. "And his movies just kept getting better and better. You know, life is confusing, this business is confusing, and at a certain point it's very helpful to try to calibrate your compass and pick your north. And he's a pretty good north…. He's definitely one of the people that I fix my compass to, and just admire. There are others, and not all of them are actor/directors, but it's kind of obvious, it's not like I'm picking some obscure guy -- he's one of the greats. I feel lucky to have met him."
Steven Rea

, Inquirer Movie Columnist and Critic

Sunday morning, interviews with Stephen Frears and Gemma Arterton, separaretely, for Tamara Drewe. Jolly and rumpled, Frears dryly confesses that he's never seen a frame of Arterton's other films (not even her role as Ms. Strawberry Fields in the Bond hitf, Quantum of Solace). He talks about his apprenticeships, way back when, with Karel Reisz (on Morgan!) and with Lindsay Anderson (If….) The just-24 Arterton appears thinner than she does in the pastoral ensemble comedy, lets her black hair dangle over one eye a la Veronica Lake, and talks about her career thus far, what she hopes will happen this next year (a project with Michael Winterbottom, for one) and what she REALLY wants to do: direct theater.

First film of the day: the middle 45 minutes of Julian Schnabel's aggressively pro-Palestinian Miral. The Diving Bell and the Butterfly director goes overboard with the hand-held camera work, and the dialogue is so didactic and fist-pumpingly expository that the actors are completely sabotaged. Freida Pinto, in the title role as an Israeli Palestinian schoolgirl, looks lovely – even when she's being brutally beaten by the Israeli police.

Then interview Zach Galifinakis at the Park Hyatt. He's a cyclist, rides to his standup gigs in New York, and even rode out to Malibu when he was in L.A. for his first meeting with Robert Downey Jr. before the two of them went off and did the Todd Phillips' road movie Due Date. Talks about playing someone with mental issues, and the fine line of that, as he does in It's Kind of a Funny Story.

Two very satisfying films follow: Alain Corneau's Love Crime, a dark, smart murder thriller with Ludivine Sagnier and Kristin Scott Thomas as an ambitious young corporate exec and her equally ruthless boss. Sagnier's transformation from buttoned-down protégé to wily killer is something to behold. And Alex Gibney's Client 9: The Rise and Fall of Eliot Spitzer, with the deposed New York governor himself addressing the camera, is fascinating. Not only for its elelements of classic tragedy, but for the convincing case Gibney makes that this was a high-powered political assassination orchestrated by titans of the financial world and the New York legislature -- a cadre of men who LOATHED the so-called "sheriff of Wall Street." In some ways, too, Client 9 addresses the financial implosion of 2008 with more concision and clarity than Charles Ferguson's Great Recession primer, Inside Job.

Monday, first off, is Erol Morris' merrily bizarre documentary Tabloid, the story of Joyce McKinney, a Southern belle who made headlines in the U.K. in the late 1970s for kidnapping and "raping" her ex-boyfriend, a Mormon missionary. But that's just the appetizer in this oddball feast, with its private detectives, randy journalists, Korean cloning scientists and S&M and bondage biz. Interviewing Mr. Morris on Tuesday.

Then, the public screening at the Ryerson of Michael Winterbottom's The Trip (the line is literally around the block), an unexpected delight: the British comedy stars Steve Coogan and Rob Brydon , as themselves, and driving around the Lake District eating fine food, drinking fine wines, and doing hysterically fine, funny impressions (Michael Caine, Woody Allen, Sean Connery, DeNiro, Pacino, Richard Burton, etc., etc.), and lots of nimble improv. But for all the laughter the film generates (and it's uproarious), there's a sweet melancholy to it that makes this more than just a lot of clever riffing. Coogan, Brydon and Winterbottom appear onstage right afterwards to field questions and be showered in compliments.

Then, also at the Ryerson, finally catch up with 127 Hours, Danny Boyle's deft retelling of the true story of climber Aron Ralston's and his five-day nightmare trapped in a narrow Utah park ravine, his right arm crushed under a large rock. James Franco stars, and Boyle shows up after the screening for a Q&A. The film is almost impossible to watch at points (half the audience was watching with hands over eyes) but ultimately this is powerful, life-affirming stuff.

Press and industry screening of Robert Redford's Lincoln assassination story, The Conspirator, with Robin Wright as an accused cohort of John Wilkes Booth, is cancelled, re-set for Tuesday morning. Curses!


Steven Rea

, Inquirer Movie Columnist and Critic
Friday morning starts with a ride from University of Toronto area, where the hotel is, to the towering and totally unappealing Scotiabank multiplex – a loud, chaotic, ugly pile of a complex with its own food court and video arcade. The theaters (14, including an Imax screen) are fine, but try to find a corner that's quiet. Oh well… The ride over, however, is typically pleasurable Toronto: cyclists waiting for traffic lights in a single queue on the streets' network of bike lanes…. People pedaling unhurriedly to work, to the film festival, to the market, polite and civilized!

Polite and civilized are two words you won't be seeing in any description of Black Swan, Darren Aronofsky's brilliant, over-the-top psychodrama about a New York ballet dancer (Natalie Portman) and the pain (physical, psychic) she endures as she prepares for her star role in a production of Swan Lake. Intense stuff, and harder to watch than Aronofsky's last one (also at Toronto), The Wrestler. Portman has an Oscar nomination in store.

Then: It's Kind of a Funny Story, with Keir Gilchrist as a suicidal Brooklyn teen who checks himself into a mental ward full of colorful characters. It's kind of funny, and kind of sweet, and definitely a departure for filmmaking duo Anna Boden and Ryan Fleck (Half Nelson, Sugar). Talking to in-patient Zach Galifiniakis on Sunday.

Then: Buitiful, Alejandro Gonzalez Inarritu's haunting, harrowing trip through the black market/illegal immigrant underworld of Barcelona, where Javier Bardem plays a street hustler with a conscience, with kids, and with cancer that's killing him. Talk to Inarritu on Saturday, and he says Toronto audiences respond to movies in the same way that folks get buzzed about rock concerts – the screening becomes an event. Biutiful is an event, certainly – deep stuff about life, death, love, greed, compassion – and Bardem, who won the best actor prize at Cannes, should be in line for an Oscar nod, too. Interviewed him on Saturday in the Neil Young Room (!) of the Hazelton restaurant, One. The place's slick, pricy vibe is in total contrast to the squalor and poverty exhibited in Biutiful, and Bardem talks about the sense of guilt he experienced as he walked through the barrios of Barcelona, a rich, famous movie star "pretending" to be one of the huddled masses. Guilt, maybe, but also incredible empathy -- his performance is for real.

Apart from the interviews with Inarritu and Bardem, Saturday is kind of a letdown. Guillaume Canet's followup to his taut French thriller Tell No One starts with a jolt, but from there Little White Lies becomes a somewhat comic examination of friendship and marriage among a group of old friends who share a beach house together every summer. Marion Cotillard is one of 'em, and Tell No One's Francois Cluzet is another (he plays an uptight hotel manager). It's compelling, but rambling, and the use of vintage American rock on the soundtrack starts to wear. Then there's a festival snafu, and the press & industry screening for Danny Boyle's 127 Hours – with James Franco as a mountain climber stuck on a rockface -- gets delayed, and delayed, and delayed for what feels like 127 hours. Will have to go to another screening on Monday. And then Passion Play, Mitch Glazer's (ahem) fable about a jazz trumpeter (Mickey Rourke) and the "bird girl" (she has wings) he meets at a carnival in the desert. Megan Fox wears the wings, and the audience thinned out and thinned out until it was as emaciated as a Fashion Week runway model as the jazzy, stylized how-did-this-get-made movie meandered towards its corny coda.

Marriied couples and longtime relationships are at the heart of not only Little White Lies, but Woody Allen's You Will Meet a Tall Dark Stranger and Mike Leigh's Another Year, too. But the strangest thematic thread to emerge in the films seen so far: the ejection of contents of the stomach through the mouth. I've seen four movies in a row now where one of the characters upchucks on camera! These movies are visceral!


Steven Rea

, Inquirer Movie Columnist and Critic
You know that scene in Inception, Leonardo DiCaprio and Ellen Page leaving a Paris café and suddenly the whole city folds in and angles out and pops-up like a 3-D Escher cityscape?
Toronto, on the first day of the 35th International Film Festival, is a little like that: with the new central five-screen, multi-purpose Bell Lightbox (opening Sunday), a new TIFF headquarters hotel (Hyatt Regency) and a giant vertical multiplex (the ScotiaBank) with an escalator that seems to climb into the clouds serving as the main screening venue, the locus of the festival has shifted from the upscale, pseudo-Euro Yorkville section to the heart of the entertainment district downtown. For the returning press, film buyers, sellers, programmers and publicists, the effect is disorienting, to say the least. And while we try to get oriented, we see movies, and talk to movie stars.

First interview of TIFF35: Edward Norton, who plays a convict trying to get parole and seriously messing with prison official Robert DeNiro's head. Intense, stage-like scenes with Norton and DeNiro sparring (verbally), snorting and hamboning like there's no tomorrow. Norton -- dressed in brown leather jacket and blue jeans and just arrived at the Overture Films suite in the Park Hyatt -- talks seriously about collaborating with "Bob" again (they did The Score together), collaborating with John Curran (Norton and the director did The Painted Veil together), and about how Norton's going to moderate a talk with his pal Bruce Springsteen at a public event tied to the screening of the doc, The Promise: The Making of Darkness on the Edge of Town.

First film of TIFF35: Tamara Drewe, a randy comedy of manners set in the English countryside, with Gemma Arterton in the title role as a columnizing newspaper gal transformed from ugly duckling to hot babe and who beds a series of men, including a rock star and a married mystery scribe…. Stephen Frears directed, and I'm set to talk to him and Arterton on Saturday. The screening was at the plush Hazelton Hotel screening room. Leather armchairs and side tables…. too comfortable!

Then a public screening of Inside Job, Charles Ferguson's documentary about the origins, and perpetrators, of the global financial collapse of 2008 and its crippling aftershocks. OK, it's the opening night of the festival, and there's a line around the block at the Ryerson Theater, and a red carpet for Ferguson and his glamorous producer, Audrey Marrs …. and it's an almost packed house! For a movie about derivatives and deregulation! True, it's narrated A-lister Matt Damon -- but hey, he's not here. (And speaking of he's not here, a Joaquin Phoenix impersonator is running around town, or maybe it's really Joaquin Phoenix pretending to be a guy pretending to be him, all because his meta-doc I'm Still Here is playing at TIFF, too.)






Steven Rea

, Inquirer Movie Columnist and Critic
Toronto International Film Festival #35 -- and my tenth -- starts tomorrow, Sept. 9, and runs to the 19th, with the usual suspects expected to be present, accounted for and pitching their wares: Keira Knightley, Helen Mirren, Mike Leigh, Woody Allen, Robert DeNiro, Colin Firth, Charlotte Rampling, Natalie Portman, Javier Bardem, ho hum, ho hum.
But seriously, in addition to the high profile stuff – and high profile stars – this year's lineup looks full of intriguing, promising work. A few that I've circled on my program guide and will do the utmost to catch include:
Little White Lies – Tell No One director Guillaume Canet's beach retreat marital drama, with Marion Cotillard.
Meek's Cutoff – Wendy and Lucy's writer/director and star -- Kelly Reichardt and Michelle Williams -- reteam for a post-Civil War western set in dusty high plains country, with Paul Dano, Bruce Greenwood, Shirley Henderson and Zoe Kazan.
The Trip -- Prolific Brit Michael Winterbottom follows Steve Coogan and Rob Brydon around, playing friends who drive across the North Country driving each other nuts.
Miral – Julian Schnabel goes from the physical paralysis of The Diving Bell and the Butterfly to the political paralysis of Palestine.
Tamara Drewe -- It's a graphic novel. It's Thomas Hardy. It's directed by Stephen Frears. And it stars Bond girl Gemma Arterton, looking to shake that Bond girl tag, once and for all.
Client 9: The Rise and Fall of Eliot Spitzer – Taxi to the Dark Side doc-director Alex Gibney examines the self-detonation of the New York governor and family man with the call-girl on the side. And he probably took some taxis to see her.
Steven Rea

, Inquirer Movie Columnist and Critic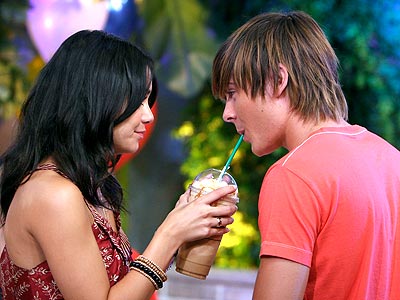 Variety ran a story Wednesday about a new Warner Bros. Project, Art of the Steal, with tweenybopper throb Zac Efron set to star. Hey, isn't that the name of Don Argott's controversial 2009 documentary about the big brouhaha over the relocation of the Barnes Foundation from Lower Merion to a site on the Benjamin Franklin Parkway?
So is the High School Musical alum actually going to play the legendary Philadelphia pharmaceutical king, art collector and curmudgeon Albert Barnes in a fictionalized treatment of the doc?
Not a chance. This Art of the Steal, alas, is based Joshuah Bearman's Wired magazine article about a con man who pulls off a series of tricky heists, all the while leading a double life as well-respected member of the community. Too bad. Can't you picture Efron's bespectacled multimillionaire Barnes roaming around early 20th century Europe, hobnobbing with a Pablo Picasso played by Corbin Bleu (it's his bleu period), or a Gertrude Stein elegantly essayed by Vanessa Hudgens?