Archive: August, 2011
Steven Rea

, Inquirer Movie Columnist and Critic
OK, there's The Tree of Life, Terrence Malick's cinematographically rapturous, thematically cosmic, chronologically momentous art house hit – destined for Academy Award nominations and critics' year-end best lists. (Can Brad Pitt and Jessica Chastain be nominated for what are essentially dialogue-less performances? Does chin-flexing and lip-quivering translate to best actor and actress nods?)
And then there's The Tree, a more-modest but similarly themed Australian-French production (both The Tree of Life and The Tree pivot on the death of a loved one) in which Charlotte Gainsbourg is grieving badly and little Morgana Davies (as her daughter) steals every scene she's in. The Tree, from Julie Bertuccelli, and The Tree of Life are both playing on Ritz screens right now.
There's also an Indian film called The Tree (or Kalpvriksh), about five kids who try to save their wishing tree from being cut down, released a few months ago.
Steven Rea

, Inquirer Movie Columnist and Critic
Adapted from John Gotti Jr.'s memoir, Gotti: In the Shadow of My Father, a biopic about the boss of the Gambino crime family is getting set for a January start, with Barry Levinson at the helm. John Travolta is already signed on -- and gearing up -- to star, with Al Pacino on board as Aniello Dellacroce, the mob underboss; Ben Foster as Gotti Jr., Kelly Preston (Mrs. Travolta) as Victoria Gotti; Ella Bleu Travolta as Angel Gotti (this truly is a family affair), and the casting of Chaz Palminteri has just been announced. He'll play crime capo Paul Castellano.
Levinson is responsible for one of the great mob bios of the '90s -- Bugsy, with Warren Beatty as gangster Bugsy Siegel. James Toback, who wrote the Bugsy screenplay (and got an Oscar nomination for his trouble), is working with Levinson on Gotti, too. The title Gotti: Three Generations has also been reported, but so far they're sticking with the book's tag.
Steven Rea

, Inquirer Movie Columnist and Critic
Paradise Lost: The Child Murders at Robin Hood Hills came out in 1996 and shook up not only the documentary world, but the criminal justice world, too, with its investigation into the rape, mutilation and killing of three 8-year-old boys in West Memphis, Arkansas, in 1993, and the subsequent arrest and trials of a trio of goth-y, geeky teenagers -- Jason Baldwin, Damien Echols and Jessie Misskelly. Despite all sorts of flawed and contradictory evidence and testimony, the so-called West Memphis 3 were convicted in the murders. Two were sentenced to life behind bars, and Echols was put on Death Row.
Last week, after months of negotiation between defense lawyers and the Arkansas district attorney's office – and after DNA tests, unavailable at the time of the trial, cleared the defendants – the three men, now in their 30s, were released. Joe Berlinger and Bruce Sinofsky, the co-directors of Paradise Lost, have been following the case and its dark, disturbing developments for the last two decades. In 2000, Paradise Lost 2: Revelations, was released, starting a movement to free the West Memphis 3. Next month, Paradise Lost 3: Purgatory, with a new ending being worked on as we speak, will premiere at the Toronto International Film Festival. It's set to debut on HBO in January, 2012.
Steven Rea

, Inquirer Movie Columnist and Critic
Jeff Buckley drowned in Wolf River Harbor, outside of Memphis, in 1997. He was 30, on tour, and on track for fame and fortune, when he went swimming and got caught up in a boat's wake. His album, Grace, was a critical success, and his tousled good looks and high, quavering voice – both inherited from his father, the '60s folk jazz singer Tim Buckley, who also died young -- had brought him legions of fans. His work was fierce and moody, soulful and heartbreaking, and his interpretation of Leonard Cohen's "Hallelujah" – perhaps Buckley's best known recording – took the song to a whole new dimension.
No surprise then that filmmakers want to bring his story to the screen. The surprise is that there are two biopics on the brink or production, and another in the works.
The first to start production is Greetings From Tim Buckley, an indie from director Dan Algrant (People I Know) which is set to begin shooting next week in New York. Penn Badgley of Gossip Girl stars alongside British actress Imogen Poots (the female lead in Fright Night, opening this weekend), and the story pivots around Buckley's tribute concert to his estranged father, and how reconnecting to his father's music set him on his own path. Poots plays a youing woman he befriends in the days leading up to the show.
Steven Rea

, Inquirer Movie Columnist and Critic
"Nobody puts Baby in a corner." But somebody -- Lionsgate, in fact – is going to put her on the big screen again. Dirty Dancing, the seminal 1987 Patrick Swayze and Jennifer Grey 1987 romance dance hit (a rom-dan?), is being readied for a re-do. According to Variety, Kenny Ortega, who choreographed Swayze's Johnny Castle and Grey's Frances "Baby" Houseman through their steamy moves in the original -- and who has gone on to direct High School Musical and the posthumous Michael Jackson doc, This Is It -- will take the helm. New compositions, some of the classics from the original and other signature '60s pop ditties will be worked into the new soundtrack.
So, who are the Swayze and Grey of the new millennium?
Steven Rea

, Inquirer Movie Columnist and Critic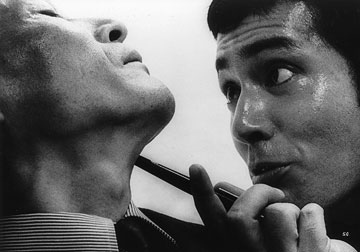 Unknown Japan II, a six-week series of FREE screenings of little-seen Japanese films, begins this Wednesday, Aug. 10, with the nutso 1967 Age of Assassins (also known as The Epoch of Murder and Madness) . Tatsuya Nakadai stars as the target of a gang of Nazi hitwomen in this spy spoof from director Okamoto Kihachi. Co-presented by Cinedelphia and the Japan Society of Greater Philadelphia, Unknown Japan II sets up in venues around town – Wednesday's event, at 7:30pm, will be on the 7th floor of the Bellevue, Broad and walnut Streets.
In the following weeks, watch for The New Earth (1937), a Nippon-Nazi propaganda piece starring Setsuko Hara and co-directed by the Japanese Mansaku Itami and the German Arnold Fanck; Wicked Priest (1968), with Tomisaburo Wakayama as, well, a wicked priest; a 70-minute collection of Japanese anime dating from the 1920s to the 1950s, presented in the Shofuso Japanese House and Garden in Fairmount park; Typhoon Club (1985), inspired by John Hughes' The Breakfast Club, but set during a a huge storm, and The Man Who Stole the Sun (1979), about a high school science teacher who decides to build his own nuclear bomb.
For full schedule and location details, click on Unknown-Japan.
Steven Rea

, Inquirer Movie Columnist and Critic
Silent Visions: Discovering Early Hollywood and New York Through the Films of Harold Lloyd is a stellar piece of cineastic detective work – 300-plus pages in which film historian John Bengtson explores the West Coast and East Coast locales of some of the Golden Age comedy icon's most inspired romps.
Matching frame stills, publicity shots and archival photos with old maps and new pictures of the same locations, Bengtson takes the reader on an archaeological dig of sorts – showing how the physical landscapes and architecture have changed, and haven't, over the many decades since Lloyd starred in such brilliantl, breakneck farces as Girl Shy, Safety Last! and Speedy. (For East Coasters, 1927's Speedy is of particular note: Lloyd (whose real-life nickname was Speedy) goes on an epic and anarchic trip around New York, to Coney Island, Yankee Stadium (driving a cab with the real Babe Ruth), the grand old Pennsylvania Station and scores of other stops through Brooklyn, the Bronx and upper and lower Manhattan.)
For Lloyd fans, Bengtson's book, published by Santa Monica Press, is a must. And for historic architecture and urban design buffs, the book is likewise indispensible. An unusual and commendably obsessive undertaking!
Steven Rea

, Inquirer Movie Columnist and Critic
It's called The Ape, it played at a couple of film festivals (L.A., Austin), in 2005, and phhhttt, then it disappeared. But if ever there was a double-bill, it's Rise of the Planet of the Apes, the just-out sci-fi reboot with James Franco living in a house with a monkey, and The Ape, with James Franco living in a house with a monkey. Or, at least, with a guy in a Hawaiian shirt and a gorilla suit. The movie star/fiction writer/NYU prof/ADD poster boy wrote (with Merriwether Williams) and directed the dark comedy, about a guy who leaves his wife to move into a rental apartment and write the great American novel. But then this clown in a King Kong costume shows up.
Watch the trailer below. Franco's seems just a mite more animated in The Ape than he is in Rise of the Planet of the Apes. (He's jumoping up and down on a bed!!