Archive: August, 2010
Steven Rea

, Inquirer Movie Columnist and Critic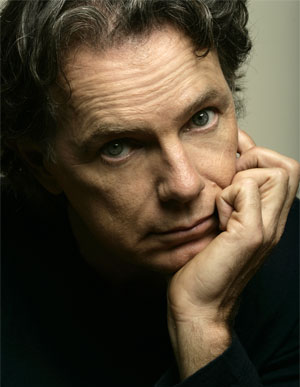 Bruce Greenwood: first captain of the USS Enterprise in J.J. Abrams' Star Trek reboot, John F. Kennedy in the Cuban missile crisis drama Thirteen Days, the slick dinner host of the current Steve Carell comedy, Dinner for Schmucks.
And now for something completely different. In Mao's Last Dancer, the based-on-a-true-story of Li Cunxin, a peasant lad sent to learn dance in Beijing and who later defects to the States and joins the Houston Ballet, Greenwood plays Ben Stevenson, the Houston company's long-time artistic director.
"Basically I dance like a monkey," says Greenwood, the affable and hardworking character actor with more than a hundred films and TV titles to his credit. "So I had to spend a lot of time at the barre under the eyes of a very strict professional, who really helped me get a grasp on, if nothing else, how hard dancers work. I used muscles that had never been used…. You try to lift the leg in a certain way, and it's like you're looking down at a stranger and going `Hey, why are you just hanging there?'"
Of course, in Mao's Last Dancer, directed by Bruce Beresford and starring the gracefully acrobatic Chi Cao as Li, Greenwood doesn't do much real dancing, per se. But he does lead Li and the rest of the Houston hoofers through their regimens and rehearsals, trying a few teacherly plies in the process. And while Greenwood plays Li's dance mentor onscreen, Greenwood played Birmingham Royal Ballet's Cao acting master between takes. The celebrated Chinese-born dance star makes his screen debut in the film.
"Chi said to me early on, `What can you tell me?' And I thought rather than load him up with a bunch of acting school stuff, I just said, `Listen.'
"And not everybody gets that, that doesn't quite land for everybody, even actors who have been trained," Greenwood explains, on the phone from L.A. "But he just got it. He listened. And so depending on how you were behaving with him [in a scene], he would respond to you in a different way. He was very present…If you can absorb that simple thing you can really, really use it… It keeps you from being self-conscious, and if you're listening -- boom, there you go! The secret to acting, right there."
Steven Rea

, Inquirer Movie Columnist and Critic
If you've seen Dinner for Schmucks, you know that that great, goofy mouse diorama opening-credits sequence is accompanied by the Beatles song "The Fool on the Hill." And you know that when Paul Rudd's character crashes into Steve Carell's, the latter amusingly misquotes John Lennon's classic, "Imagine."
What you may not know is how hard-fought the effort was to secure the rights to "The Fool on the Hill," and how important the Fab Four and its canon are to Dinner for Schmucks director Jay Roach.
"I've been inspired by the Beatles for so long," says the filmmaker, responsible for the three pseudo-Sixties Mod Austin Powers films as well. "You can see it in Austin Powers through and through. A Hard Day's Night – just the whole vibe of that movie."
Roach's wife is Susanna Hoffs, late of the Bangles, and "probably the biggest Beatleophile that ever existed," he says. "The Bangles are very much inspired by them. So there's a lot of Beatles in our household, and what an amazing feeling having that song in our film. I still can't get over it.… And I'm grateful to Paul McCartney because he himself had a lot to do with lobbying everybody else involved in the [rights] to let us use it."
Steven Rea

, Inquirer Movie Columnist and Critic
Orlando, Sally Potter's striking 1993 Oscar-nominated adaptation of Virginia Woolf's gender-bending novel, has made its way back into theaters – it opens Friday at the Ritz at the Bourse – and will also be back in circulation on a new special edition DVD in a few weeks.
All of which pleases its star, Tilda Swinton, immensely.
"My hope is that lots of people will go to see it," says the actress, whose I Am Love has turned into one of the art house hits of the summer. "And my hope is that Sony Pictures Classics will not only make some money, but they will also have the impetus to re-release all sorts of films from that time. I think that it's really interesting to look at films from that particular period now."
Swinton plays both male and female in Orlando. The Scottish actress' title character embarks on not just a sexual odyssey, nor a romantic one, but a historical one: the story begins in the era of Elizabeth I and spans four centuries. Potter's movie -- fleet, funny, romantic, inventive – is dazzling stuff, and representative, Swinton says, of a wave of independent movies from the late 1980s and early 1990s.
"When talking to film students who don't know that period, and they're asking for a certain kind of cinema, a certain approach to cinema, very often the quickest answer is to say,`Go and look at Terence Davies (The Long Day Closes, Distant Voices, Still Lives), or go and look at Ron Peck (Empire State), or go and look at Todd Haynes' Poison for example, or go and look at early Sally Potter.'"
And, of course, go and look at the work of Derek Jarman, the director whose collaborations with Swinton – Caravaggio, The Last of England, War Requiem, Edward II among them - launched her career.
"These films were made in a different kind of spirit. It's good to look at that cinema now, because it re-affirms a sort of confidence about being quite self-determining and not worrying about what will or will not sell….
"If you made a film like The Last of England or Edward II now," she adds, "well, first of all I don't know who would fund it, and secondly if it were made at all it would probably be shown late-night at one theater in New York. But in its day, that work was very central, culturally, and had mainstream reviews… The Last of England, which is a non-narrative film by Derek Jarman shot on Super-8 film, was shown in a mainstream cinema in the heart of London. But that work has become strangely marginalized in a way that it never was at the time….
"So it's quite a good kick to the courage to have a look again, and to think how it might be possible to push the boundaries back."