Archive: July, 2012
Silver Linings Playbook, the Bradley Cooper/Jennifer Lawrence/Robert DeNiro tale of a guy just out of a mental institution trying to put his life back on track, based on the novel by Matthew Quick and shot in these-here-parts by David O. Russell of The Fighter fame, is one of a dozen or so hotly anticipated titles set for the Toronto International Film Festival, running Sept. 6 to 16th.
The 37th TIFF will open with Looper, Rian Johnson's futuristic thriller starring Joseph Gordon-Levitt and Bruce Willis (as the same guy -- a hitman sent from the future to kill his younger self). Emily Blunt, Paul Dano and Jeff Daniels also star.
Other films with buzz:
The Dark Knight disappeared from TV, radio and newspapers over the weekend. No ads, anywhere. But in Los Angeles, the image of the soul-ravaged vigilante superhero still loomed: Christian Bale's chiseled jaw jutting beneath his Bat-mask on billboards in Hollywood and Santa Monica, Pasadena and Sherman Oaks, images of Batman and The Dark Knight Rises' uber-terrorist villain, Bane, facing off on bus shelters and parking garage kiosks.
On Saturday morning, I was in a bookstore in Los Feliz, just east of the heart of Hollywood. There on a table was a whole Dark Knight library: the graphic novels, the movie tie-ins, and a giant new coffee table book, The Art and Making of the Dark Knight Trilogy. I went to grab it, and stopped. Somehow the book seemed tainted, the whole display table of Bat-books situated in a terrible new context. Aurora, Colorado. James Holmes, A dozen dead, 58 wounded.
L.A. is an industry town, and everywhere the talk was about Warner Bros., the $250 million spent to make Christopher Nolan's final Dark Knight installment, the $150 million in marketing. Will moviegoers stay away? What about the theater chains? How will they handle security issues? What if there are copycats? Those weren't the first concerns on people's minds. The shock and hurt, the empathy for the victims' families and the survivors was foremost, I'm sure. But Holmes' midnight massacre in theater 9 of the Century 16 multiplex in Aurora on Friday sent a seismic wave trembling through this town. All the usual business paradigms, the publicity strategies, the box office spins, the IMAX revenue reports… sent off into some dark, haunted limbo.
The vampire thing didn't work so well, but maybe that's a good thing for Steven Spielberg, Daniel Day Lewis and company. In Lincoln, the historical/political/bio-drama based on Pulitzer Prize-winner Doris Kearns Goodwin's Team of Rivals: The Political Genius of Abraham Lincoln, Day Lewis portrays the 16th president of the United States, tracing his rise from one-term congressman and prairie lawyer to the White House, and then on into the cataclysms of the Civil War. Abraham Lincoln: Vampire Hunter this is not.
Spielberg has maintained that he wouldn't release Lincoln until after the presidential election in November -- he didn't want the film to become politicized by either the Obama or Romney camps. (That said, Spielberg is a big Obama supporter.) But now DreamWorks/Disney has set a release date: On November 9, the Friday following the elections, the film will open in a few top markets. A week later, everywhere. Sally Field is Mary Todd Lincoln in the film, Joseph Gordon-Levitt is Robert Todd Lincoln, the First Couple's son and future Secretary of War, Jared Harris is Ulysses S. Grant and Tommy Lee Jones is Thaddeus Stevens, the powerful Pennsylvania Congressman. If Day Lewis doesn't nab an Oscar nomination for this one, then they've all done something seriously wrong.
Comic-Con, the annual summer rite of frenzied movie fandom, kicked off Thursday with a Twilight Saga: Breaking Dawn -- Part 2 panel, with Kristen Stewart talking about what it's like to finally be a vampire and TSBD2 director Bill Condon, in London doing the post-production work, video-messaging the crowd – and treating them to the final installment's opening seven minutes. In the sequence, Stewart's Bella and Pattinson's Edward prowl around for fresh, warm-blooded critters to feast on. Stewart, red-eyed and, well, vampiric, takes down a big, wild cat, according to a report from The Wrap. Breaking Dawn: Part 2 opens November 16.
A launching pad for sci-fi, fantasy, and genre fare, this year's San Diego confab also brought in former California governor Arnold Schwarzenegger and his senior citizen co-star Sylvester Stallone, to discuss the body count and bad-ass attitude of their Expendables sequel, opening August 17. Other big-dealpics to be unveiled with hype and hoopla before Comic-Con ends on Sunday: Lone Ranger, the re-cowboy-boot with Johnny Depp as Tonto; Man of Steel, the Zack Snyder-helmed Superman reimagining; Elysium, the 22nd century space thriller starring Matt Damon, from District 9 director Neil Blomkamp, and Pacific Rim, Guillermo del Toro's aliens-attack-Earth extravaganza, with Idris Elba and Ron Perlman. All are set for 2013 release.
So what if Abraham Lincoln: Vampire Hunter tanked at the box office? There's still another Twilight coming, and a dozen or so other projects featuring be-fanged, blood-slurping undead in the leads. And now Deadline Hollywood reports that Russell Crowe has signed on to play the most famous vampire of them all, Bram Stoker's Dracula, in Harker. A thriller (of course) to be directed by torture porn Hostel guy Eli Roth, Harker centers around Scotland Yard inspector Jonathan Harker, who is on the hunt for this Dracula dude. The Harker role has yet to be cast. Crowe and Roth worked together on the upcoming RZA-directed action piece, The Man With the Iron Fists. Crowe stars in that one, Roth wrote the script.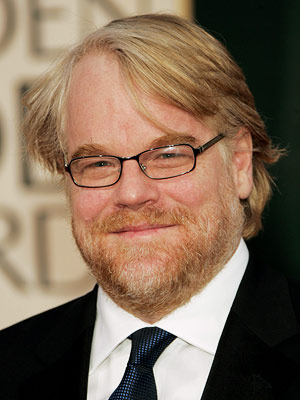 People were paying $300 a ticket to see Philip Seymour Hoffman as Willy Loman in the just-concluded restaging of Arthur Miller's Death of a Salesman. It'll cost a little less than that to see the master thespian go at the role of Plutarch Heavensbee, Head Gamemaker for the Hunger Games in Catching Fire.
The second installment of The Hunger Games trilogy, based on the bestselling tomes by Suzanne Collins, starts production in September. Jennifer Lawrence, Josh Hutcherson, Elizabeth Banks, Stanley Tucci and Donald Sutherland all return. Francis Lawrence (Water for Elephants, I Am Legend) takes up the directing chores. November 22, 2013, is the release date.
Andy Griffith, who died this week, age 86, in his native North Carolina, will forever be remembered as the affable widower sheriff of fictional Mayberry, N.C. With his flappy ears and smalltown sagacity, Griffith's Andy Taylor became an American icon, a sitcom hero who rode out the cultural maelstrom of the 1960s with implacable country bumpkin charm.
But let's not forget Griffith's work in an altogether darker, more disturbing look at the American psyche and its rural roots: In A Face in the Crowd, directed by Elia Kazan, Griffith starred as Larry "Lonesome" Rhodes, a Southern drifter who becomes a media sensation – an American Dream success story turned on its head. Griffith is intense and electric as Rhodes, who sings his way to stardom, embracing a folksy, feisty persona that wins over the masses -- masses whom in truth he harbors nothing but contempt for. "If they ever heard the way that psycho really talks," Rhodes' producer mutters with a sense of sorry wonder, and indeed, eventually they do hear.
Sharply scripted (by Budd Schulberg), with a cast that includes Patricia Neal (the radio programmer who discovers Rhodes), Lee Remick (the high school majorette Rhodes runs off with) and Walter Matthau (the TV writer who helps shape Rhodes' populist image), A Face in the Crowd pulls back the curtain to reveal the cynicism and greed, malevolence and media manipulation that can lurk behind fame's façade. It's as timely now as it was in 1957, when Griffith made his amazing acting debut in this amazing film.