Archive: July, 2011
Steven Rea

, Inquirer Movie Columnist and Critic
Although the Cowboys & Aliens graphic novel came out in 2006, introducing the genre-splicing concept of crusty 19th century cowpokes fighting oozing intergalactic vermin, the high-priced movie adaptation was beaten to the draw … by two years, in fact. High Plains Invaders, set in 1890s Colorado and starring James Marsters (P.S. I Love You) and Sanny Van Heteren (Hellraiser: Revelations), is an enjoyably cheesy mashup with a giant alien bug that's actually a whole lot more interesting than the CGI-ed Alien rip-offs in Cowboys. Director/actor Kristoffer Tabori helmed the SyFy original, shot in Romania for around $2 million. Director/actor Jon Favreau is responsible for Cowboys & Aliens, which was filmed in New Mexico and cost about $163 million. Compare and contrast. Check out the High Plains Invaders clip below.
Steven Rea

, Inquirer Movie Columnist and Critic
It must be late July already, if the folks in Toronto are sending press releases with lists of the high-profile dramas and comedies, docs and romances, satires and indies, booked to bow at North America's biggest film fest. The starting gun that signals the beginning of the awards season race, TIFF typically announces a spate of high-profile selections to start the buzz buzzing, the tweets Twittering. Here 's a quick look at a few of the TIFF selections:
A Dangerous Method – Viggo Mortensen IS Sigmund Freud! Michael Fassbender IS Carl Jung! Keira Knightley IS the woman who comes between them! And David Cronenberg IS directing. Sex and the subconscious will never be the same again.
The Descendants— George Clooney takes the lead in Alexander (Sideways) Payne's Aloha State family saga.
Steven Rea

, Inquirer Movie Columnist and Critic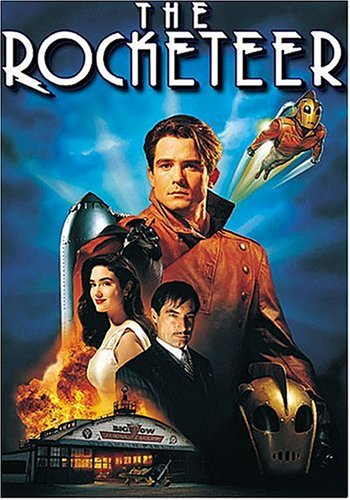 With its straight-arrow patriotism and retro vibe, Captain America: The First Avenger scored super-powered numbers its opening weekend: $65.1 million on approximately 7,100 screens at 3,715 locations, according to Box Office Mojo, the industry numbers tracker. That's a mighty return for a film with no A-list stars (Chris Evans IS Steve Rogers!), and far mightier than the other Joe Johnston-directed movie about a Nazi-fighting superhero who first sprung from the pages of a comic. That would be The Rocketeer, the 1991 adaptation of the beautiful Dave Stevens-scripted-and-illustrated book. It didn't fare well at all when first released, but the Disney-backed pic looks pretty good now. Billy Campbell, last seen on AMC's The Killing, stars as the jet-pack-powered, helmeted hero, Jennifer Connelly is his Bettie Page-like muse, and Alan Arkin, Timothy Dalton and Paul Sorvino co-star. Check the original trailer right here.
Steven Rea

, Inquirer Movie Columnist and Critic

Timed to coincide with Comic-Con, the giant cinema geekfest happening right now in San Diego, Columbia has let loose its first trailer for the Spider-Man reboot, starring Andrew Garfield, late of The Social Network and Never Let Me Go, as Peter Parker, the sensitive New York kid who gets bitten by a spider, and, well, you know the rest.... The Spidey-cam POV roof run is kind of cool. (500) Days of Summer's Marc Webb directs. The film comes out July, 2012. Here it is:
Steven Rea

, Inquirer Movie Columnist and Critic
Perhaps it's the beautiful travelogue pans of the Seine and Montmartre, or the Django Reinhart music on the soundtrack, or the sight of Marion Cotillard in fetching flapper gear…. It can't be Owen Wilson, can it?
Whatever the reason, Woody Allen's Midnight in Paris – a cute and charming comedic reverie about a modern-day Hollywood screenwriter (Wilson) who finds himself hobbing and nobbing with such literary lions and art world greats as Hemingway, Fitzgerald, Picasso and Dali in a nostalgia-hued 1920s Paris – is now the certified hit of the Woodman's career. Distributed by the always savvy Sony Pictures Classics, Midnight in Paris -- Allen's 42nd film in 45 years of directing -- opened May 20 on just six screens and started doing explosive business from the get-go. Two months later, on more than 1,000 screens nationwide, Midnight in Paris has topped $42 million in ticket sales and is still going strong. Add another $34 million in foreign numbers (and it's yet to open in most overseas markets) and you have what, for the prolific Mr. Allen, is a blockbuster.
So, forget Vicky Cristina Barcelona's $23 million and Hannah and Her Sisters' $40 million (and definitely forget You Will Meet a Tall Dark Stranger's $3.2 million!). Midnight in Paris, it's the Deathly Hallows of Allen's oeuvre.
Steven Rea

, Inquirer Movie Columnist and Critic
Emma Watson, who has grown up before an audience of katrillions -- beginning in 2001 with Harry Potter and the Sorcerer's Stone, and ending right now, seven epics later, with Harry Potter and the Deathly Hallows Part 2 -- plans to re-enroll at Brown University, which she left to concentrate on her magic arts skills. The plan, 21-year-old Watson told the Virginian-Pilot, is to attend Oxford in the fall, but under the auspices of Brown, and then return to the Providence, R.I., campus in spring 2012, to finish up and collect her degree.
In case you were under a serious spell this past week and didn't hear, the final chapter in the Potter series shattered just about every box office record when it opened July 15. It took in $169.2 million domestically from 12:01am Friday to Sunday. That beats the previous best opening weekend of $158.4 million, for The Dark Knight, in 2008.
According to Box Office Mojo, the industry tracking site, Harry Potter, as a franchise, has now grossed $2.177 billion, and is on track to top Star Wars' $2.218 billion to become the top-grossing franchise in history. In terms of estimated attendance, though, the eight Potter pics are well shy the audience numbers accumulated by the seven Star Wars. And Princess Leia didn't have to quit school, either.
Steven Rea

, Inquirer Movie Columnist and Critic
For fans who can't wait until Summer, 2012, to get a glimpse of Christian Bale in his bat-mask, Warner Bros. has issued a teaser trailer for The Dark Knight Rises, the final installment in Christopher Nolan's noirish Cowled Crusader superhero trilogy. It's on the Dark Knight Rises' Facebook page. You can get to the link here.
And remember, "if you make yourself more than just a man, if you devote yourself to an ideal, then you become something else entirely.
"A legend Mr.Wayne. A legend!"