Archive: June, 2012
Steven Rea, Inquirer Movie Columnist and Critic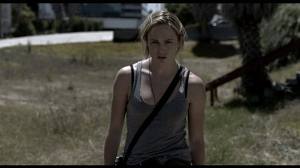 Here's a cool way to spend your Saturday nights this summer: bobbing on a beautifully landscaped public park that juts out over the Delaware, watching the latest indie films and genre pics straight from Sundance, South By Southwest and Berlin. For free.
Yup, the annual Awesome Fest has returned with its summer cinema series, and a new outdoor venue, the Race Street Pier, too. Curated by program director Eric Bresler, the Saturday night series began two weeks ago, and continues June 30 with Pilgrim Song, Martha Stephens' SXSW-vetted feature about a guy's trek along the Appalachian Trail and the folks he encounters on the way. Saturday, July 7's selection is The Pact, an eerie thriller starring Caity Lotz. On July 14, there's Extracted, a low-budget sci-fi number about literally messing with people's minds. For the full slate of Saturday Race Street Pier screenings, and for additional summertime programs – all of them free – happening at Liberty Lands park in Northern Liberties, The Trocadero Theatre, PhilaMOCA, and the Sugar House Casino, visit http://www.theawesomefest.com/
Steven Rea, Inquirer Movie Columnist and Critic
It started last summer – or, more accurately, it didn't start. At the height of the hot and humid season, when taking shelter in the darkened cool of a movie house brings a couple of hours of relief – the air conditioning system at the Ritz at the Bourse would not work.
Finally, Landmark Theaters, owners of the Ritz Theaters, are fixing the problem – replacing the entire HVAC operation in the five-screen, 4th and Ranstead complex. The films booked into the sleek subterranean venue – including Hysteria and Peace, Love and Misunderstanding -- will be shuffled to screens at the nearby Ritz East and Ritz Five in the mean time.
"If all goes according to plan," says a Landmark spokesperson, the Bourse will be back in business by mid-July. Cool.
Steven Rea, Inquirer Movie Columnist and Critic
Singer/songwriter James Murphy pulled the plug on LCD Soundsystem – his hugely influential New York dance punk band -- on April 2, 2011, with an instantly sold-out farewell concert at Madison Square Garden. While Murphy has moved on (recording with Gorillaz and OutKast's Andre 3000, and working on film soundtracks), many LCD fans are still in the grieving stage. So, mark your calendars: one night only, Wednesday, July 18, Shut Up and Play the Hits, a music doc commemorating the swansong concert, will play at theaters around the land. (It's already sold out at Rave Motion Pictures in University City – a second showing is expected.) Directed by Dylan Southern and Will Lovelace, the film captures many of the musical highpoints of the nearly four-hour final concert, and also gets inside Murphy's head a bit, as he prepares for the show and then deconstructs it – and his career – after the closing chords of "New York, I Love You But You're Bringing Me Down" have faded into the night. For theater info, go to: http://oscilloscope.net/lcdtheaters/
Steven Rea, Inquirer Movie Columnist and Critic
CBGB is getting its own biopic. The famously squalid, seminal punk and New Wave venue – the Bowery boite where The Ramones, Patti Smith, Television, Blondie and a gang of now legendary acts launched their careers way back in the late '70s and early '80s– is the subject of a soon-coming feature, CBGB. (The name stood for Country, BlueGrass and Blues – the New York club finally shuttered in 2006.)
Foo Fighters drummer Taylor Hawkins, in his movie debut, will play shirtless wildman Iggy Pop. Rupert Grint, better known to most of the world as Ron Weasley from the wee little Harry Potter pics, is down to play Cheetah Chrome, guitarist with The Dead Boys. Others onboard include Malin Akerman, segueing from her big hair Rolling Stone reporter role in the '80s musical Rock of Ages, to playing Debbie Harry, frontwoman of Blondie. Brit thesp Alan Rickman (also a Harry Potter alum) has signed on to portray CBGB's colorful owner Hilly Kristal, Mickey Sumner (The Borgias) has been cast as Patti Smith, and Joel David Moore (nerdy Norm Spellman in Avatar) as Joey Ramone. Shooting starts this month, with Randall Miller (the California vintner flick, Bottle Shock) directing.