Archive: March, 2012
Steven Rea, Inquirer Movie Columnist and Critic
Was Steven Soderbergh's latest release really a box office flop? Well, yes, if you're talking about Haywire, the globe-hopping hitwoman thriller starring mixed martial arts goddess Gina Carano that came and went early this year. But not if you're talking the record-breaking mega-hit The Hunger Games.
True, director Gary Ross was the man in charge of the first installment of the adaptation of Suzanne Collins dystopian Young Adult book trilogy, but Soderbergh's name is there on the credits (way down, as Second Unit Director). And, indeed, he was way down there -- in North Carolina, last year -- shooting a key sequence of the Jennifer Lawrence-starring tale of a deadly competition between a gaggle of post-apocalytic teens.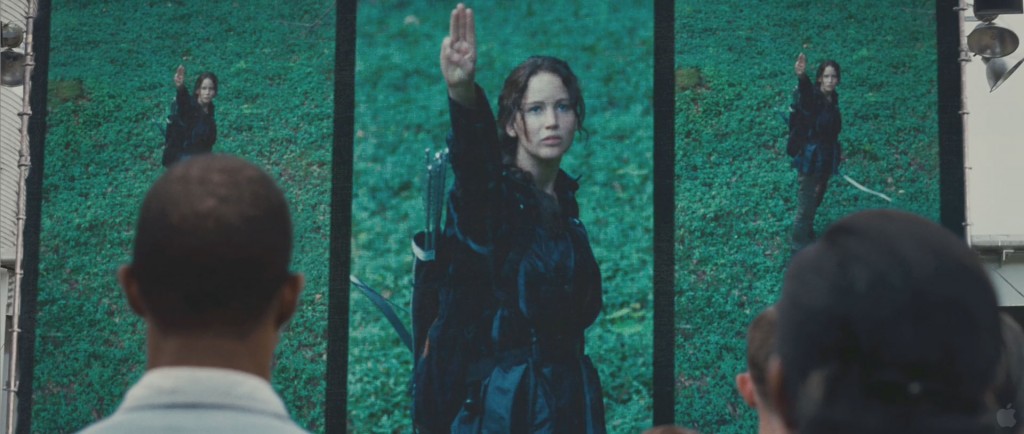 Steven Rea, Inquirer Movie Columnist and Critic
Although Nina Jacobson, the veteran Hollywood exec-turned-producer, has been cautious when it comes to talking sequels for The Hunger Games, the writing is on the wall -- and all over the Internet. On Wednesday, Fandango, one of the leading online movie ticket outlets, reported that the $100 million Lionsgate release, an adaptation of Suzanne Collins' bestselling young-adult novel, was the top-selling franchise opener and non-sequel in the company's 12-year history, on track to become one of the top-selling movies of all time. (Note the term "franchise opener.")
Jacobson, who acquired the film rights shortly after The Hunger Games was published by Scholastic in 2008, did say in an interview last week that Lionsgate has "planted their flag" for Catching Fire, the second installment in Collins' Hunger Games trilogy. The studio's designated release date: Thanksgiving, 2013.
"If everything goes well, that's when we plan to release the next movie, so we have our work cut out for us," Jacobson said from London last week. "But we're also trying to take it one step at a time and make sure that audiences ask for a sequel, because ultimately that's really up to them. And hopefully they will, and we'll be there to give it to them."
Steven Rea, Inquirer Movie Columnist and Critic
WXPN, the area's preeminent alternative radio station, and the Philadelphia Film Society, producers of the annual Philadelphia Film Festival, are partnering up for the XPN Music Film Festival, set to run for four days, April 26 through 29, with most of the programs playing at the Annenberg Center for the Performing Arts. A kind of expanded spinoff of the PFF's "Sight and Soundtrack" program, the titles in the Music Film Fest are likewise being programmed by the PFF's Michael Lerman. Although opening and closing night titles haven't yet been announced, the lineup thus far offers an eclectic mix of rock docs, fiction films, concert flicks and a feature about Gustav Mahler's "Resurrection" Symphony.
Here's the roster of titles, with more announcements of films and special events, to come:
California Solo Robert Carlyle of Trainspotting and The Full Monty, stars as Scottish rocker trying to rehab his life on an organic farm outside L.A.
Steven Rea, Inquirer Movie Columnist and Critic
Jennifer Westfeldt, who wrote, directs and stars in the new ensemble comedy Friends with Kids, says that Megan Fox's agent "really campaigned for her" for the part of Mary Jane, a Broadway dancer who enjoys her single, untangled life, and who meets up with a guy (Adam Scott) whose relationship status is complicated, to say the least. Fox is the free spirit in a crowd of coupledom (Jon Hamm, Kristen Wiig, Maya Rudolph, Chris O'Dowd), and she acquits herself quite nicely.
"I didn't know Megan, and I didn't really know her work," says Westfeldt, in town last week to talk up Friends with Kids. "I only knew the public image, which is not really who she is."
Westfeldt took a meeting with Fox -- who lives in the same neck of Los Angeles woods as Westfeldt and her longtime beau, Hamm – to discuss the film, and the role. "She was funny and smart and sharp and irreverent and sassy and wise-talking," Westfeldt reports. "And I thought, what a great opportunity to show people this other side of her. This funnier, freer, side. And smarter. And more real.
Steven Rea, Inquirer Movie Columnist and Critic
Like his Pixar confrere Brad Bird, who went from making epic CG hits (The Incredibles, Ratatouille) to Mission: Impossible - Ghost Protocol, animator Andrew Stanton has made the leap from digital toons to directing real, flesh and blood actors on real (albeit lots of green-screen) sets.
For John Carter, the huge and fantastical adaptation of Edgar Rice Burroughs' pulp book about a Civil War veteran mysteriously transported to Mars, Stanton found himself in deserts and soundstages, dealing with giant crews and giant logistical problems. It was a seismic shift from steering squads of artists and renderers on his Oscar-winning animated hits Finding Nemo and Wall-E.
"It was a one hundred percent physical adjustment," Stanton explains. "You're going from banker's hours and always sitting, to standing and being outside for like 100 days in every conceivable weather situation. That was truly, by far, the most difficult morale-slamming thing to have done. I knew it would be hard, but I just had never been tested like that, so…
Steven Rea, Inquirer Movie Columnist and Critic
Emily Blunt was in her pajamas watching the Academy Awards telecast Sunday evening at her home in L.A. (Or so she says -- she was dressed by the time she arrived at George Clooney's post-Oscar bash.) And then, near the end of the ceremonies, when Meryl Streep came up to accept her Oscar for best actress, Blunt was cheering.
"Heaven – her acceptance speech was heaven!" says Blunt, whose first big splash in movies was opposite Streep in The Devil Wears Prada. Blunt was the cold, cool personal assistant to Streep's commanding fashion mag editor in the 2006 release.
"Meryl is so authentic," says Blunt, in town the other day talking up her soon-coming Ewan McGregor rom-com, Salmon Fishing in the Yemen. "Everything that comes out of her mouth is felt. She isn't jaded by it all. I think she lives a very separate life from the industry."