Archive: March, 2011
Steven Rea

, Inquirer Movie Columnist and Critic
Snooping kids… exploding trains… missing dogs… sinister Army guys… The lid's coming off of Super 8, the until-recently super-top-secret summer release scripted and directed by J.J. Abrams -- creator of Lost, director of the Star Trek reboot and the best of the Mission: Impossibles (III, of course).
Abrams let the cats out of the bag, screening 20 minutes of Super 8 rough footage at CinemaCon, the industry confab in Las Vegas, yesterday. It's an idea that he had taken to producer Steven Spielberg (and an idea that owes more than a little to Spielberg's E.T.): a bunch of smalltown kids make their own Super 8 movies (it's 1979), and happen to film the fireballing wreck of a freight train carrying a mysterious and menacing cargo. Grave and serious stuff ensues.
"Think Goonies or E.T.," Josh L. Dickey reported in Variety, noting that Abrams throws his pipsqueak stars (Elle Fanning, Gabriel Basso) into the thick of "a violent and suspenseful thriller."
Steven Rea

, Inquirer Movie Columnist and Critic

An extended trailer of Joseph L. Mankiewicz's famously expensive 1964 Oscar winner starring Elizabeth Taylor as Cleopatra, "siren of the Nile." Watch Richard Burton melt in the heavily mascaraed presence of the woman he would soon marry ("All that I shall ever want to hold, or look upon, or be, or have, is here now, with you"), and listen to Liz as she tells Rex Harrison (as Julius Ceasar) she's ready to bear his children ("My breasts are filled with love and life. My hips are round and far apart"). Enjoy these classic Liz clips. And walk like an Egyptian.
Steven Rea

, Inquirer Movie Columnist and Critic
Not long after Bradley Cooper ingests that little clear pill in the #1 box office thriller Limitless, the camera starts zooming around New York, whooshing through cab windows and rocketing up bike lanes. It's an exhilarating mix of ace cinematography, editing and visual effects. "How do you show how he's feeling, and what his sense of the world is, and how he processes information?" says Neil Burger, discussing Cooper's turbo-IQed character and the challenges that sequence presented. "I was extrapolating ideas about how he would think about mirrored parts of a larger hole and I was thinking about fractals…. It's almost like an Escher-like zoom, where you go in and you think you've gotten to the small part but then you realize that it's just opening into a new world which is larger. And I wanted to do something like that, but in the context of this teeming city. I wanted to do it outside and have this infinity zoom -- to represent his brain and how he moves through space and time."
Got all that? Burger says that exactly how they achieved that sensation onscreen – a dizzying feat done in collaboration with a company called Look Effects -- "is kind of a secret."
What's not a secret is that Burger -- whose work includes the Iraq-vets-come-home road pic, The Lucky Ones, and the rewardingly tricky Edward Norton/Paul Giamatti/Jessica Biel period piece, The Illusionist – was thrilled to be working with Robert De Niro, who plays a billionaire powerbroker opposite Cooper's pill-popping savant in Limitless.
Steven Rea

, Inquirer Movie Columnist and Critic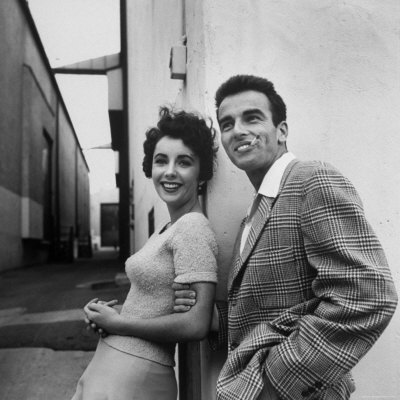 One of my favorite Elizabeth Taylor roles is Angela Vickers, the seductive society girl in George Stevens' dark and tragic 1951 melodrama, A Place in the Sun. Angela is everything that the social-climbing George Eastman – Montgomery Clift – hungers for: beauty, wit, wealth. Alas, his factory worker girlfriend, Alice (Shelley Winters) gets pregnant, and George finds himself tethered to the uncouth, clingy "Al." And so, a plot to take her out on Loon Lake in a rowboat, and to return to shore without her, starts percolating. And all the while Taylor's Angela stands around being radiant, and wonderful. Here's a great photo – by Peter Stackpole, for Life magazine – of Taylor and Clift, all smiles, leaning against a soundstage wall on the Paramount lot during a break in production.
Steven Rea

, Inquirer Movie Columnist and Critic
Hereafter, the Clint Eastwood-directed meditation on life, death and what-happens-next starring Matt Damon and Cecile de France, was pulled from theaters in Japan this week, in the aftermath of the country's epic natural disaster. De France plays a French TV journalist vacationing in Thailand with her lover (Thierry Neuvic), when a huge tsumani rolls in off the Indian Ocean and courses through the streets, toppling trees and buildings, subsuming cars and market stalls and leaving hundreds of bodies in its wake. De France's character rescues a child, drowns during the tidal catastrophe, and then is revived by medics.
But for anyone who has seen the film, and then seen footage and photos of the tsunami that hit Japan's eastern coastline on Friday, the verisimilitude of Eastwood's CG version is eerie and unsettling. (Hereafter was nominated for a visual effects Oscar, based primarily on these scenes.) Removing the film from theaters in Japan – it opened there a few weeks ago – makes perfect sense. Satoru Otani, of Warner Bros. in Japan, said that the tsunami sequences which open the film with a jolt, were "not appropriate" given the tragic events of recent days.
Steven Rea

, Inquirer Movie Columnist and Critic
More details about Philadelphia's 2011 CineFest, set to run Thursday, April 7 to Thursday, April 14: The festival has announced an opening night doubleheader, the family-friendly Exporting Raymond – a documentary about the creator of Everybody Loves Raymond, Phillip Rosenthal, as he hits a culture-shock wall in his efforts to oversee a Russian version of the TV show – and The Catechism Cataclysm, a midnight movie mash-up of Biblical themes and rock and roll set on a river trip gone wild.
The closing night entrée: POM Wonderful Presents The Greatest Movie Ever Sold, Morgan Super Size Me Spurlock's doc about product placement in the media. Spurlock will drop in to product-place his flick, which was well-received at Sundance this January.
And a few more highlights among the 60-odd features sandwiched between the openers and the closing night title: The Ward, horror maestro John Carpenter's chill-o-rama set in a mental institution occupied by Amber Heard, Lyndsy Fonseca and Danielle Panabaker. The Interrupter, from Hoop Dreams director Steve James, a doc about Chicago gang members trying to do the right thing. Miral, in which The Diving Bell and the Butterfly's Julian Schnabel explores Arabs-Israeli tensionss in an adaptation of the Rula Jebreal novel, set in Palestine and starring Freida Pinto. Potiche, with Gallic icons Catherine Deneuve and Gérard Depardieu in Francoiz Ozon's comic depiction of class warfare and marital mayhem in modern-day France. And Stake Land, a post-apocalyptic vampire road movie, of course.

For more CineFest info, click here or call 267-765-9800.
Steven Rea

, Inquirer Movie Columnist and Critic
As if Mark Zuckerberg doesn't already control most of the universe, the Facebook founder – played as a socially-challenged social network pioneer by Jesse Eisenberg in David Fincher's Oscar-winner – has cooked a deal with Warner Bros. Pictures to serve up the studio's titles online. Starting with Christopher Nolan's The Dark Knight, select Warner's fare will be available to rent via the respective films' fan pages. The Dark Knight's Facebook page, it should be noted, has nearly four million fans.
Facebook's move into digital distribution with Warner Bros. is akin to putting a toe in the virtual waters, but it's already had huge ripple effects in Hollywood, where competing studios are expected to follow suit (and where shares in Netflix dropped dramatically when the deal was announced). The alliance is also being seen as a way for Facebook to flex its Credits currency system – heretofore used primarily for virtual games – and position it as a viable alternative to PayPal. The rental fees at the outset: $3, or 30 Facebook Credits.
Just one question as Facebook thunders down the highway in its quest for global -- no, make that intergalactic -- dominace: does Christian Bale's brooding crimefighter have the tech-savvy to edit his own Facebook profile? Does anybody?
Steven Rea

, Inquirer Movie Columnist and Critic
A clutch of Philly-based filmmakers is heading to the Texas capital to screen new work at the influential South By Southwest Film Festival, March 11-19. Don Argott and Sheena Joyce, the folks behind the controversial hit doc about the Barnes, The Art of the Steal, have their new one, Last Days Here, ready to go to SXSW. It's about Bobby Liebling, frontman of the venerable doom metal band Pentagram, as he struggles to overcome addiction and personal issues -- and living in his parents' basement -- as interest in his music surges anew. Last Days Here is in the featured documentary competition, one of eight chosen out of 808 submitted to the fest.
A short-form doc, also with a music angle and Philadelphia ties, is "Diplo," about Wesley Pentz, aka DJ Diplo. Director Wing-Yee Wu's website has a synopsis: "We join Wesley Pentz, aka DJ Diplo and part of Major Lazer soundsystem, at the annual Philadelphia block party of record label Mad Decent. In a candid portrait of an artist better known for Mad Decent's madcap antics, Diplo shares his thoughts on people, culture and traveling - as well as what he would do should he stop making music."
And Alison Bagnall, whose credits include co-writing Buffalo 66 with Vincent Gallo and writing and directing the festival-proven 2003 feature, Piggie, is represented with The Dish & the Spoon. Mumblecore icon Greta Gerwig and Brit actor Olly Alexander star. The film was shot on the Delaware shore, and Bagnall has Philly history.