Archive: February, 2012
Picture this, why doncha: A betuxed Bradley Cooper rolling up to the red carpet at the Kodak Theater on Oscar night, stepping off of his bicycle and heading in to present some awards. How about Academy Award nominees Jonah Hill, Rooney Mara, Michelle Williams, Brad Pitt and/or Bret McKenzie (best song: "Man or Muppet") likewise pedaling their way through Hollywood's blocked streets and limo jams on Sunday eve, Feb. 26?
That's the goal of Commute By Bike cycling advocate Ted Johnson, who is doing his best to get nominees, presenters and guests to leave the gas guzzlers at home and show a little cycle chic. So far, no one's committed to his Academy Awards ceremony cycling idea – and admittedly it'll be more of a challenge for the women arriving in designer gowns and $100,000 baubles than for menfolk who can simply put a trouser clip on their tuxedo pants – but Johnson is drumming up support for his campaign.
Here's part of Johnson's open letter to Oscar-attendees: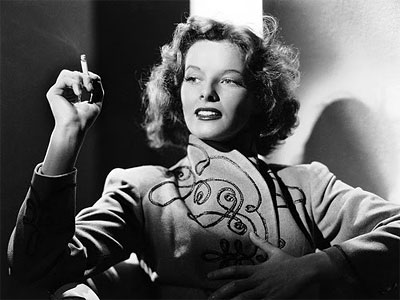 Kate Hepburn had sexual assignations with more than 150 women. Spencer Tracy swung both ways. Cary Grant and Randolph Scott – an item. Charles Laughton and Tyrone Power were into "water sports." Anthony Perkins and Tab Hunter were lovers. Harold Lloyd spent money on hookers – lots of hookers – but he would never touch them. He photographed them with a special 3-D camera.
Such are a few of thejuicy revelations to be found in Full Service: My Adventures in Hollywood and the Secret Sex Lives of the Stars (Grove Press, $25), a titillating tell-all from Scotty Bowers, a gadabout go-between in the closeted and scandal-wary world of moviedom. From just after World War II, when he returned from his stint as a Marine in the Pacific and started pumping gas (and got propositioned by actor Walter Pidgeon), up through the decades until the advent of AIDS, Bowers was -- or claims to be – a facilitator of sexual favors, matching movie stars who were secretly gay with their gender of preference, and fixing hetero and bisexual celebs with all manner of obliging company.
Bowers' book, written with Lionel Friedberg (a documentary producer who is working on a film with, and about, Bowers), rehashes a lot of familiar Hollywood Babylon-style gossip and dirt. But Full Service is also chockfull of detailed descriptions of dalliances between leading men and other men, leading ladies and ladies of the night, of orgies, hedonistic hijinks and angry spouses. (Lucille Ball had it in for Bowers because he hooked husband Desi Arnaz with countless, compliant women – or so Bowers says.)
If you've ever stumbled across those weird icons and paranoia-tinged messages planted in the asphalt on street corners in Phladelphia (and Baltimore and Boston and New York, and other places around the globe) and wondered what was up, and who's behind 'em, wonder no more. Jon Foy's engagingly eerie documentary detective project, Resurrect Dead: The Mystery of the Toynbee Tiles, follows local sleuths Justin Duerr, Steve Weinik and Colin Smith as they piece together the puzzle of the street texts and their odd connection to the famous philosophical historian Arnold Toynbee, to Stanley Kubrick's 2001: A Space Odyssey, to former Inquirer columnist Clark Deleon, to playwright David Mamet, to the Philip K. Dick-ish sounding Minority Association, to South Philly's "bird man" and to the planet Jupiter.
The Philadelphia Film Society is sponsoring the event, which includes a screening of the film, a Q & A with Foy – who not only directed, but co-wrote, co-produced, edited and composed the remarkably effective, noir-ish score – plus drinks and food and Troc-y atmospherics. Foy won the best documentary director prize at last year's Sundance Film festival for his efforts. The film's illustrations, by Matt Rota, are also incredibly cool. For more info on the film, the DVD, and the Monday night showcase, click here.