Archive: November, 2010
Steven Rea

, Inquirer Movie Columnist and Critic
Good news for Winter's Bone fans, and for Debra Granik, its director, and Jennifer Lawrence, its star: the Gotham Independent Film Awards, juried by New York-based writers and filmmakers, and one of the first year-end kudo groups out of the gate, gave the taut Missouri Ozarks mystery its best feature prize, and another for best ensemble acting, on Monday night.
A gripping, chilling, beautifully observed thriller, adapted from the novel by Daniel Woodrell about a teenager who goes looking for her missing father and falls into a world of meance and meth dealers, was released in June to strong reviews and art house box office. But titles released in the first half of the year are typically at a disadvantage come awards time: short-term memories, and a late-year glut of high profile pics often render the early contenders also-rans.
Happily, with the Gotham nods, and the announcement of nominations today from the Film Independent Spirit Awards,
Winter's Bone
is back in the hunt. In fact, it received more Spirit Award nominations than any 2010 indie: seven nominations, including best feature, director,
screenplay, lead actress (the amazing Lawrence), supporting actress (
Dale Dickey
)
and supporting actor John Hawkes. Cinematographer
Michael McDonough
w
as also nominated. The other Spirit Award feature contenders are
127 Hours, Black Swan, Greenberg
and
The Kids Are All Right.
Steven Rea

, Inquirer Movie Columnist and Critic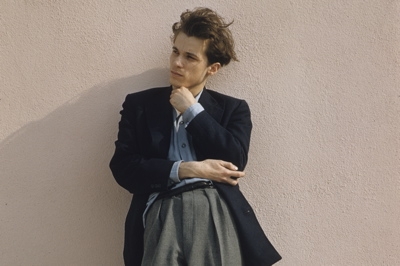 The short-list for the 2011 Academy Award contenders in the documentary feature category were announced last week – fifteen titles, vying for five spots -- and the list serves as a reminder (not that any was needed) of what a strong year this has been in non-fiction films. It's too bad that Marwencol, Jeff Malmberg's brilliant portrait of a guy you could call an "outsider artist," didn't make the cut – but don't let that stop you from seeing it (playing now at the Ritz Bourse). Also too bad for A Film Unfinished, Yael Hersonski's absolutely chilling second-look at a Nazi propaganda film shot inside the Warsaw Ghetto.
As for the ones that did make it, it's interesting to note that
Waiting for Superman
and
The Lottery
both examine the luck-of-the-draw admissions systems for the most competitive charter schools (
Davis Guggenheim's
doc is far-reaching in its examination of America's education crisis,
Madeleine Sackler's
more micro in its approach). And what are the chances that street artist
Banksy's
Exit Through the Gift Shop
makes the final five, given that the film – or key elements of it – is probably a hoax? Nominations for the 83
rd
Academy Awards are announced Tuesday, January 25. And
Gregg Kilday
blogs for The Hollywood Reporter with the
idea
that maybe this year, for the first time in Oscar history, a doc will get a best picture nomination. (There are ten slots now, remember.)
So, here's the list. A bunch of these are still in theaters, too.
Client 9: The Rise and Fall of Eliot Spitzer
–
Alex Gibney
Enemies of the People
–
Rob Lemkin
and
Thet Sambath
Exit Through the Gift Shop
– Banksy
Genius Within: The Inner Life of Glenn Gould
–
Michele Hozer
and
Peter Raymont
Inside Job
–
Charles Ferguson
The Lottery
–
Madeleine Sackler
Precious Life
–
Shlomi Eldar
Quest for Honor
–
Mary Ann Smothers Bruni
Restrepo
–
Tim Hetherington
and
Sebastian Junger
This Way of Life
–
Thomas Burstyn
The Tillman Story
–
Amir Bar-Lev
Waiting for 'Superman'
–
Davis Guggenheim
William Kunstler: Disturbing the Universe
–
Emily Kunstler
and
Sarah Kunstler
Steven Rea

, Inquirer Movie Columnist and Critic
In ten films now, from his first, Shallow Grave, to his latest, 127 Hours, British director Danny Boyle has shown a propensity for stories about men – or, in the case of Millions and Slumdog Millionaire, boys. He's talked about making a film with a woman as the central character ("I've got an idea for something… which could address that to a degree"), but it hasn't happened yet.
"Women are important in some of them, but they're never the engine," Boyle says of his movies. "127 Hours is obviously [mountaineer] Aron Ralston's story, but I did invest in it quite personally. I think some of the things that he is guilty of, for instance the relationship with the girl -- that he is not cruel with her affection, but casual with her, careless if you like -- I think I 've been guilty of that….
"And I do belong to a mainstream tradition, which is the male side of cinema. It is about energy and movement and attack, visceral, and I do belong to that. I know I do. And I try to make them as interesting as possible, and as challenging as possible, but they are sort of action movies and I'm aware of trying to make them action movies. Even this one – 127 Hours – in which the hero can't move."
But Boyle admits he's "in this debate with myself… I do think about it a lot." He says he remembers watching Bright Star, Jane Campion's film about Keats and his young muse, Fanny Brawne, "and I thought I could not direct that film! I know I could not get near that, because it has an intuition that is different, that's very special. It's very beautifully directed and it is true to its subject matter, absolutely true… and I don't think I could do that. I don't think I have the skills to be able to do that."
Steven Rea

, Inquirer Movie Columnist and Critic
There's an especially strong trio of films in the First Person Festival this year – or, more exactly, this weekend (Nov. 13-14). The 9th annual fest of memoir and documentary art is set to screen Strange Powers: Stephin Merritt and the Magnetic Fields Saturday at the Painted Bride Art Center. A doc about the deadpan and droll singer/songwriter of the New York band Magnetic Fields, and his (kind of) co-dependent relationship with keyboardist/manager Claudia Gonson, has been expertly shot and spliced by filmmaker Kerthy Fix. Both Gonson and Fix are slated for a Q&A after the show. If you're a Merritt/Magnetic Fields fan, you won't want to miss.
Also on Saturday, Girls on the Wall, Heather Ross' film about three girls doing time at an Illinois Juvenile Justice Facility, and the musical theater piece they create in prison, based on their stories and the crimes they've committed. It's strong stuff. Ross will speak as part of the evening's program.
And on Sunday, Inside Hana's Suitcase, a mix of documentary and dramatization, explores the story of the young Jewish girl and Holocaust victim Hana Brady, her surviving brother and the mysteries surrounding her life and death – as revealed by a Japanese teacher leading her class through the Tokyo Holocaust Education Resource Center.
For info on the films and other First Person Arts events, call 267-402-2055, or go to
www.firstpersonarts.org.
The films are at the Painted Bride in Old City.
Steven Rea

, Inquirer Movie Columnist and Critic
Bob and Harvey Weinstein have had some tough slogging with their Weinstein Company over the past few years – Nine was an expensive flop, The Road and Youth In Revolt were likewise heavily-marketed box office no-shows, the staff was downsized, the budgets cut -- and every few months there'd be a report in the trades or the business pages of the Times or Nikki Finke's deadline site that the movie-making brothers were in dire straits.
Tell that to the guys who have a debt restructuring deal in place, a slate of new projects, and a certified Oscar magnet on their hands in the form of The King's Speech. A huge festival crowd-pleaser (it premiered in Toronto), and a beautifully crafted film from British director Tom Hooper (The Damned United, John Adams), the drama about King George VI, the monarch who reigned during World War II, describes the improbable friendship between an eccentric Australian speech therapist -- Geoffrey Rush -- and a reluctant royal with a stymieing stutter -- Colin Firth. Firth, nominated early this year for his work in A Single Man, is on everyone's list of 2011 best actor nominees – in fact, he's already considered the front runner.
And if anyone knows how to wage an awards season campaign it's the Weinsteins. So expect to see and hear a lot about The King's Speech in the coming months, on its trip to the Kodak Theater stage on Oscar night. But here's the real clincher: the last time Firth and Rush appeared together in a film – in fact, the only other time they shared the screen – was in 1998, in a little pic from the then-Weinstein-owned Miramax. It was called Shakespeare In Love, it received 12 Academy Award nominations and went on to win seven of those, including best picture. Firth, Rush, the Weinsteins, an English historical drama (well, sort of)… need we say more?