Steven Rea, Inquirer Movie Columnist and Critic
Chris Wedge, the animator behind the Ice Age franchise, behind Robots and now Epic – which sold $42.8 million in tickets over its opening four-day Memorial Day weekend – wants grownups to see his movies. And so, in Epic, which is about a civilization superimposed on ours ("you know, tiny people living in the woods," he says), the animation director has his leaf men and his super-diminutive teenage heroine acting like samurai warriors, "riding hummingbirds like jet fighter pilots." It's an action movie.
"Animation tends to be thought of as entertainment for children, much to my chagrin," Wedge explains. "And to cross over to broader audiences, most animated films have become comedies, so that the adults will think they're funny and are getting something that the kids don't get. But I wanted to try a different crossover technique, and that's action. Spectacle."
Per the Hollywood animated formula, Epic boasts a diverse all-star lineup of actors, lending their voices to the cartoon characters and critters. Colin Farrell, Beyonce Knowles, Amanda Seyfried, Chris O'Dowd, Christoph Waltz… it's a pile-up of talent, corraled into the recording studio. But Wedge says there's an art to matching the right actor with the right character.
Steven Rea, Inquirer Movie Columnist and Critic
For a short-and-sweet indie, shot on the cheap – and shot pretty much in secret – Frances Ha took an unusually long time to put together. And Jennifer Lame, a Merion native, was there in the editing room, literally putting it together.
The film, which stars Greta Gerwig as a single, late-20s New Yorker trying to figure out what to do with her life, opens Friday at the Ritz Five. Most of it was shot in New York City and thereabouts, but there was "the Paris chunk" (Frances flies there for a weekend) and "the Sacramento chunk" (Frances flies there for Christmas) and other chunks that extended what should have been a six or seven week shoot into something much longer and more involved.
"It really took a year, but that's so not normal," says Lame, on the phone from New York the other day, where she's been busy editing the new Baumbach/Gerwig film, The Untitled Public School Project."It's because of the way they shot it that it took so long…But that's atypical. The one we're doing now is going at a normal pace."
Steven Rea, Inquirer Movie Columnist and Critic
Sam Katz is at it again. The trailer for the latest chapter in the mayoral candidate-turned-filmmaker's amazing series, Philadelphia: The Great Experiment, is out, promising one of the most illuminating, and perhaps controversial, installments yet. (Click here to see previous episodes and webisodes.)
From the very beginning, Philadelphia has proven itself to be "the testing ground for everything really important that goes on in this nation," observes Sharon Ann Holt, Executive Director of the New Jersey Humanities Council, and one of the esteemed talking heads to be featured in the trailer – and the film. Episode V covers the city's history from 1979 to 1994, a time of racial division, marked by the election of the city's first African American mayor, the MOVE conflagration, the breaking of the "gentleman's agreement" on the height barrier, allowing for the skyscraper-ed cityscape we now enjoy, and other dramatic political, cultural and social changes.
Episode V, still being assembled as we speak (if you have archival material, contact Katz) will be broadcast in the fall of 2014. Episode IV, "The Fight – 1965-1977," is set to be shown June 20 on Channel 6 ABC. In the mean time, watch the Episode V trailer (below), and be sure to "like" The Great Experiment on Facebook, www.facebook.com/historyofphilly
Steven Rea, Inquirer Movie Columnist and Critic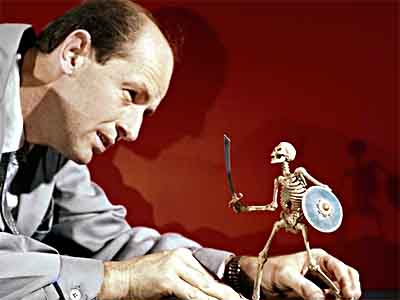 Raquel Welch in the clutches of a giant pteranodon. Jason, of Jason and the Argonauts, of course, sword-fighting a septet of skeletons. Cyclops and dinosaurs and centaurs, oh my!…. Ray Harryhausen, the genius animator who brought fantastical dinosaurs and demons, ancient gods and giant gorillas to life in some of the greatest fantasy films of the 1950s and 1960s, died Tuesday in London, age 92. A huge influence on several generations of filmmakers (Tim Burton, Peter Jackson, Steven Spielberg, Guillermo del Toro, just about everybody at Pixar, Disney and DreamWorks Animation), Harryhausen apprenticed with King Kong animator Willis O'Brien and then went on to develop his own sophisticated brand of stop-motion animation, placing his intricately detailed, hand-built models into otherworldly and exotic tableaus. One Million Years B.C., The 7th Voyage of Sinbad, Mysterious Island, The Beast from 20,000 Fathoms – Harryhausen didn't direct them, but his inventiveness and imagination defined these films.
Check out the Jason and the Argonauts skeleton battle below.
Steven Rea, Inquirer Movie Columnist and Critic
Ed Koch died in the wee hours of the morning of Friday, February 1st . He was 88. Later that same day, Koch – Neil Barsky's endlessly intriguing and illuminating documentary portrait of the three-term New York City mayor – opened in theaters in the city. It's conceivable that all the front page obituaries and local TV news appreciations gave Barsky's movie a bump at the box office, but the filmmaker, a former Wall Street Journal reporter and hedge fund exec, isn't so sure.
"If his intention was to increase box office sales, he should have stayed alive," says Barsky about the subject of his fascinating film, playing now at the Ritz Bourse . "He would have been promoting the film. I mean, notwithstanding my own charms, he would have been on,Jon Stewart, on David Letterman... everywhere. He was a real ham."
That hamminess certainly comes off in the film. Koch, who served as mayor from 1978 to 1989, relished being the center of attention -- and almost sulked when he wasn't. But Koch's ill-timed death caused Barsky, a novice filmmaker, to realize how fortunate he had been.
Steven Rea, Inquirer Movie Columnist and Critic
Colin Firth, who won an Academy Award for The King's Speech, and Emma Stone, who won the Teen Choice Award for Choice Movie Liplock (for Crazy, Stupid, Love, of course!) have signed on as the leads in Woody Allen's thus-far-untitled 47th film, to be shot this summer in the south of France. Although details are few about the Woodman's latest, it does mark his return to the Continent after shooting his last pic, Blue Jasmine, in San Francisco.. That one, with Cate Blanchett, Alec Baldwin and Sally Hawkins, opens in late July.
After ditching New York City in the mid-aughts to shoot Match Point in London, Allen has made six other films in Europe: Scoop, Cassandra's Dream and You Will Meet a Tall Dark Stranger in the U.K., Vicky Cristina Barcelona in Spain, Midnight in Paris in France and To Rome with Love in Italy.
Steven Rea, Inquirer Movie Columnist and Critic
An inspiring and intoxicating mix of the old and the new, Blancanieves – a Spanish black-and-white silent that takes the Brothers Grimm's Snow White fable and flips it and spins it, wondrously – snuck into the Ritz Five last week. If you loved how the Oscar-winning The Artist celebrated the spirit and technique of vintage Silent Era classics, you'll love Blancanieves even more so. Pablo Berger's playful but perceptive gem is set in 1920s Seville, and tells the tale of Carmen (Sofia Oria as a child, Macarena Garcia as a woman), raised by her wicked stepmother (Maribel Verdú, of Pan's Labyrinth and Y Tu Mama Tambien fame) and then cast out, presumed killed. But of course Carmen, aka Blancanieves, isn't dead. Instead, she takes up with a wandering band of dwarf toreadors, learning to fight bulls. Carmen becomes a star, in fact, in the bullring, which doesn't make her old stepmom very happy.
Dreamy and surreal, gorgeously shot, with a rich and compelling score from composer Alfonso de Vilallonga, Blancanieves pays homage to the Golden Age of European cinema, and revels in the dark magic of fairy tales. It is nothing short of a masterpiece. Four stars out of four stars, it is easily among the year's best films.
Steven Rea, Inquirer Movie Columnist and Critic
42, starring Chadwick Boseman as Brooklyn Dodgers legend Jackie Robinson – the player who shattered Major League Baseball's color barrier – shattered a box office record, too. The film, with Harrison Ford as Dodgers owner Branch Rickey, scored the best opening weekend numbers -- $27. 4 million – of any baseball-themed motion picture, ever. What's weird, though, is that the film 42 bumped fropm the top slot is The Benchwarmers, the 2006 screwball comedy starring John Heder, Rob Schneider and David Spade. Its opening weekend grosses: $19.7 million. Who knew? Who can even remember?
Number three on the list is a bit more reputable: Moneyball (2011), with Brad Pitt, which took in $19.5 million. Rounding out the top five in the baseball box office stats: The Rookie (2002), with Dennis Quaid, at $16 million, and the Geena Davis/Madonna/Tom Hanks all-femme baseball pic, A League of their Own (1992), at $13 million.