Archive: September, 2008
George LeBlanc, the budget director for the state Senate Democrats, took the stand today and described a 2003 meeting with former state Sen. Wayne Bryant (D., Camden) in which Bryant requested that $2.3 million be inserted into the state budget for the School of Osteopathic Medicine.
At the time, Bryant didn't mention that he had been hired at the school a few months earlier, LeBlanc testified.
Bryant has been charged in federal court with accepting that job as a bribe in exchange for using his influence as chair of the Senate Budget and Appropriations Committee. His trial entered its third week this morning, but the court broke around 1:30 for the Jewish holiday Rosh Hashanah and won't reconvene until Thursday.
Trial in the political corruption trial of former state Sen. Wayne Bryant (D., Camden) opens this morning with David Rosen, the budget guru for the non-partisan Office of Legislative Services still on the stand.
Rosen testified last week about how money was steered between 2003 and 2005 to the School of Osteopathic Medicine in Stratford. That's the public medical school where prosecutors say Bryant was given a low-show job in exchange for his influence as chair of the Senate Budget and Appropriations Committee.
The Office of Legislative Services staffs legislative committees and helps shepherd each year's state budget into law.
No wonder the combatants in the 3rd District congressional race are snapping at each other on an almost daily basis.
A new poll has Republican candidate Chris Myers at 39 percent to Democrat John Adler's 37 percent – a statistical dead heat considering the poll's margin of error is plus or minus 4.9 percentage points.
According to the poll done for Stockton College and the Press of Atlantic City released today, about a fifth of the likely voters in the 3rd District – which includes Cherry Hill and much of Burlington and Ocean counties – remain undecided. That leaves plenty of room for Adler and Myers to fight for votes.
Adler, a state senator from Camden County, and Myers, the mayor of Medford, have been running hard in a race that has Democrats and Republicans around the country focused on South Jersey. President Bush came in last week to raise money for Myers and Republican state Sen. Leonard Lance who is in a close race with Democratic Assemblywoman Linda Stender in Central Jersey. This weekend Myers had planned a rally in Ocean County with Senate Minority Leader John Boehner (R., Ohio) as a headliner. Boehner cancelled because Congress is working through the weekend on the $700 billion bailout.
Adler has had his share of political stars raising money for him as well and more are expected.
The seat was opened with the retirement last November of U.S. Rep. James Saxton (R., N.J.) in a district long held by Republicans. Adler thinks he has a chance because the demographics have changed making the district a potential pick up seat for Democrats.
The poll of 1,200 likely voters was conducted for Stockton's William J. Hughes Center from Sept. 18 to Sept. 20 by Zogby International and covered three congressional districts in South Jersey.
Results for the 2nd District, covering the southeast end of the state, have Republican U.S. Rep. Frank LoBiondo at 62 percent and his Democratic opponent Dave Kurkowski at 26 percent. In the 1st District, covering Camden and parts of Burlington and Gloucester counties, U.S. Rep. Robert E. Andrews leads Republican Dale Glading by 73 percent to 16 percent.
The Inquirer's Cindy Burton reports today that:

"The greatest concern of voters in the most significant congressional elections in South Jersey is the worst economic crisis in decades.

Even before talk of the $700 billion bailout, in poll after poll, voters said their paychecks weren't going as far as they once did and blamed rising costs of essentials like food and health care, and a loss of value in their homes and other investments. They worried about losing their jobs and finding new ones.
Ever since former state Sen. Wayne Bryant was indicted last year, federal prosecutors have been saying that he directed millions of dollars to a public university where he was given a job, and where he performed almost no work in exchange for his pay and credit to his existing public pension.
This afternoon, the budget guru for the Office of Legislative Services, which each year helps shepherd the budget into law, explained how that could have happened.
The most direct link to Bryant was in a 2003 memo, shown in court, from the former dean of the School of Osteopathic Medicine. Bryant had been given a job at the school a few months before the e-mail was written.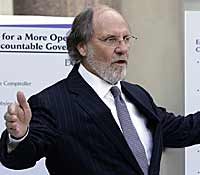 A day after Gov. Corzine unveiled a package of ethics reforms that could boost his clean-government bonafides, the e-mail saga involving his ex-girlfriend, Carla Katz, is back in the news, providing a political counterpoint.
The Associated Press is reporting that Katz' lawyer filed a brief saying some e-mails she and Corzine exchanged during 2006 contract negotiations were related to collective bargaining and should not be released. Republicans are suing to have the communications between Corzine and Katz, until recently a powerful New Jersey labor leader, made public.
That was the disclosure in this Star-Ledger story. Here's the first few graphs:
Jon Corzine won the governorship three years ago by using integrity as an issue, saying he would not be bossed by political warlords or bought by special interests.
With the political corruption trial of former state Sen. Wayne Bryant (D., Camden) nearing the end of its second week, prosecutors plowed through six witnesses this morning, by far the quickest pace so far.
The seventh witness of the day, David Rosen, figures to be on the stand much longer than the previous six. Rosen is, essentially, the budget guru for the Office of Legislative Services, the non-partisan agency that provides legal advice and other services to lawmakers and staffs legislative committees.