A $1,000 reward is being offered for information about the murder of a Camden woman who was beaten to death earlier this summer.
Carmen "Shorty" Perez, 49, was found beaten on the porch of an abandoned home on the 1200 block of Jackson Street in Camden on July 23, said Jason Laughlin, a spokesman for the Camden County Prosecutor's Office. Perez died at Cooper University Hospital on Aug. 1, and an autopsy determined that she was killed by blunt head trauma.
The Citizens Crime Commission is offering a reward for information leading to the arrest and conviction of the killer or killers. Tipsters can call Camden County Prosecutor's Office Investigator Lance Saunders at 856-225-8400 or Camden Police Detective Janell Simpson at 856-757-7420. To be eligible to receive the reward, information must be called in to the Crime Commission Tipline 215-546-8477 or 877-345-8477, and the caller will receive a code number from the operator.
The 30-foot statue of the Virgin Mary atop Our Lady of Lourdes Medical Center in Camden has been secured with scaffolding.
A crew of engineers and hospital workers worked into the early morning hours to secure the statue in preparation for the anticipated hurricane-like conditions set to begin Saturday. Engineers will be on the hospital roof Friday, looking at ways to further secure the 15-ton statue, which cracked and shifted slightly after being shaken in Tuesday's earthquake.
The front entrance to the hospital has re-opened and operations are back to normal, according to hospital officials.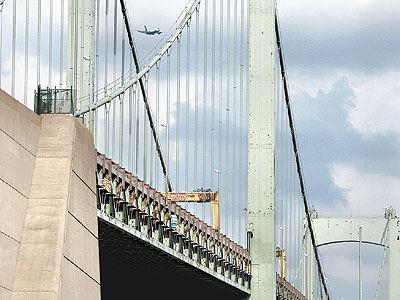 Motorists could run into traffic tie-ups on the Walt Whitman Bridge after 8 p.m. Wednesday when workers close one of the span's seven lanes to begin a $139 million redecking project. The closure is earlier than originally announced.
The righthand eastbound lane will be shut down for about the next five months, and successive lanes will be closed, one at a time, for five months each while they are being rebuilt.
The construction project is expected to to be finished by the spring of 2014.
The family of former Congressman John Adler has established a memorial fund at Harvard University to honor his work with veterans.
The John H. Adler Memorial Fund for Veterans Affairs, announced Tuesday on what would have been his 52nd birthday, will support interdisciplinary academic research and government policy work related to veterans.
"It is our family's intent to continue John's legacy of respect and support for veterans," Shelley Levitan Adler said in a written statement. "It is a population that is sometimes sadly neglected, despite the tremendous personal sacrifices made by those individuals and their families."
Delaware River Port Authority police will participate in the statewide "Over the Limit, Under Arrest" crackdown on drunk drivers from Friday to Sept. 5.
Launched nationally in 1999, the program works to combat drunk driving during some of the busiest travel times of the year. Local and state police intensify patrols and conduct sobriety checkpoints, looking for intoxicated drivers.
DRPA's last "Over the Limit, Under Arrest" operation took place between Dec. 6, 2010, and Jan. 2, 2011. During that period, there were 9 arrests for drunk driving. However, according to DRPA statistics, the additional police presence also resulted in 1 fugitive apprehension, 1 drug arrest, 11 speeding tickets, 4 suspended driver tickets, 1 ticket for driving without insurance and 26 other moving and nonmoving violations.
The first "Atlantic City Salutes America's Armed Forces" Boardwalk Parade will step off at 6 p.m. Monday with nearly as many marching attractions as the former Miss America parade.
The parade, expected to last 1 1/2 hours and include 850 participants, will start at New Jersey Avenue and the Boardwalk and proceed to Albany Avenue.
Veterans groups will join 19 floats, 22 string and marching bands, 14 beauty queens, and representatives from Atlantic City business and attractions. The grand marshal will be local radio personality Pinky Kravitz.
Gov. Christie ordered all state buildings to fly flags at half-staff on Friday to honor the service and sacrifice of Army Sgt. Alessandro "Sandrino" Plutino, a 2001 graduate of Pitman High School, who died Monday in Afghanistan.
Plutino, an Army ranger, was killed in a night fight not long after calling home to assure his family he was safe. He knew they would be worried when they heard 30 U.S. service members had been killed Saturday in a helicopter crash in the the country's Wardak province.
He would have turned 29 this month.
New Jersey Secretary of Agriculture Douglas H. Fisher on Monday introduced Farmers Market Week in New Jersey at the Seaside Park Farmers Market by calling on Garden State residents and visitors to stop in at a community farmers market and buy Jersey Fresh agricultural products.
"Farmers markets bring the farm to a community's doorstep, giving people access to just-picked, high quality, nutritious produce grown by our state's farmers," Fisher said. "From local residents to visitors vacationing at the shore, the Seaside Park Farmers Market provides a fun day out, shopping for Jersey Fresh produce, locally grown plants, and a variety of other specialty items."
The state has 147 community farmers markets in the state, 12 of which are new this year. In South Jersey, the state inventory includes four in Burlington County, eight in Camden County and one in Gloucester County. Farmers who attend these markets sell produce within 24 hours of picking. To locate a nearby community farmers market, visit www.jerseyfresh.nj.gov