Archive: November, 2010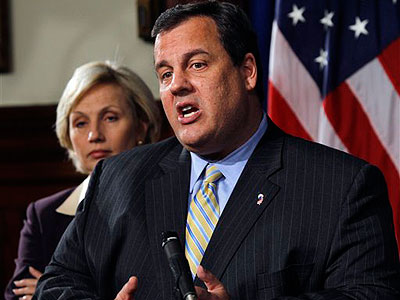 Christie has repeatedly denied having any interest in seeking the presidency in 2012, which, of course, is what any rational person seeking the presidency would do at this stage of the game. But the Jersey guv has also pooh poohed the idea of being a vice presidential candidate, saying, pretty convincingly, that it would be hard to imagine him being somebody else's Number 2.
Ross Baker, a Rutgers University politial science professor and longtime observer of Jersey politics, doesn't quite believe the second denial.
"I don't think this guy is looking at the presidency, I think he's waiting to be put on the ticket as a V.P.," Baker said in an interview this week. In 2012, Ross said, the Republicans will likely have a very conservative candidate for President so they will be looking for a more moderate Republican to balance the ticket. Christie has won conservative admirers for his cost-cutting ways, but is more moderate on a variety of issues, including immigration and some environmental issues. Christie would also be a plus geographically for some of the current shortlisters, including Sarah Palin and Mike Huckabee.
The Pittsburgh Post-Gazette and the Pittsburgh Tribune-Review have named Mary Beth Buchanan, a former U.S. Attorney for western Pennsylvania, as one of the five U.S. Attorneys cited by a U.S. Department of Justice Inspector General report for exceeding government-approved rates for hotel stays without proper justification.
Buchanan told the Pittsburgh-Tribune Review that she disagreed with details and conclusions in the report, which was released Monday.
According to the report, Buchanan submitted 68 vouchers including reimbursement for lodging, more than half of which exceeded the government rate. "This U.S. Attorney exceeded the government rate at the greatest cost to the Department and most often exceeded the government rate by more than $100 per night," the report said.