Two weekends ago, in the swift waters of the Youghiogheny River, I finally got to use my new kayaking gear as it was intended. My matte black helmet is now adorned with scratches, gashes, and the remnants of a sticker that once read "GETLOST". I had an amazing time and feel rejuvinated after that weekend. I have my father and my First Descents family to thank for that.
My father made this trip possible. He drove himself, my kayak and me four and a half hours to the Ohiopyle, which is just south of Pittsburgh. It was a trip that started at three in the morning. Before we got there, I thought it was going to be awkward having my father hanging around, but it was not. I had a great time and am very glad that he came.
In previous blog posts, I wrote about my kayaking trip with First Descents, but I never finished it, and consequently did not even touch on the most important part. Fortunately, I have the opportunity to discuss it now. My weekend with Navigator (nickname, please see blog titled Here's to the Rock) boosted my confidence just as the week at camp did. It was not because of my performance, though I did all right. On my best run, I hit all the rapids perfectly except one, and executed my roll on that one so I made it through sans swimming. On my worst run, I was carried downstream while my boat was pinned against some rocks. I stood on the shore while four other paddlers saved my kayak, and that was only on the first rapid. I swam twice more after that. Whether I was trying to empty my kayak after a swim, or my sinuses after a roll, I always got words of encouragement from Nav to "slaughter" the next rapid. It was an unfimiliar feeling. When I played CYO ball, my coach thought I was going to keel over if I was on the court for longer than 90 seconds, so it is a refreshing experience for me to be pushed to achieve in any physical activity.
After my trip with First Descents, I knew kayaking was something that I wanted to make a habit of. It was a physical activity where I actually felt like I could hold my own. After searching Craigslist, I bought a beautiful green and black creek boat, which has been used nearly every weekend since its purchase date. My father spent hours teaching me how to roll, so when I flipped over, I did not always have to abandon ship. Despite hours of technique work, my boat still has yet to make its first real paddle. Up to this point, it has only been in the motionless, chlorinated waters of my grandmother's pool. I appreciate the practice time, but at some point before the first frost I would like to get it up to the Lehigh River or out West to the Youghiogheny.
On a separate note, my life has also felt rather stagnant. In part due to the state of my kayaking and partially because the last two blog stories I posted, I never finished, but mostly it is because I am in my fifth year of school. More than just my laziness has prevented me from getting to the river or writing though. First it was laziness and vacation, but then I was in the hospital for yet another pulmonary embolism right when my fall semester had started. I began this semester a week behind and had quite a bit of work to catch up on. In terms of physical strength it has been worse than still. This summer I was summiting mountains, and now I feel winded after a few flights of stairs.
Though the last two paragraphs may paint a sad story, I am still rather content with my life. Given the gravity of the things I went through I am just happy to be healthy, relatively speaking of course. When I was in the hospital, they had to do multiple cardiac catheterizations, the third and last of which they allowed me to stay awake for. It was one of the coolest things I had ever experienced, and it allowed me to fully grasp what was happening inside of me. From the operating table in the cath lab, I watched the X-ray screens as Jonathan J. Rome, MD snaked a tube from an incision in my groin, up my femoral artery, to my lungs. Then he and his team released radioactive dye into my bloodstream. Nearly all of the blood vessel branches that make up my lungs lit up on the X-ray. It was beautiful, and also a huge relief. The cath prior had shown that only half of one lung and a third of the other was receiving blood. The clot busting medication the doctors fed through my IV, the one my father jokingly called Draino for my vessels, had done its job.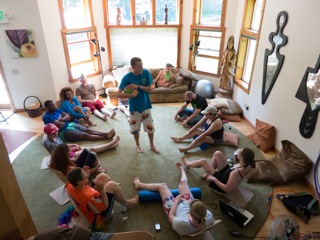 First Descents is a program that takes cancer survivors and puts them on the sides of mountains, hanging ten on waves or as in my camp story, shredding Western Massachusetts' whitewater in kayaks. After the first day of travel, meet and greets, and nickname selections it was finally time for my fellow participants and I to get on the river.
When it came to the cuisine at 9 Mountain Drive we were spoiled. Every morning McLovin and Kinja, our amazing chefs, had a spread suitable for royalty, vegetarian royalty, but royalty nonetheless. There was a morning they broke routine and had bacon, and the Dude (yes he based his nickname off The Big Lebowski, no I am not down with the whole brevity thing and called him el Duderino a lot) was so excited (as was I). My personal favorite was the morning we had pancakes, but most of time we ate fruit, yogurt, eggs, delicious homemade muffins and drank amazing coffee. As the week went on we got so hype for breakfast that we had dance parties as we processed through the buffet line.
Our first day on the water started at the Zoar Outdoor headquarters. We met our fantastic guides, and were taught about, and outfitted with top-notch gear. My modes of transportation that week were a red Wavesport Diesel 70 and a blue mini van captained by my man, and a grade A photographer, X2C. As we drove to the reservoir from Zoar, Tonto graciously let us put on her sleepy time mix. Not to knock Tonto or her musical selection, those jams were not going to cut it as the week went on. We tried the radio for a day, but Whoopie 101 was the only station that came through at all, and most of the time it was static. Eventually, an auxiliary cord came into play and I manned the jams. For X2C, Malibu and I it was awesome, but we did lose some of our crew do to hardcore hip hop (my iPod is geared for an audience of one, and I do not have many top 40 hits).
First, I want to apologize for jumping around a bit. I am about a month behind in chronicling my road trip. I only arrived home from my First Descents experience a week ago, but it was such a powerful experience I wanted to write about it while it was still fresh in my mind.

​I had first heard about First Descents (FD) through Susan Pultman, a patient resource navigator at Children's Hospital, during treatment. Started by professional kayaker Brad Ludden, FD allows young adult cancer patients and survivors to go kayaking, mountain climbing, or surfing. It seemed like a good substitute for my postponed road trip, so I registered in base camp (basically their wait list) as soon as I could, and put kayaking at the forefront of my interests. I knew my mother was not going to be ecstatic about me trying to kayak while going through chemo (or at anytime really), but the fact that there are medical professionals at each camp would make it easier for the worrywart that she is.

​My camp dreams for last summer were squashed after my embolism. I felt weak, and being on a blood thinner while trying a new and potentially dangerous activity, probably was not the best idea either. I was bummed, but they kept me in base camp and when they called me this spring about kayaking in Massachusetts, I eagerly pounced on the opportunity.

​A week after I arrived home I boarded a plane and left again. My final destination was 9 Mountain Drive in Western Massachusetts. As I waited in the Starbucks line at the Albany airport I received a call from Patch, one of the camp directors who was waiting for me with two other campers at the baggage claim. After I found him and met the other campers Chanelle and Daniel, we were on our way. During the ride, Chanelle and I spoke hip-hop, and Patch explained that our introductions were basically negligible since we would all be dubbed with a nickname by the nights end any way. Daniel already had one in mind; he wished to be called Dervish. I would be calling him Dervs because my ignorant self did not know what a Dervish was and two syllables was just TME (it means too much effort, do not worry, I will explain).

​I could not think of a nickname the entirety of the ride there. When I met everyone else at the house, most had already had their nicknames. When they asked me for one, I fell back upon what everyone calls me at home, Rotz or Rotzy. I was not happy with those for here (I do love them at home). Call me old fashion, but I believe a nickname is granted, not selected. After I selected a bunk, I sat down to speak with my housemates. We swapped some stories and origins, which led to the birth of a true nickname for me. My cardiac quandaries and my Philadelphia background earned me the name Rocky, the fighter.A talk with the medical staff was suitable affirmation that the nickname was a good choice for me.

​After a nutritious, as well as delicious dinner and a rundown of how the week would proceed, most of us turned in for the night. Trying to sleep I thought about why the nicknames were necessary. When I got home from camp I realized why it was so helpful for me, and my ability to connect with these strangers enough to now call them family. Alexander Rotzal, is a shy and rather reserved person. Once you get to know him, get him to drop his guard, that's not the case. In the past all it took was one night of heavy drinking and some real talk to make me open up, but that is not an option any longer. FD gets around that guard without alcohol by disassociating one's self from their formal identity. In this day and age, there is so much linked to one's name, a Facebook, a blog, a job, etc. that people tend to tip toe around being themselves in fear of not living up to this person they portray themselves as on the internet or at work. Rocky is the goofy hip-hop head all of my friends have known for years, FD just gave him a name.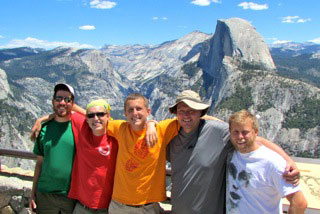 After a short, early hike, we ditched our packs at the base of Half Dome. I grabbed my camera and a nalgene, and we began our ascent. Once again my father and I fell behind my brother and my friends. As we clibmed the switchbacks my father told me about the first time he summitted the rock slab. He said people did the 20 mile roundtrip hike (starting from the valley, ascending nearly 5,000 ft.) in flip flops and with no water. I thought it was absurd and I had not even gotten to the hard part yet. With the amount of injury and heat stroke that caused, it was easy to see why the National Parks Service makes one apply for a permit to summit nowadays. As we approached the treeline, the beautiful granite quarter sphere came into view. My energy was high; I was excited and ready for the infamous cables. When we had gotten closer, above the treeline, I realized the challenge of the hike. My uncle and father had told me about the cables, but they failed to mention the treacherous switchbacks of the subdome. As we clibmed and scurried up the disappearing act that is the subdome trail, many breaks were necessary. My lungs were frantically searching for oxygen after every other switchback, I could feel the sun bursting the capilleries under my skin, and with each step the fire in my legs burned a degree hotter, but none of it seemed to matter. I was almost there, at the top, and nothing was going to stop me, plus, no matter how challenging it was, the hike was definitely more enjoyable (and rewarding) than anything my previous summer had presented.
As I peered at the summit from the top of the subdome the only thing I could think about was how stupid someone had to be to attempt a summit in flip flops. It was so steep that it was nearly vertical at points. My father said that some people scurry it, which I think is awesome, but I would be taking the cables up my first time up. Our intended route began by selecting a pair of gardening gloves left in a pile before the cables to protect your skin (if you plan on doing the hike, I highly advise a tetanus shot). My gloved hands gripped the wire cables, one of my boots found a wooden tread and we began the last leg of our ascent. One wooden tread at a time, I pulled myself up. At each rest, I would catch my breath and look back onto the Sierra Nevadas, a beautifully serene scene of mountaintops still covered with snow despite the sun exposure then I would look down to see how far I had come.
As the domes steepness petered out, the cables disappated, and I knew I had done it. I was standing nearly 5,000 ft. above the valley floor, and nearly 9,000 ft. above sea level, and I felt amazing. I did it, I made it to the top of Half Dome, I beat cancer and I continue to live an extraordinary life without a chamber or two. The feeling of such great accomplishment could not be quelled within me, but standing on the massive rock does put how miniscule we are into perspective. This was only brought to my attention after I had asked a woman to take a picture of my father and I, which she graciously did. When I got the camera back, we were merely specks in the photo. I was a little peeved then, (Why did I buy a camera with 30x optical zoom to get a photo my phone could have taken?), but I understand it in the context of my life now. Compared to the rock I stood on that day, the valley I peered upon, and the magnificent mountain range I saw off in the distance, my problems and accoplishments are so tiny in the grand scheme of things. If the earth and the universe take both of them in stride, I should strive to do the same.
As we continued our drive the ominous clouds up ahead made it very apparent that we were going to get some precipitation. A quick stop at the Tuolumne Meadows ranger station confirmed the forecast but we had an itinerary to stick to, plus my uncle had my father under the impression that we only had to hike half a mile before we could pitch our tents. We trudged into the woods at the first crack of thunder. Paul, Jeff and Cola took the lead while my father stayed behind with me. On our ascent to Cathedral Lakes my father taught me to pace my steps out similarity to how the climbers on Everest do. Sherpas tell the climbers to have two second gaps in between steps so that they do not break a sweat and consequently freeze to death (two seconds was a bit much for our hike, and I had no fear of freezing to death, but I have applied my new knowledge to my pace ever since then). Soon enough, a cold rain began to fall on us and my father realized that we had traveled way farther than a half a mile and we were still not at the lakes. The heavier the drops fell, the more we thought we had missed our trail junction, and we were began to wonder if our fellow party members had done the same. We eventually caught up with them after they stopped to cover their gear from the rain (a wet sleeping bag makes for a miserable camping trip).
Fortunately the rain had slowed to a drizzle as we forged onward. When we finally came upon the lakes, the rain had come to a nearly complete halt. We pitched our tents, ate our dinner and filtered some water. The lakes were named for the peak that towers behind them, and the storm had left two beautiful rainbows directly to the right of the jagged peak. As an aspiring amateur photographer I grabbed my camera and snapped some photos. I think my favorite photos of the trip were taken that night. I could have taken photo after photo if my battery did not have to last another two days. As the rotation of the earth slowly dropped the sun behind the mountains in the distance, magnificent colors came into play. The shades of yellow and orange in the clouds reflected off the still water with the shadows of the Sierra Nevadas sandwiched in between. The bright citric colors faded into light pink, and then there was only darkness. If I had stayed up or awoken in the night, I would have seen some amazing stars at that elevation, but once my head hit the pillow I was comatose until my father woke me up the next morning.
To my surprise, my friends could in fact wake up the first time they were asked too (probably because it was my father that asked them to get up, it had never worked for me). The previous day we had hiked entirely through woods, but our second day had some meadows dispersed in the miles. We saw mountain peaks in the distance, pikas harvesting supplies for their nests, and yellow bellied marmots scurrying around feeding in the woods. We were exposed to the mosquito more than any other creature native to the park. They were everywhere, but it was the season. As the snow melts and runs down the mountaintop, it pools in anywhere it can. The more stagnant water, the more mosquitos there are. In one particular section of the hike (a part I have deemed as mosquito meadow) we stopped to filter water. As my father and I caught up to the others, Jeff and Cola were sitting on a rock filtering water while Paul was dancing around them, smacking himself and the air. He was constantly moving and telling us how miserable it was. When I stopped to hand Jeff my bottles, I snapped a picture of my leg and later counted seventeen mosquitos on one leg (but I had pants on so it was not so bad). They were vicious, and even though my pants shielded my legs, and the deet created a forcefield on my skin, they could and would get me through my shirt.
Not a single person I spoke to in Yosemite was on their first trip there. They return year after year to take in all that the park has to offer and they probably still have so much to see. The south end of the park is littered with groves of giant sequoias. These three thousand year old trees are wide enough to drive through and over 200 ft tall. As one drives toward the center of the park they begin to see the majesty the valley holds. The floor is bustling with life, from the lush green plant life supported by the mighty Merced River to the thousands of tourists milling about the lodge and other attractions. From the floor looking up you can see steep rock faces, including that of El Capitan, and if you are lucky enough, you may even spot one of the many climbers it draws each year trying to scale the giant granite vertical. People are so captivated by the Sierras, that every year they come to do the same hikes, stay in the lodge, or just come to play their guitar on one of the porches in the valley.
My father and my uncle Pete had caught the bug on one of their first trips out and had returned several times since then. Once again they had quite a bit of knowledge on where to go and what to see. The first thing on the list was Half Dome, and to make the summit you needed to get permits. Last year we were denied, but this year my Uncle Pete had suggested we get a backcountry permit (which is needed to go on the trail for a number of nights, carrying all our supplies in our rucksacks) because it is usually easier to get acess to Half Dome through a combined permit.
This year, we were granted access and I was pumped to go. The only question was, how would my circulatory system hold up at nearly 10,000 ft. above sea level? My heart already has issues transporting oxygen throughout my body. A normal oxygen saturation is around 100, whereas the upper 80's is good, and anything above 90 is great for me. Around 9,000 ft. altitude sickness sets in and oxygen saturation levels drop 10%. I would be going higher than that, and as one goes higher, the air definitely gets thinner. I was not nearly as worried about it as my parents were (as per usual), before my coil embolizations (operations that put stainless steel corks in my septum to stop red and blue blood from mixing) my oxygen saturation was in the low 80's, upper 70's, and if I had lived there before I could do it again. Plus, the hike that my uncle had planned for us was mostly downhill, starting from Tuolumne Meadows in the eastern part of the park, we would take 3 days and 2 nights to hike down to the valley floor. Our last day would be the toughest, we would summit half dome in the morning and then finish our 20 something mile, 3 day excursion to the floor that afternoon.
From advice on where to go next or just having a few laughs, the people you meet and see on the road could be anything from a wealth of knowledge to absolute nut jobs. For the most part, we have known which ones to avoid (hitchhikers, homeless people, etc.) and which ones could help us get the most of our journey (our blogging cyclist friend, the lovely ladies from Arizona we met in Vegas, etc.). Though almost all of the people we have met have been amazing people, there were two that we met in Zion National Park that particularly stood out to me.
First off, Zion (another desert park) is absolutely beautiful, and the hike we did gave us a tremendous view of the canyon (and was rather difficult with the elevation change). The Angels Landing trail began with long switch backs, which we started in the heat of the day. I did not think I was going to make it as I heaved myself up the first section. Eventually those switchbacks leveled out and I caught my breath, just before the shorter switchbacks came in and snatched the wind right out of me again. The coolest part came after those short switchbacks, when we hiked out to get to our view of the canyon. What we hiked along my father tells me is called a window, it was a narrow path along a ridge, where there are steep drops to either side of you. The Angels Landing window had chains set up to help guide you up the steep and narrow passage (it was not as strenuous as the switchbacks for me, and was by far one of if not the coolest thing I have ever done). If you want an idea of the view from the top you should check my Instagram (http://instagram.com/rotz_l), but I will tell you now that a panorama does not give justice to the beauty and the amazing feeling you get when you have made it to the top, let alone a 2 inch by 2 inch square on Instagram.
When I arrived at the top Cola and Jeff had already walked around and took in all the vantage points. I joined them as they were shooing away some overly friendly chipmunks with a hankering for trail mix. Shortly after I reached the summit, a man in his early thirties and his father found the top. He asked me to take a video of he and his father with his monstrous camera and then we conversed for awhile. John is a film editor living in Los Angeles, and as his father sat and relaxed with his hat shielding the sun from his face, I learned about a new Mercedes commercial he had worked on and a place in San Francisco that had the best burritos. His father would chime in every once and a while with a funny quip now and again, but he mostly sat quietly. We spoke of everything from my health, to his passion projects and even the old ladies in Vegas who sit on their scooters from dusk till dawn playing slots, only retiring when they run out of money or when their mountain of chain smoked cigarette butts avalanches out of their ashtray.