Archive: December, 2011
Despite passing the City Avenue rezoning ordinance earlier this month in a 6-4 Board of Commissioners vote, Lower Merion Township and its residents still have plenty of work to do before it becomes effective April 30, 2012.
Two public workshops are tentatively scheduled for Jan. 23 and 24 at 6:30 p.m. to discuss an Official Map to further outline more specific placements of features, such as public gathering spaces, as well as incorporate the amendments proposed by the Neighborhood Club of Bala Cynwyd.
Prior to adopting the ordinance, Commissioner Brian McGuire of Ward 13 tried to get the board to include one an amendment to create a larger buffer between residential properties and indoor recreational facilities, but his motion failed.
Back in November when Neighbors spoke to members of the Youth Advisory Council for the Coalition for Youth of Lower Merion and Narberth, the students and co-director of YAC Paula Singer mentioned a law that might be helpful for minors to remember this New Year's Eve.
Gov. Tom Corbett's signature made the Good Samaritan law in Pennsylvania at the beginning of July 2011. Though it didn't go into effect until 60 days after the signing, the law's existence has been relatively hush, Singer said.
The law's provisions exempt those under the legal drinking age from prosecution if they call 911 because they believe someone also underage needs medical attention. Simply put: If you're drinking underage or around underage drinking but think a friend needs help, call for help.
The School District of Haverford Township will begin hosting one-night workshops for its Learning Together series on Jan. 18. The workshops will focus mainly on navigating the Internet, from learning Twitter to using Google Docs and Skype:
Jan. 18: Securing Your Wireless Home Network
Jan. 24: Twitter
Jan. 26: Let's Go Shopping (Online)!
Jan. 31: Google Shared Documents and other Google Tools
Feb. 1: Skype
Feb. 7: History of Haverford School District
Feb. 9: Information Security for Business
For full descriptions of the workshops and to register, visit the school district's website.
We're pretty amused at this photo, taken by Ardmore resident Douglas Muth and posted on the Save the Ardmore Coalition blog. Muth writes:
I spotted this earlier today.
It was pasted over the former "Ardmore Coffee and News" sign on the South side of Ardmore Train station.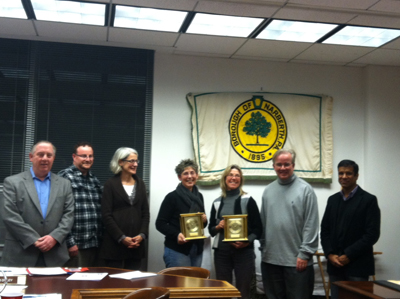 It was a milestone for Narberth Council at the Wednesday, Dec 28 meeting, and not just because the council voted on the budget.
After approving the 2012 budget, which includes a tax increase for residents, and other resolutions, the council also said goodbye to two longtime council members – President Mary Jo Daley and Councilwoman Nancy Lotz.
Lotz has been on council since 2000, and served on the building and zoning committee, property committee, finance committee, economic development committee, highway committee and health and welfare committee.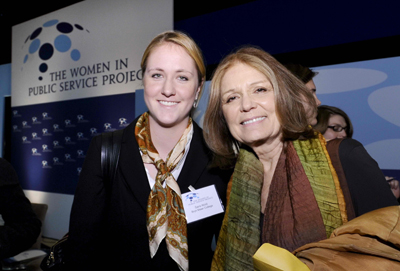 When Bryn Mawr College senior Meheret Shumet heard murmurs about the Women in Public Service Project hosting a kick-off colloquium in Washington D.C., she was determined to figure out a way to go and learn more about the project.
Secretary of State Hillary Clinton announced the WPSP back in March 2011, but after the announcement on the public stage, things got quiet. Together, the U.S. Department of State and the Seven Sisters colleges – Bernard, Bryn Mawr, Mount Holyoke, Smith and Wellesley, Clinton's alma mater – would aim to foster connections amongst women working in the public sector and women who will some day assume positions of leadership worldwide.
"Bryn Mawr spoke a little bit about the project last year, but it was kind of like, 'Hey, it's something to look forward to for school year,'" said Shumet, who is a political science major whose ambitions include someday working for the State Department.
Main Line drivers under the age of 18 who have recently received their license may experience a slight hurdle during the rest of their winter breaks.
Like their peers across Pennsylvania, junior drivers are now restricted under a new driving law that prevents them from having more than one non-family member passenger under the age of 18 for the first six months after they receive their license.
The law, which begins today, Tuesday, Dec. 27, was passed by the Pennsylvania House of Representatives back in September.