Archive: January, 2012
From Jan. 30 to Feb. 3, Lancaster Avenue will be reduced to one lane between County Line Road and Haverford Station Road from 9 a.m. to 3 p.m. for water main replacement.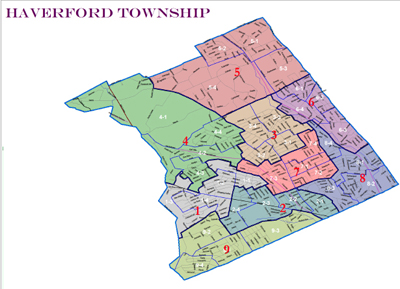 As outlined by Inquirer reporters Tom Infield and Amy Worden, the Pennsylvania Supreme Court overturned the redistricting map adopted by the state's Legislative Reapportionment Commission in a 4-3 decision.
This will have implications for Haverford Township since the redrawn map originally proposed excluded the First and Ninth wards. It split the township into two legislative districts. The 166th District represented by Democrat Rep. Greg Vitali had a hold on the entire township, but after redistricting, the First and Ninth wards went to Republican Rep. Nick Micozzie, who represents the 163rd District.
Plans for Micozzie to meet residents of the Ninth Ward in a Hilltop Civic Association meeting Thursday night at the Bon Air Fire Hall have been put on hold, Micozzie said.
Friends' Central Upper School Chorus members get to sing at the popular New York City venue, Carnegie Hall on Monday, Feb. 20, standing on the stage where popular performances by entertainers the New York Philharmonic, Judy Garland and The Beatles took place.
The opportunity, announced in a news release from the school in Wynnewood, is part of the Distinguished Concerts Orchestra and Distinguished Concerts Singers International's "Reflections of Life" series.
Members of the Friends' Chorus auditioned, and 16 were selected to sing at the 200-voice chorus concert, which will feature sings such as James Eakin's "Flowers Over the Graves of War," and Greg Gilpin's "The Power of Children."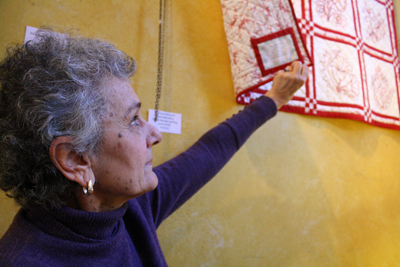 In Ruth Lazarus' apartment, a closet full of quilts represents about 25 years of patience.
Lazarus, 75, lives in St. Davids, but will make her exhibition debut in Ardmore next week at Janice Martin Couture. Owner of the custom garment shop Janice Martin first saw Lazarus' designs hanging in Gryphon Café in Wayne in 2005. With a keen eye for fashion and workmanship – Martin's mother quilted – Lazarus' quilt hand-sewn with houses caught Martin's attention.
"It was kind of a contemporary quilt, and it was simple and quirky," Martin said, adding, "I'm not a symmetrical person, and this was asymmetrical and idiosyncratic enough to make me notice."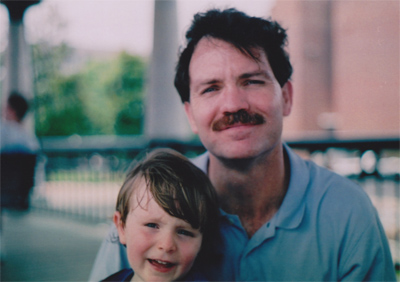 After his father Robert Terrence Weathersby died Oct. 23, 2011 in Bryn Mawr Hospital, Geoff Weathersby was determined to keep the late family man and psychology professor's legacy alive.
Weathersby, his older sister Jennifer and mother Jill decided a memorial scholarship at Eastern University in St. David's, where Terry Weathersby taught for more than 10 years, would be the best way to honor the beloved family member, who passed away after complications related to his more than five-year battle with thyroid cancer.
"When we were planning the funeral and deciding on whether or not to have flowers, my stance was that flowers die," Weathersby, 21, said. "My family and I felt really honored that my dad had Eastern's support, and we agreed that donations for a memorial fund would be much more fitting."
Come Feb. 3, celebrated flutist Mimi Stillman will grace the Main Line at Haverford College. Set to perform with the Dolce Suono Ensemble, Stillman will continue the chamber music group's Mahler 100/Schoenberg 60 project at Robert Marshall Auditorium in Roberts Hall at 8 p.m. at a free and public event.
The performance will be the ensemble's first show featuring Pulitzer-Prize winning composer Shulamit Ran, who the Dolce Suono commissioned to write "Moon Songs: A Song Cycle in Four Acts for Soprano, Flute/Piccolo, Cello and Piano" for soprano Lucy Shelton.
Check out Inquirer music critic David Patrick Stearns' review of the ensemble from last year here, and if you're curious about how "Moon Songs" came to be, check out the video Stillman made below.
Lower Merion Township announced Monday afternoon, Jan. 23 that the township's police department and the Montgomery County Department of Public Safety will begin a "Pilot Dispatch Program" Monday, Feb. 6.
The dispatch program is part of a countywide communications consolidation that will allow the county's Department of Public Safety to dispatch township police through the Lower Merion Police Department radio system.
"Residents can be assured that the Lower Merion Police Department's response time will be no different during this pilot program," Supt. Michael McGrath said in a township news release. "The only difference is that the Police department will be dispatched by Telecommunicators at the Montgomery County Department of Public Safety, who are bound by the same standards and receive the same training Telecommunicators in the Lower Merion Township Communications Center."
As a result of the excellence in Lower Merion's annual comprehensive financial report (CAFR) for the year ending in Dec. 31, 2010, the township received its 18th consecutive Certificate of Achievement for Excellence in Financial Reporting Award.
The Government Finance Officers Association of the United States and Canada (GFOA), a nonprofit professional association serving approximately 17,500 government finance professionals in the U.S, gives the award.
It is, "the highest form of recognition in the area of governmental accounting and financial reporting, and its attainment represents a significant accomplishment by a government and its management," according to a news release from the township, which announced the award late Friday afternoon, Jan. 20.