Villanova University has a long-standing tradition of celebrating and encouraging sustainiability and nothing says that more than the Main Line college's annual Earth Day Celebration.
The 42nd annual Earth Day Celebration at Villanova begins Wednesday, April 18 with an expert roundtable on the 50th anniversary of Rachel Carson's popular book, "Silent Spring," and continues through the end of the week.
Other events to highlight sustainability include a discussion Thursday, April 19 at 9 a.m. of Tri-State Bird Rescue and Research's role as a wildlife responder to oil spills and the subsequent animal rehabilitation process, with a focus on the BP/Deepwater Horizon crisis that happened in the Gulf of Mexico in 2010, and a sustainability fair and farmer's market, which takes place April 19 from 11 a.m. to 2 p.m.
The Lower Merion Township Police department announced April 17 that it will conduct impaired driving checkpoints combined with roving patrols for the weekend of April 27, according to a news release.
The release states the checkpoints and patrols initiative is in partnership with a national imparied driving crackdown that features highly visible and intensified enforcement activities using the new tagline "Drive Sober or Get Pulled Over."
The sobriety checkpoint is funded by a PennDOT grant and is one of many tools utilized to increase public safety through this kind of awareness and enforcement.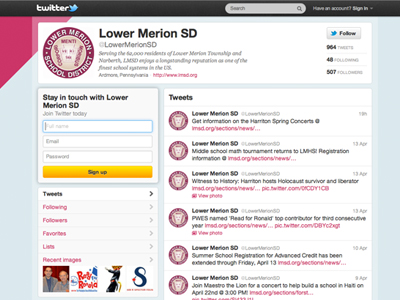 Keeping up-to-date on school district news isn't hard for Lower Merion High School sophomore Robbie Warsaw, who relies heavily on the district's 1-to-1 laptop program.
"I go on Facebook, Twitter and Gmail once a day," the 16-year-old student said. "I personally receive most of my LMSD information from their website" which is the automatic homepage for the 1-to-1 laptops.
These communication pathways are great for involved students like Warshaw, but how is Lower Merion School District staying ahead of the curve and bringing online and social media conversations to other community members?
The long-contested issue of Lower Merion Township Manager Doug Cleland's contract could be resolved as soon as this Wednesday, according to the board's administrative and human resources committee agenda posted Friday.
On April 18, the Lower Merion Board of Commissioners will vote on Cleland's proposed contract, posted in the committee's agenda.
As reported in the Philadelphia Inquirer in March, Cleland, who's worked for the township for 28 years, made about $224,449 last year from a bonus and his base salary of $202,989.
Lower Merion Police are participating in a perscription drug "take-back" day program sponsored by the Drug Enforcement Administration (DEA), according to a press release.
The take-back program, schedule for April 28 from 10 a.m. to 2 p.m., will take place at the Public Safety Building lcoated at 71 E. Lancaster Avenue in Ardmore.
According to the release, the goal is to give the public an opportunity to prevent pill abuse and theft by ridding residents' homes of potentially dangerous, expired unused and/or unwanted prescription drugs.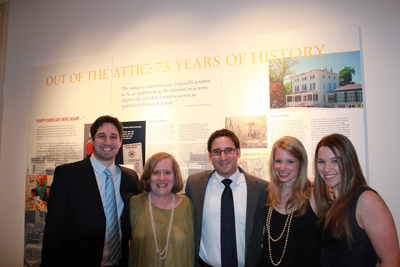 More than 200 residents from across the region flocked to the Main Line Arts Center Saturday, April 14, decked in their best party and 1930s attire for the center's 75th Soiree and Silent Auction celebration.
The 1930s-themed bash honored the center through its "Out of the Attic: 75 Years of History," and its Executive Director, Judy Herman, who is retiring in August.
"It's so amazing to have so many wonderful friends gather at the art center to celebrate these 25 years I've totally enjoyed," Herman told Neighbors.