Election speak didn't stop for two Gladwyne couples after they cast their votes in the April 24 Pennsylvania Primary.
When Jim and Nancy Redeker exited the Gladwyne Firehouse polls after 6 p.m., the two not only expressed their support for the voter ID law, but also cited the presidential race as a motivating reason the couple cast their vote.
Jim Redeker, a 71-year-old lawyer, said he voted for Sen. John McCain in 2008, as did Nancy Redeker. Redeker added that while she doesn't always vote Republican – she said she would have liked to vote for Patrick Murphy for attorney general or Democrat Mike Gerber for the 148th district state representative seat – she felt compelled to support Former Massachusetts Gov. Mitt Romney in this election.
Elizabeth Ness could only think of one word to describe the new voter identification law: discriminatory.
"It's going to reduce the number of people voting for one reason or another," Ness, 85, said. "It's just plain unfair."
Ness said she barely got the proper ID in time for the April 24 primary. The Wayne resident was in rehab for three months for an injury in her leg, and had registered to vote in Montgomery County's Harleysville, where she was staying. When Ness learned she was going to get finish rehab in time to vote from her home in Wayne, she had just enough time to scramble for a new photo ID.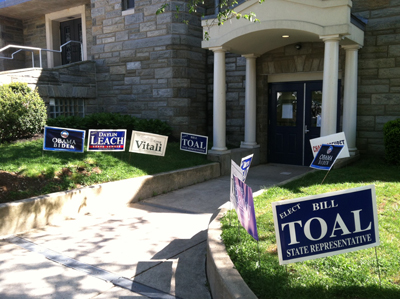 To show her vehement disapproval of Pennsylvania's new voter identification law, 87-year-old Lorna Carroll purposely left both of her proper voter IDs in apartment at Wynnewood's Green Hills Apartments before casting her ballot.
"I wanted to protest this voter ID law, which I think is incredibly unfair," Carroll, a Democratic committeewoman for Green Hills, said. "It's unfair to many groups, especially to people are not mobile and who don't have a lot of opportunities to go through the headache to get proper ID."
Carroll isn't the only Green Hills resident who opposes the new law, which has its dry run today, but she seems to be part of a rarity, a fraction of the complex's residence to cast her vote since the polls opened at 7 a.m., a pattern visible at other nearby polling locations, including Lower Merion's Penn Valley Elementary School and the Annunciation Church in Havertown.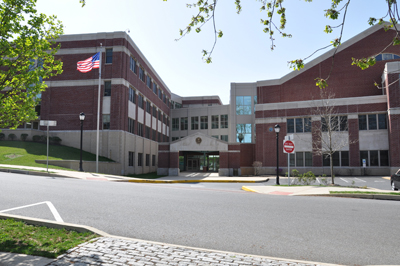 Radnor Middle School's 2007 environmentally conscious remodel paid off, not only saving it thousands of gallons of water throughout the school year, but also garnering it a first-ever 2012 Green Ribbon School Award.
The middle school learned it was among 78 schools nationwide to receive the award during an April 23 news conference, where U.S. Secretary of Education Arne Duncan announced the winners. The award, presented by the U.S. Department of Education, honors a school's high performance related to environmental impact, health and education.
"This honor is a testament to the commitment of the entire Radnor community to environmentally conscious living," Radnor Township School District Superintendent Linda Grobman said in news release. "Without the community's support and dedicated work of teachers, students, parents and administrators, this incredible accomplishment would not have been possible."
Action on the Township Manager Doug Cleland's contract was again postponed during the Wednesday, April 18 Board of Commissioners meeting, but discussion of the topic, from audience members and a few members on the board, didn't die as easily.
Following their executive session, Board President Liz Rogan announced the agenda item regarding Cleland's contract would be deferred for later action, but that she would accept public comment on the topic as long as it wasn't on the language of the contract. Commissioner Brian Gordon expanded that purpose of that was because the language could be amended and changed, so it made no sense to have comment on the current draft.
The first person to approach the podium was Joe Manko, former board president and Lower Merion commissioner of Ward 9.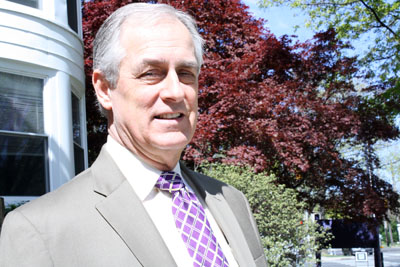 When Jon Jay DeTemple came to Bryn Mawr to assume the presidency of Harcum College in 2007, he saw a lot of "under-the-hood problems."
Only around 800 students were enrolled at the two-year private college when DeTemple arrived. The financial aid system needed fixing.
"They knew they had some problems here," DeTemple said. "There was a question about whether [Harcum] was going to be able to make it or not."
Despite her frustration, Sarah Armstrong was calm and poised when she made her remarks over the Radnor Township School District board directors' agenda item up for vote – a 3.28 percent tax increase.
"I'm surprised the Democrats are for an increase," Armstrong said during the Tuesday, April 17 meeting's public comment. "Aren't they claiming to help these groups? Or is the board simply enjoying power to be on the board and spending other people's money without taking any consideration of the well being of citizens of Radnor?"
Armstrong's words ran true for a majority of the more than 30 Radnor Township residents in attendance of the meeting, with more than a dozen other residents echoing her concerns and questions over the tax increase.
Georgette DuBois and her fellow Narberth Civic Association organizers are excited to celebrate NarbEarth Day 2012 on Saturday, April 21, but mother nature could ironically waterlog her own soiree, after this week's weather forecast threw the possibility of rain in the weekend mix.
"One website says its a 20 percent chance, another says 40," DuBois said. "Our rain date for Sunday [April 22] has an even greater chance."
As of this post's publishing, The Weather Channel website has Saturday's Narberth forecast at a high temperature of 74 degrees with 20 percent chance of percipitation. Sunday in Narberth, according to the Weather Channel, has a 70 percent chance of rain.