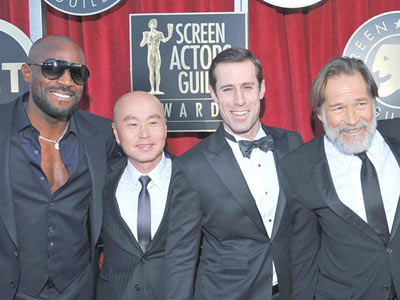 After marrying singer-songwriter Eleisha Eagle in April 2011, joining the cast of Showtime's "Dexter," wrapping up production as lead actor in the independent film "Finding Joy" and moving from Los Angeles to New York City, Josh Cooke is ready to take his acting to new heights in theater.
"My wife, aside from being amazing in general, was really the catalyst in this and I really owe a lot of the move to New York to her," Cooke, 32, said in a phone interview. "She reminded me I've always wanted to do move to New York for theater and said, 'let's stop talking about it and do it.'"
While he waits to get his foot in the door, the Gladwyne native is focusing his energies on creative writing and preparing for The Performing Arts Project, a workshop in July, co-founded by his wife, Eagle.
If you recall from last week, Commissioner Rick Churhill said he didn't think Township Manager Doug Cleland's contract would be ready in time to be reviewed by the board by March 7.
Turns out, Churhill's prediction was right. Township Secretary Eileen Trainer said the agenda item to discuss Cleland's contract will be pushed back again until March 14.
Cleland's most recent contract expired in December 2011. The negotiation process for a new contract began in May. He currently makes $202,989 a year as a base salary. Cleland also receives an 8 percent longevity bonus, and the township contributes an additional 8 percent to his deferred compensation plan.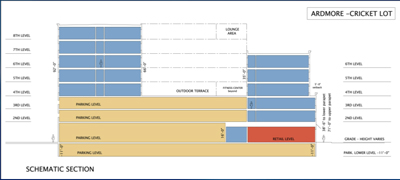 At last night's Ad Hoc Ardmore Committee meeting, Carl Dranoff revealed a lot of details about the possible development on Cricket Avenue, many of which changed since everyone last saw the plans in 2011. Read about the meeting here, but if you just want to know the basics, here's a quick list:
There will be around 143 private parking spaces and 206 public parking spaces.
The mixed-use apartment building will have six stories facing Cricket Avenue and eight stories in the rear of the building.
There will be around 145 "generously sized" one- and two-bedroom apartments. The one-bedroom apartments would be between 800 and 850 square feet, and the two-bedroom apartments would be around 1,100 square feet.
Dranoff said rent for the properties would probably be around $1,995/month depending on the size of the space.
There will be an indoor fitness center as well as six retail shops on the first floor along Cricket Avenue.
Dranoff Properties doesn't allow undergraduate students to rent their apartments.
Once Dranoff breaks ground, it would take 20 months to complete construction.
The property company would limit the number of people per apartment unit.
Other important things to note:
Lower Merion applied for a TIGER 4 grant. If the township receives enough funds from the grant, Township Manager Doug Cleland said there's a strong possibility funding for the Ardmore Transit Center could be set.
While no one wants to jump the gun, PennDOT began expressing greater interest in the Ardmore Transit Center project. This could mean funding directly from PennDOT or prove to be helpful to win over the TIGER grant committee.
Commissioner Lewis Gould, who helped secure almost $6 million from Rep. Jim Gerlach at the beginning of the project, remained apprehensive about whether or not the township could use the RCAP grants for the Cricket Lot when he said he thought the monies were originally intended for the train station. In response, Cleland said before the township uses the grants, it will have to present the plans to an RCAP committee, but he is confident they will allow the funds to be used for the Cricket Lot since it still accomplishes the goals of the overarching plan originally presented to the state.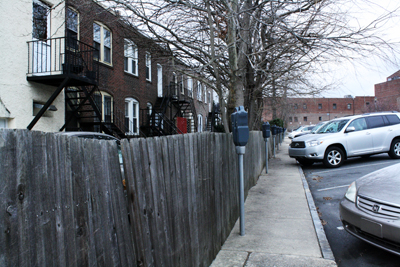 If Lower Merion Township could give Carl Dranoff the green light today, his company, Dranoff Properties, could break ground on a 145-apartment building with retail space and an underground garage to replace the surface Cricket Lot in a year. It would be the first step to implementing the long-awaited Ardmore revitalization project, which includes plans for a new, ADA-accessible train station.
If agreed upon by the Board of Commissioners, funding for making over Cricket Lot is available. Currently, the township has $15.1 million worth of Redevelopment Assistance Capital Program grants on hand. But in order to spend that money, there must be someone willing to match the grants dollar-for-dollar.
At Thursday night's Ad Hoc Ardmore Committee meeting, Dranoff said he has the private funding in place to do just that.
Last week we spoke with Gwen Webb Appling about her experiences as a child protestor in the segregated Birmingham, Ala., in the 1960s. On Monday, Webb Appling talked to students at Agnes Irwin School working on their Civil Rights projects, and the school posted a video.
Webb Appling told stories from her childhood and gave words of wisdom to the class.
Tommy Joyner and Jamie Lokoff opened their second MilkBoy coffeehouse in Bryn Mawr in 2007, but it seems a year of moving and business ventures kept the entrepreneurs' concentration off the cozy counterpart of the original MilkBoy coffeehouse in Ardmore.
Joyner announced on Twitter last night he and his business partner sold the MilkBoy in Bryn Mawr, and it's a positive change.
"This is a super good thing," Joyner's tweet read. "J and I haven't give it much attention lately."
!st, the Bryn Mawr MilkBoy shop has new owners (this is a super good thing! J and I haven't given it much attention lately... #allbetter)

— Tommy Joyner (@MilkBoyTommy) March 1, 2012
Lower Merion School District high school students could have their very own @lmsd.org e-mail addresses later this month, officials say.
"We are testing it first with a pilot for seniors to determine how it goes in terms of the policy procedure it creates on the technical side," LMSD's Director of Technology George Frazier said. "If all goes well, we'll go ahead with the intention of providing it to all high school students."
LMSD students said they think the program sounds like a great idea for school use.
Ten Harriton High School students are taking audience members on a road trip with the Mr. Harriton Competition 2012 theme.
The fifth annual competition, held Friday, March 9 at 7 p.m. in Harriton High School auditorium, will have the contestants going across the country as each of the ten boys represent a city in the United States.
"The audience usually sits there, laughs and cries and shouts and goes crazy," Harriton Student Council Sponsor Heidi Cooke said. "Everyone loves watching these guys perform. It's a really entertaining show and a great night for everybody."