Lower Merion seniors make beats with BamBam Studios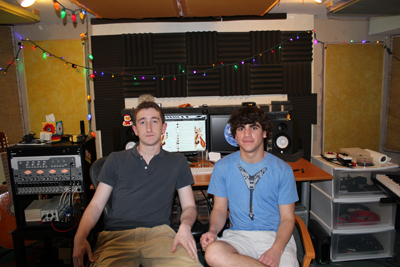 Lower Merion High School seniors Stefan Richter and Jake Goodman are the go-to sound experts for local and high school musicians, and recently had their collaborative work with peer Jackie Milestone featured on TBS's "Conan."
Lower Merion seniors make beats with BamBam Studios
(Josh Fernandez / Philly.com)
Parodying Harriton High School senior Jackie Milestone's YouTube singing plea to Yale University, not only gave Conan O'Brien's audience a few laughs, but also gave attention to the sound work of Stefan Richter and Jake Goodman.
For a "rough" audio version, the sound in Milestone's video and song "White and Blue For You," sounds clean and professional enough. However, Goodman, 18, and Richter, both producers and founders of BamBam Studios, wanted perfection.
"Had we known it was going to be on Conan, I would of worked more on that track first," Goodman, 18, laughed.
It's this kind of entrepreneurial spirit that not only created a brand for BamBam Studios, but also fuels Richter and Goodman's ultimate goals – to produce and edit in the music industry.
The two Lower Merion High School seniors kick-started their musical interest when they were in a band in fifth grade, first named "Back Hair Attack," later called "The Cover Ups" until it they went along with the name "City Ave."
By the time the two friends were in eighth grade, Richter's father Andrew bought him the popular sound editing software, Avid Pro Tools, as well as the basic recording interface needed to edit high quality sound.
"Originally, no one wanted to record," Richter said. "I was the only one who wanted to record, and everyone was always annoyed at me because I always tried to get everyone to record."
Goodman didn't get into recording until a little later, after assisting Richter track and mix a few of their band's songs.
"I remember we would record a song at night, and we'd be up until three in the morning watching him do everything," Goodman noted. "I eventually started helping out more and enjoying it, and ended up buying my own Pro Tools system."
From then on the sound junkies expanded their recording operations, turning both their basements into sound studios of higher quality than a majority garage band-playing youth.
The "Flintstones" character BamBam, where the recording business's name originated, is the desktop wallpaper of the studio in Stefan's basement. This is where local and high school bands and music artists record songs and have the two seniors crank out catchy tunes.
The instruments Richter and Goodman own – keyboards, bass, guitar, drums, and so on – allow them to have a studio band to add whichever sounds their clients' desire.
They charge anywhere from $150-$200 for a song. For multiple songs, BamBam Studios offers a discount rate depending on the number of tunes.
"We started expanding slowly," Richter added. "We got more professional."
In addition to tracking and mixing the sound for Milestone's serenade to Yale, Richter and Goodman used the studio band to add bass, drums and keys to the song. In addition to the rough and final cut versions of "White and Blue For You," BamBam Studios recorded two other songs with Milestone, which can both be found on BamBam's SoundCloud account.
Among the list of musical acts the two have helped record are the Harriton High School band, Writer's Block, and the Philadelphia-based rock/soul singer, JaE, who has Richter play guitar and bass from time-to-time at nearby gigs.
Although they love having business, the founders of BamBam Studios also enjoy the luxury of having their own recording space at their fingertips.
"We still write [music] but basically, just to record ourselves," Richter said. "I like having the finished products and being able to kind of manipulate sound however you want."
"There are more possibilities than when you're playing live, so it's more fun," Goodman added. "It's cool seeing the process of a song come to life."
The duo unfortunately have to part ways after summer ends, since both start college – Goodman studying music business at Drexel University and Richter trekking all the way to the University of Southern California in Los Angeles to study electrical engineering and music production.
Despite the forthcoming split, both are optimistic they will record in the future, whether it's separate or as BamBam.
"We'll each get one 'Bam,'" Goodman joked.