Lower Merion Police are investigating two 17-year-old part-time summer township employees, both of them playground counselors at General Wayne Park in Merion Station, for allegedly discharging an airsoft pistol on two summer day campers late Wednesday morning.
The two, whose names were not released because of their age, are said to have struck two 12-year-old boys. One boy was struck on the pinky finger and another was struck in the back, on his upper shoulder blade. Both children were deemed unharmed by a summer camp supervisor, who said the plastic projectiles caused no marks on the boys.
"Both employees are suspended without pay, with the intent to dismiss," said Lower Merion Parks and Recreation Department Director Lindsay Taylor, who referred the matter to Township police.
The Lower Merion Township Parks and Recreation Department has announced that due to extreme heat, the Township playground programs will end at 1 p.m. today. Playground staff is notifying parents about the programs' early dismissal.
All other programs will continue as scheduled.
There has been an increase in residential burglaries over the last 10 days, according to an email blast from Lower Merion Township, particularly in the areas of Penn Valley and Merion. Several have been overnight.
Immediately report any suspicious persons or vehicles in your neighborhoods and take extra care to secure your home. Use outside lighting, timers inside their homes, and notify neighbors or the police department when you will be out of town.
A week ago, the Supreme Court declined to hear Students Doe v. Lower Merion School District, ending the legal debate over the Lower Merion School Board's redistricting plan. Several black students alleged that the new plan made them the victims of racial discrimination.
LMSD is divided into zones corresponding to two high schools: Lower Merion and Harriton. Lower Merion is actually situated within the Harriton zone, meaning that students within walking distance of Lower Merion had been allowed choose to attend either school.
With the new zoning, the "Students Doe" lost the ability to attend Lower Merion High School. They claimed that it was the result of racial discrimination because they lived in a neighborhood that, while mostly white, had a much-higher-than-average black population.
The Lower Merion Township Police will conduct impaired driving checkpoints this Friday through Sunday, combined with roving patrols, as part of a national impaired-driving crackdown using the new tagline "Drive Sober or Get Pulled Over."
A sobriety checkpoint is a highly visible, systematic method for stopping vehicles to determine whether motorists are under the influence of alcohol or controlled substances.
The checkpoint is being funded by a PennDOT grant.
The new Red Mango frozen yogurt store in Radnor Township, owned by Jamie and Matt Whicomb of West Chester, will hold a grand-opening on Saturday to benefit the Leukemia and Lymphoma Society.
The fun will include face painting, balloon making, and free T-shirts for the first 100 people in line. The event will take place from 10 a.m. to 2 p.m.
For every $5 donation, customers will receive a $5 coupon to be used towards a future purchase of frozen yogurt. A portion of the proceeds from the event will be donated to the Leukemia and Lymphoma Society.
On their lunch break, Jennifer Leach and M.P. Tomai walk along Lancaster Avenue in Bryn Mawr until the come across the recently opened Vge Cafe. The two enter the vegan eatery to try something new for their midday meal and split the Vgë burger, Vgësteak and falafel wrap.
"I love vegan food and I would go again," Leach said as she Tomai walked out of the cafe.
Originally set to open in late March, Vgë (pronounced "vee gee") has been in the works since February. Owner Fernando Peralta, 41, said a few construction hurdles pushed back the cafe's debut to April 26, when it had its soft opening.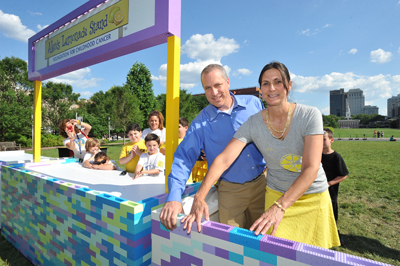 It's already been a busy and touching month for volunteers, staff and supporters of Alex's Lemonade Stand Foundation (ALSF).
In addition to hosting Alex's "Original" Lemonade Stand on June 9, when family, friends and supporters commemorate the foundation's namesake's annual traditional of holding a lemonade stand in her neighborhood, the organization celebrated the Seventh Annual Great Chefs Event, National Lemonade Days, the construction of a LEGO lemonade stand and numerous other support from its sponsors.
The "Original" Lemonade Stand last Saturday featured Alex's family, friends and supporters come together for the annual tradition, which featured food, games and a butterfly release.