Archive: December, 2011
Growing up, much to my brothers frustration (because they were always requesting red meat), my momma cooked a lot of fish— I felt like we'd been doing a lot of veggie meals and I wanted a good source of lean protein. She suggested this recipe—growing up we always ate it with Tilapia but trying to be sustainable she suggested I use Halibut. When I got to Whole Foods, I about fell over $9.99 per 6oz of Halibut, I decided I could only afford two (even though the recipe calls for 4 pieces). As a result I ended up cutting the recipe in half. On the plus side, this meant lots of left over white wine for my roommates and me to drink with dinner.
I got home and got straight to work, preheated the oven to 400, and sliced up the lemon. Next, I washed the veggies and started slicing and dicing away. Peeled and chopped the carrots, sliced the red pepper into long strips, and chopped up the zucchini. Then added the white wine and all the herbs into a big mixing bowl (I didn't have any fresh herbs so I just used 1 teaspoon dried instead of 1 tablespoon fresh and it was still delicious). I tossed everything together and added some salt and black pepper. Next, I got the tin foil ready on the baking sheet—then added the veggies to the tin foil, next laid the fish on top, then the lemon slices, then 1 tablespoon of butter at the top. It was truly beautiful if I may say so myself (and Nicko documented it very well). The recipe then says: Fold over paper or foil to form an envelope. Begin in one corner folding over to seal the halibut. I did exactly that to the best of my ability, put it in the oven and let it cook for 20 min. After 20 min, went to check on the fish and it needed about 10 more (I now realize 20 min was for Tilapia and this halibut was a much thicker fish). Fish was flaky and lemony and delicious. I served over quinoa but you could do rice as well.
This version of Perfect Roasted Chicken was sent from Nick, 24. Very impressive Nick! I hope you will keep cooking along with us!
The roasted chicken, the first recipe on the blog, has been by far the most popular. I've heard from dozens of readers who've made it for themselves, many of them roasting a chicken for the very first time. I'm so excited that so many readers are learning the simple joy of roasting a chicken.
A few people have been surprised that there was not more meat on the chicken, and that is especially true with organic chickens which have not been fed growth hormones. My solution: roast two!
It is not easy keeping up with fish. Which are overfished? Which are plentiful? Which are full of mercury? Which are line caught? Which are farmed?
When I passed along this recipe to my daughter, I suggested she replace the tilapia, as most of it now comes from China and Taiwan, where pollution and other problems make it a fish to avoid, according to the experts at the Monterey Bay Aquarium.
I suggested halibut as an alternative, but then I saw the price, $26.99 a pound. Yikes. Halibut is overfished and those line-caught Alaskan beauties cost a fortune. Sorry, Sally!
Ok Ok Ok Momma, do not kill me, but I might have gone overboard with the cayenne pepper again. I honestly blame you- the measuring spoons you bought me don't have 1/4 teaspoon therefore I always add 1/2 teaspoon!! (Hint
Hint: Christmas is around the corner!!)

That being said, I will remake this recipe because it was so easy and would have been soooo delicious if it wasn't SO spicy I literally felt like my mouth was on fire while eating it..oops!
Anyway, you absolutely 100% should try this recipe. I bought pre-cut butternut squash from Trader Joes, an onion, 4 carrots, 1 lemon, a 12 oz can of diced tomatoes, and fresh cilantro. This meal literally cost me $8.12. (Now, to be fair, I had the garlic, the quinoa, and all of the spices in my kitchen. But if you need spices, Trader Joes are the cheapest I've found just FYI). Also we did have Hungarian paprika in my spice cabinet but I am sure regular paprika would be A-OK too? Right, Mother dearest?

So if you thought the ratatouille was easy, this is even easier! I did have help from my lovely roomies, Sara chopped up the onion and 3 cloves of garlic and Kat peeled and chopped the carrots, but still very very easy dish! I used a normal sauce pan, added the olive oil, let it heat up briefly and then added the onions. Sautéed for about 5 min and then added the garlic, paprika, salt, black pepper, coriander, cumin, ginger and cayenne pepper! (Next time I make it I will add the cayenne first only ¼ teaspoon, instead of the 1/2 teaspoon I added. Oh well... live and learn right?) I mixed all of that together and added water, the entire can of tomatoes and lemon juice. I left it uncovered and let it come to a boil on medium heat. Once boiling I added the carrots and squash, stirred briefly until it was mixed nicely, covered the pot and let simmer for 20 min.
Once that was cooking away, I got started on the quinoa. I didn't use any butter. Just added 1 1/2 cups of water and 1 cup of quinoa and once the water came to a boil, I let it cook for 15 min (until the water was all incorporated into the quinoa). AND THAT IS IT!!!

This was enough food for 4 of us to have dinner and then lunch for 2 days!! Although, a bit too spicy, still very delicious!!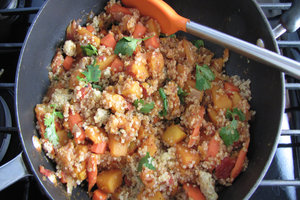 Butternut squash has been calling to me from the supermarket shelf lately, especially since so many markets now offer it peeled and sliced and ready to go. All the hard work is done!
My friend Melinda reminded me of a quinoa and butternut squash salad recipe we both love because of its great combo of spice and citrus.
But I was wishing for a more wintry version of the salad, something hot and more like a stew. What I found was this recipe from an old Bon Appetit magazine, back when quinoa was not so well known.
The ancient Bolivian staple has made a splash in recent years because of its high protein content and low glycemic index. It appeals to vegans and those who are gluten-free. It's low in calories and fat too. It's even kosher. No wonder it was the sacred crop of the Incas!
The only problem is that it is pretty much tasteless, except for a very mild nutty flavor, so you have to pair it with stronger flavors to make it work.
This stew is the perfect answer. With a potent mix of Hungarian paprika, coriander, cumin, and ginger, then a nice contrast of lemon juice and the fresh clean taste of cilantro, it hits all the flavor notes.
And it hits our goals for the blog: easy, healthy, and cheap. The entire stew, which makes four to six servings, costs about $8.50 to make. And I even bought the more expensive fair-trade quinoa. The spiciness factor is relatively mind in this recipes, but feel free to kick up the cayenne if you like the heat! Add a little at a time Sally!
Moroccan Stew
With Squash, Carrots, and Quinoa
Makes 4 to 6 servings
2 tablespoons olive oil
1 cup chopped onion
3 garlic cloves, chopped
1 teaspoon Hungarian paprika
1 teaspoon salt
1/2 teaspoon ground black pepper
1/2 teaspoon ground coriander
1/2 teaspoon ground cumin
1/2 teaspoon ground ginger
1/4 teaspoon cayenne pepper
1/2 cup water
1 14 1/2-ounce can diced tomatoes, with juice
2 tablespoons fresh lemon juice
4 cups 1-inch cubes peeled butternut squash
4 carrots, peeled and sliced into rounds
1 cup quinoa
1 tablespoon butter
1/2 cup chopped fresh cilantro
1. Heat oil in large saucepan over medium heat. Add onion; sauté until soft, stirring often, about 5 minutes. Add garlic; stir 1 minute. Mix in paprika and next 6 ingredients.
2. Add water, tomatoes, and lemon juice. Bring to boil. Add squash and carrots. Cover and simmer over medium-low heat until vegetables are tender, stirring occasionally, about 20 minutes. Season with salt and pepper.
3. Meanwhile, make the quinoa according to package directions. Add butter to the boiling water. (Similar to rice, although it cooks a little quicker. It takes about 15 minutes to cook after the water boils. It should be fluffed after all the water is absorbed.)
4. When both quinoa and stew are done, mix together and add cilantro.
— Adapted from a Bon Appetit recipe from Bruce Aidells and Nancy Oakes.
Per serving (based on 6): 253 calories, 9 grams protein, 41 grams carbohydrates, 7 grams sugar, 8 grams fat, 5 milligrams cholesterol, 442 milligrams sodium, 5 grams dietary fiber.
Ratatouille: I know we ate it growing up but, dinner was dinner. I'd help out, set the table, maybe. But like most kids, I was much more interested in NSYNC and if Joey and Pacey were going to ever get together on Dawson's Creek, than on the ingredients in ratatouille. But, when my mom and I were going through recipes it looked like an easy, healthy, and vegetarian classic—so I was excited to learn.
My theme for this meal is dice dice dice—that is really all there is to it. Really fast and really easy. Seriously. Total meal time was about 30 min, 15 min prep time, 15 min cook time. AND really healthy!! Just an onion, tomatoes, zucchini, eggplant, red pepper, and 1 banana pepper (note: I'd never seen a banana pepper before. They are long and green just in case you hadn't either).
To start, I washed the veggies. Then, I seeded and sliced the red pepper and banana pepper (recipe says ½ inch dice mine were probably 1 inch and were fine) while Sara helped out by chopping the onion and the garlic (she's the best!) I put the sliced ingredients in a bowl and moved on to the tomatoes -- I'd never seeded a tomato before, it just means remove the guts of the tomato -- and the zucchini, then I peeled and diced the eggplant. With everything was sliced and diced and I felt like I was on a cooking show with all my bowls of ingredients!